Steve Nash looking for one final three-year deal this summer
Suns point guard Steve Nash wants a three-year deal this summer in unrestricted free agency to continue playing into his 40's.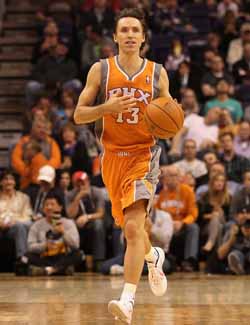 Steve Nash wants a three-year deal to finish his career.
(Getty Images)
ESPN.com reports that Steve Nash, who will be an unrestricted free agent this summer, has a specific length in mind for his next deal, which will also in all likelihood be his last. 
Nash, who turned 38 in February, also told ESPN.com in a phone interview before Tuesday night's game in Sacramento he intends to "sign for three more years this summer" and play beyond his 40th birthday when he either inks a new deal to stay with the Suns or finds a new team via free agency.
via Phoenix Suns' Steve Nash says back feels great, intends to sign three-year deal in summer - ESPN.

That's a long way to go for a guy with a serious back disorder. The contract length is interesting on several levels. For starters, most teams with limited cap room are going to be ruled out, so unless Nash really intends to sign for the veteran minimum for three years, don't count on any Nash-LeBron alley-oops.

It means that there's a good chance, though, that his deal will be attractive and manageable to some contending teams. Three years isn't going to destroy their cap space, it's going to allow them to be able to minimize the damage should Nash's skills hit a wall and slide down like Wile E. Coyote. The thought of Nash in another uniform to end his career is odd, but not bizarre like some tranformations. After all, Nash was a Maverick for many years even if he was drafted by Phoenix. But after a trade deadline in which it seemed he would be running with the Suns till the end, there appear to be more signs he'll wind up somewhere else to finish up. 

The good news is we get Nash for a few more years.  
A look at the context of the schedule and who plays who when, and how far they travel during...

Durant took on rapper Lil Dicky and actually might have lost

A report that James would once again be leaving Cleveland made the rounds on Wednesday
Known for his 'take that for data' rant, the Grizzlies coach touched on a number of important...

Wade's days with the Chicago Bulls appear to be numbered

Misty Suri will reportedly keep his job with the New Orleans Pelicans