Rams Observations: Will they throw it more now?
The Rams have added some nice weapons to the offense, but throwing it isn't Jeff Fisher's thing. Will he be forced to change?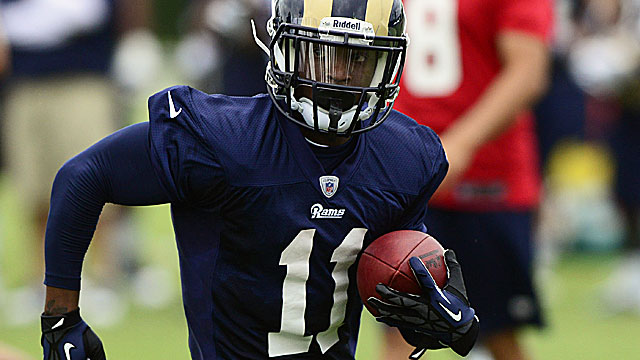 EARTH CITY, Mo. -- St. Louis Rams coach Jeff Fisher has always been a run-first coach, dating back to his days with the Tennessee Titans. He still believes strongly in it, but the addition of several key weapons on offense for quarterback Sam Bradford could alter that thinking a bit.
Or will it?
"What we've acquired will allow us to run it more efficiently," Fisher said. 
He might say that now, but the Rams have added speed in first-round pick Tavon Austin at receiver, signed tight end Jared Cook as a free agent and added left tackle Jake Long to a line that needed help in pass protection.
That all should help Bradford, who has been maligned in his three seasons with the Rams since being the first overall pick in 2010.
The Rams were 18th in passing last season and 23rd in total offense. Bradford threw 21 touchdown passes and 13 interceptions and completed less than 60 percent of his passes. That's not top-overall pick type stuff.
But Fisher is still a big believer that Bradford has what it takes to be a top quarterback.
"There are a lot of things we have to do better around him," Fisher said. "When we do that, he will be better."
There are some who say this is a make-or-break year for Bradford. I don't buy it. He's never had a good group of weapons and his line has been a problem his entire career.
With improvements in both areas, look for Bradford to take some big strides.
More observations
• The Rams let Steven Jackson leave via free agency, so the idea is they have little left at running back. Don't believe it. Daryl Richardson is projected as the starter and the coaches are raving about him. Richardson did a nice job as the backup last year, rushing for 478 yards on 98 carries. He averaged 4.8 per rush, which was impressive. The next steps for him are handling being the No. 1 back and also short-yardage running. "I don't know if he's going to be a back that gets 80-percent of the snaps," Fisher said. That means rookie Zac Stacy and Isaiah Pead, who hasn't done much, will get their chances.
• By signing Jake Long, the Rams have significantly upgraded their line. Long battled injuries issues in Miami, but the Rams are excited to have him. His addition allows the team to move Rodger Saffold to right tackle. That makes them stronger in two spots. Saffold is out with an injury for another week or so. The only spot of concern on the line is left guard. But the coaches like what they've seen from Chris Williams and Shelley Smith started there last season. 
• By moving up to get Austin, the Rams made a bold move in the April draft. I thought Austin was one of the best players coming into the draft and he hasn't disappointed. "He's been better than we expected," Fisher said. The big question for Austin will be how he handles the physical corners in press coverage. So far, he's done a nice job with it. 
• Second-year receiver Chris Givens, who did some good things last season, has also impressed. He might be one of the most-improved players in the league. He has been much more committed this year to becoming a better player.
• The Rams defensive line is as talented a young group as there is in the league. With ends Chris Long and Robert Quinn, plus Michael Brockers and Kendall Langford inside, the Rams had 52 sacks in 2012 to tie Denver for the league lead. Long has played at a Pro Bowl level the past two seasons, but still hasn't made his way to the game, while Brockers and Quinn have that type of ability. There is also a lot of depth. William Hayes, a backup end, was re-signed as a free agent and he could start on a lot of teams.
• The corners are solid with Janoris Jenkins and veteran Cortland Finnegan, but the guy who has impressed is rookie Brandon McGee from Miami. As a former track star, he is raw. But he has impressed with how quickly he has picked up things and could push second-year corner Trumaine Johnson for the nickel job. 
• While the corners are solid, I worry about the safeties. They appear to have two strong safeties in Darian Stewart and T.J. McDonald. They might have some problems in coverage, but the tackling should be better than in 2012.
There, I said it 
• Richardson will rush for 1,300 yards and show he is plenty capable of being an every-down back.
• Defensive tackle Michael Brockers will be a Pro Bowl player.
• Jenkins will make big strides as a ball-hawking corner and also push for a spot.
• Tavon Austin will have 75 catches and be in the Offensive Rookie of the Year talk.
• The Rams will be a Super contender in 2014. They look to be a year away.
Brees is set to become a free agent next month but wants to stay in New Orleans

Gordon's various suspensions will once again prevent him from truly reaching free agency

The Colts traded for Brissett prior to the start of last season due to health concerns for...
Colvin was a big part of Jacksonville's defensive improvement but is likely moving on

Vinatieri is about to finalize a deal to return for his age-46 season

Freddie Roach is one of the most decorated boxing trainers there is