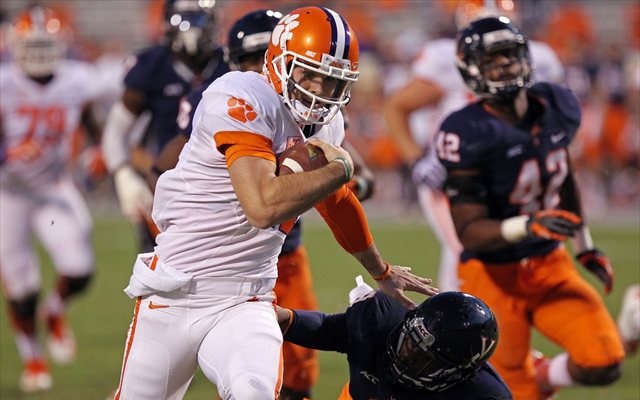 New Ole Miss quarterback signee Chad Kelly's recent legal issues have been resolved with a plea deal that will see the former Clemson Tigers signal caller perform 50 hours of community service, the Associated Press reported Monday.
As part of the deal, Kelly pleaded guilty to a non-criminal charge of disorderly conduct stemming from his December arrest at a Buffalo, N.Y. nightclub. The nephew of former Buffalo Bills quarterbacking legend Jim Kelly, he was initially charged with multiple offenses after fighting with two bouncers and allegedly threatening to fire an AK-47 into the building, though his attorney strenuously denied that allegation.
Per the AP, Kelly has sent a written letter of apology to the Buffalo Police Department and is required to re-appear in court on March 9. He declined comment to media present at court.
Kelly was arrested only days after committing to Ole Miss following his single season at East Mississippi Community College, where he threw for 3,905 yards with 47 touchdowns and eight interceptions. He officially signed with the Rebels shortly thereafter and, according to the Clarion-Ledger, could complete his community service after enrolling in school Jan. 21.
Rebels coach Hugh Freeze, however, declined to confirm to the Clarion-Ledger that Kelly will become a member of the team. Freeze said Dec. 26 that Kelly was "very remorseful" for the incident but stopped short of saying any decision had been made regarding his future at Ole Miss.
Kelly was dismissed from Clemson following the Tigers' 2014 spring game for "conduct detrimental to [the] program." Then a redshirt sophomore, after his JUCO season Kelly has two seasons of eligibility remaining.