2013 Team Preview: Cleveland Indians
We continue our series of previewing all 30 MLB teams here in Eye On Baseball. Today's entry: The Cleveland Indians.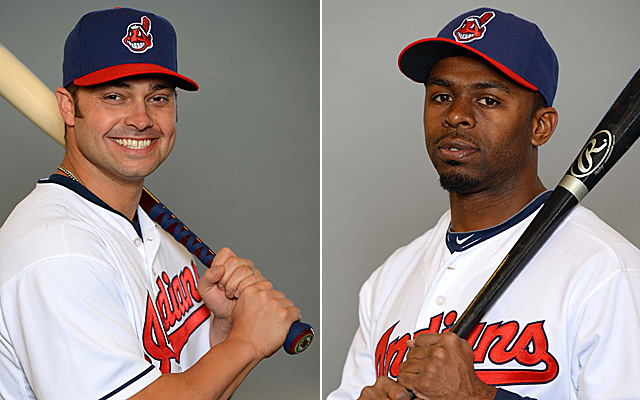 The Indians actually went out and spent some money in free agency this year. (USATSI)
Spring training coverage | Indians: Camp report | Likes, dislikes | Prospect watch 
After an embarrassing second half to the 2012 regular season, the Cleveland Indians had a noisy offseason for a change. They made two big, late splashes in the free agency market, shocking the world to sign both Nick Swisher and Michael Bourn.
They also took part in a three-way trade that sent Shin-Soo Choo to the Reds and landed the Indians highly-touted-although-somewhat-eccentric pitching prospect Trevor Bauer. Oh, and we can't forget the high-profile hiring of seemingly-reinvigorated manager Terry Francona.
Simply, it's a whole different ballclub in Cleveland.
Probable lineup
1. Michael Bourn, CF
2. Jason Kipnis, 2B
3. Asdrubal Cabrera, SS
4. Nick Swisher, 1B
5. Carlos Santana, C
6. Mark Reynolds, DH
7. Michael Brantley, LF
8. Lonnie Chisenhall, 3B
9. Drew Stubbs, RF
Probable rotation
1. Justin Masterson
2. Ubaldo Jimenez
3. Brett Myers
4. Zack McAllister
5. Daisuke Matsuzaka
ALT: Trevor Bauer, Carlos Carrasco
Bullpen construction
Closer: Chris Perez
Setup: Vinnie Pestano, Joe Smith, Matt Capps
Notable bench players
C Lou Marson, DH Jason Giambi, IF Mike Aviles, IF/OF Ryan Raburn
Under-the-radar offseason transaction
Bourn and Swisher get all the attention, for rightful and obvious reasons, but I love the Reynolds signing. The Indians got a .226/.317/.385 line with 22 homers from the DH spot last season and generally lacked power -- having no player with 20 homers and ranking 13th of 14 in the AL in slugging percentage. Reynolds will put up similar numbers in batting average and on-base percentage while providing a serious amount more power, as he boasts a career .475 slugging percentage and averages 34 homers per 162 games. Let the simpletons freak out about the high strikeout totals. Reynolds will do what he's paid to do: Provide prodigious power.
Fantasy sleeper: Lonnie Chisenhall
"A top prospect in 2010 and 2011, Chisenhall offers a good deal of power, solid average and even some speed. The 24-year-old has 12 home runs in 354 major league at-bats, along with an average of .260. But with everyday at-bats as the expected starter in 2013, Chisenhall should benefit from regular playing time and a much-improved lineup surrounding him. A safe estimate for this year would be a .265 average with 17 home runs and 20 doubles, but don't be surprised if he ends up more around .280 with 22 home runs and 30 doubles. His upside makes him draftable in the late rounds of deeper mixed leagues and a must-draft in AL-only formats." - Nando Di Fino [Full Indians fantasy preview]
Biggest strength
Outfield defense. The Indians are going to play Brantley in left and Stubbs in right to flank Bourn. As my esteemed colleague and noted genius, Dayn Perry, has already pointed out, that means the Tribe will sport three center fielders. Basically, if a player wants to hit a fly ball against the Indians this year, he better make sure it flies over the fence. 
Biggest weakness
It's funny, because the two of these might go hand-in-hand. That is, the weakness is the starting rotation at this point, but the incredible defense being played in the outfield might help to mitigate the pitching problems. Still, initially on paper, the Tribe has serious problems in the rotation. Indians starters were 48-76 with a 5.25 ERA and 1.51 WHIP last season. There's no way to put it nicely -- that is straight pathetic. The additions of Myers (who was a reliever last year) and Dice-K don't do much to change things. However, it's possible Bauer -- and maybe even former prospect Carrasco -- puts things together and, again, the exceptional outfield defense helps to hide the problems here.
Best-case scenario
Let's face it. The Tigers are so much better than the rest of the AL Central, any hopes of winning the division involve a scenario in which one of Detroit's stars (Justin Verlander, Miguel Cabrera, Prince Fielder) suffers a season-ending injury early on.
If that happens, the Indians have a real shot at winning the Central. The starting pitchers can thrive by pitching to fly balls, and there are several with a tendency of doing so. The bullpen was good last year and should put up similar results this season. The lineup is very well rounded with speed and power, and the youngsters with big potential (Kipnis, Chisenhall, Bauer, Carrasco) can take big steps forward while the veterans do what they have shown they are capable of doing.
Basically, if everything breaks right, it's not a reach to see the Indians in the playoffs.
Worst-case scenario
Unfortunately, there are still major issues, specifically in the aforementioned rotation. What if Carrasco is just a bust? What if Bauer still isn't ready and/or still an attitude problem? Masterson, Jimenez, Myers, McAllister and Dice-K are not the answers. We've also seen significant downsides to several offensive players, even Swisher (his season in Chicago was a disaster).
Basically, if things go south, it's not a reach to see the Indians in last place.
Most-likely scenario
Bourn, Swisher, Cabrera, Santana, Reynolds and Brantley have their expected outputs offensively. The rotation is sub-par but helped by the death-to-flyballs outfield. The bullpen is very good, again. That leaves us with the X-factors: Kipnis, Chisenhall, Bauer and maybe even Carrasco. The ceiling is high, but the floor is pretty low for the 2013 season. If those guys get close to the ceiling, there will be excitement in Cleveland.
Realistically, I believe the Indians, Royals and White Sox will fight all season for second place in the AL Central behind the Tigers and end up on the periphery of the wild-card race. Expect the Indians to hover around .500, miss the playoffs but have made significant progress toward getting back to the postseason in the process.
For more baseball news, rumors and analysis, follow @EyeOnBaseball on Twitter, subscribe to the RSS feed and "like" us on Facebook. Also, individually interact with us on Twitter: @MattSnyder27, @daynperry and @mikeaxisa.

No, you're not imagining things. This MLB offseason has been very slow compared to the last...

Francesa will retire from radio next month, so he'll have plenty of free time next summer

Get your sports fans something that they'll wear all year
Get 15 percent off any order of more than $75 at CBS Sports Shop

The Twins need help in the rotation, and they may look to the trade market to find arms

Here are the bullet-points of what went down Tuesday regarding MLB and the Braves' punishm...