2014 a disaster for Astros' three straight top overall draft picks
The last three guys taken number one overall in the draft were Carlos Correa, Mark Appel and Brady Aiken, all by the Astros. Correa has a broken leg, Appel is struggling mightily in Class A and Aiken went unsigned.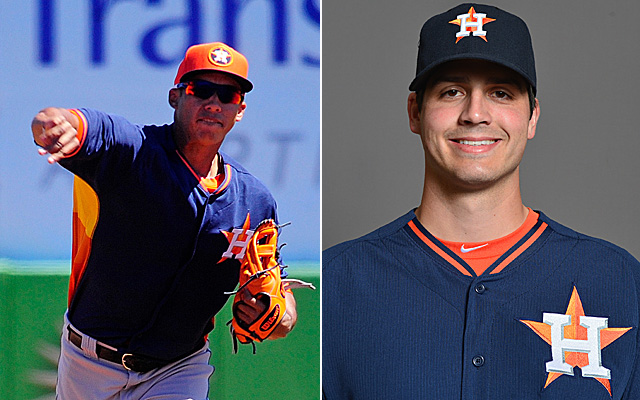 RELATED: Houston fails to sign top overall pick Aiken
As far as the whole "process" of rebuilding for a future championship, 2014 couldn't have gone much worse for the Houston Astros, at least not in terms of their last three first-round picks.
To have three straight number one overall picks in the entire draft is something that had never previously happened, considering that it means having the worst record in baseball three straight seasons and that the top overall pick used to alternate between worst AL record and worst NL record.
To come away empty-handed with one of those three picks hurts even worse, which is exactly what happened when the Astros couldn't come to terms with top overall pick Brady Aiken prior to Friday's deadline. Per Jon Heyman of CBSSports.com, the Astros offered "close" to $5 million to Aiken. The slot value of the top overall pick this season was $7,922,100. Now, after the draft but before the final offer, Houston is said to have found something concerning with his elbow -- which prevented an originally agreed-upon $6.5 million deal from coming to fruition.
Yes, the Astros get the second overall pick next season as compensation, but that's a whole year before starting the development process with a fresh face to professional baseball. There's no way to argue that having the top pick and coming away with nothing is anything but a disaster -- even if one wants to argue that wasn't exactly Houston's fault.
That's not the only problem that has come up this season for Houston with its trio of top overall selections, either.
The 2012 first-overall pick, Carlos Correa, was having an outstanding season for High-A Lancaster, but he broke his leg in late June and is out for the season. The odds are he'll fully heal and still be a top-five prospect -- he's been nothing but studly so far -- but, again, we have to think about the delay in the development process. It's not like Correa was in Triple-A and on the verge of joining the Astros. He's a 19-year-old kid who was playing in a low level of the minors. After months of rehab, he'll essentially be repeating 2014 all over again in 2015, at least in the first few months of the season -- and this is all assuming no setbacks in rehab.
How about 2013 top overall pick, right-handed pitcher Mark Appel? Well, he's 1-5 with a 10.80 ERA and 2.09 WHIP for High-A Lancaster. He dealt with an appendectomy in the spring and had a cortisone shot in his wrist a few weeks ago, but Astros general manager Jeff Luhnow said earlier this week that Appel is healthy. "He had a wrist issue a few weeks ago, but it's behind him now." (Via Ultimate Astros).
The poor outings, however, are not behind Appel. On July 10, he coughed up seven earned runs on 13 hits in 4 1/3 innings to Inland (again, this is High-A). Wednesday, he was torched even worse, to the tune of seven runs on seven hits in just 1 2/3 innings against Visalia. On the season, Appel is being hit real hard, allowing 16.2 hits per nine innings. Opposing players are hitting .392/.415/.648 against him.
It should be noted, too, that Appel was drafted after his senior year of college and should have been a pretty advanced arm. He's already 23 years old, so struggling in Class-A wasn't really the plan. Many draft pundits actually predicted he'd be in the majors by the end of 2014. Here's Baseball America after Appel signed last July: "[Appel] will get every opportunity to move quickly though the organization, with a chance to reach Double-A this summer [2013] and perhaps the major leagues next year [2014]."
They weren't alone with this opinion. That's how disappointing things have gone for Appel.
When a team has three straight seasons as bad as the Astros had, it should change the direction of the franchise just a few years down the road.
Take the Nationals, who took Stephen Strasburg (1st overall, 2009), Drew Storen (10th overall, 2009), Bryce Harper (1st overall, 2010) and Anthony Rendon (6th overall, 2011) before winning the 2012 NL East with Harper, Storen and Strasburg as major players in doing so. They are right in the mix this season with all four of those guys contributing. The then-Devil Rays got Evan Longoria third overall in 2006 before getting David Price first overall in 2007 (and, yes, likely botching the 2008 first overall pick with Tim Beckham -- though he's still only 24 and is in Triple-A). We know the hand Price and Longoria have had in the Rays' success for several playoff teams.
It is, of course, a possibility that things eventually turn out swimmingly for the Astros. After all, Jose Altuve, George Springer, Jon Singleton, Dallas Keuchel and Jarred Cosart could make for a fine nucleus for years, Correa could easily return to form quickly next year and Appel could find himself in the coming months. Meanwhile, maybe the Astros hit home runs on their two first-round picks next year.
It's just that as of July 18, 2014, there's no way to say it other than that 2014 has been catastrophic for the Astros in terms of having three straight top overall picks.
Get 15 percent off any order of more than $75 at CBS Sports Shop

Get your sports fans something that they'll wear all year

No, you're not imagining things. This MLB offseason has been very slow compared to the last...
Francesa will retire from radio next month, so he'll have plenty of free time next summer

The Twins need help in the rotation, and they may look to the trade market to find arms

Here are the bullet-points of what went down Tuesday regarding MLB and the Braves' punishm...