2014 team preview: Miami Marlins
The Marlins were a bit of a punchline in 2013. Will 2014 bring respectability?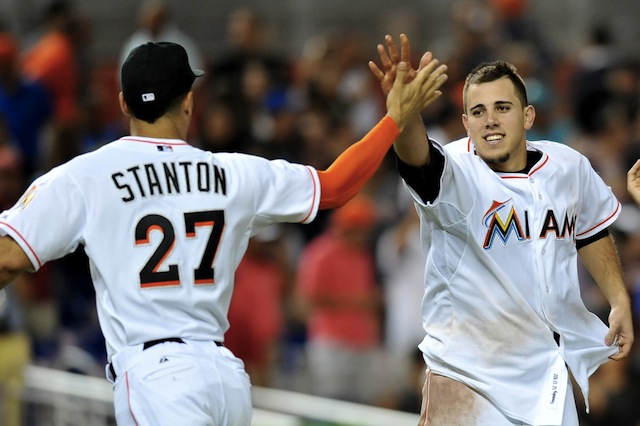 More: Likes, dislikes | Over/unders | All Team Previews | Spring Training
Last season, the Miami Marlins lost 100 games for the first time since the '98 jalopy recorded 108 Ls. The 62-100 mark was largely the result of the third "demo job" in the Marlins' relatively brief franchise history. They've assembled a fairly strong crop of young talent, but is there any hope for relevance at the highest level this season? Let's explore ... 
Probable lineup
1. Rafael Furcal , 2B
2. Christian Yelich , LF
3. Giancarlo Stanton , RF
4. Garrett Jones , 1B
5. Jarrod Saltalamacchia , C
6. Marcell Ozuna , CF
7. Casey McGehee , 3B
8. Adeiny Hechavarria , SS 
Bench - C Jeff Mathis , 3B/1B Greg Dobbs , INF Donovan Solano , INF Jeff Baker , OF Brian Bogusevic
Last season, the Marlins ranked last in the NL in AVG, OBP, SLG and runs scored, so, to say the least, the offense was a sinkhole. Hope for improvement? There is, to an extent. Stanton played in just 116 games in 2013, and even though he was quite productive over that span (131 OPS+), his outputs were shy of his established levels. Elsewhere, the signing of Saltalamacchia addresses a major weakness, as Miami catchers last season combined to hit just .194/.249/.280. There's also upside in Ozuna and especially Yelich. 
Probable rotation
1. Jose Fernandez
2. Jacob Turner
3. Nathan Eovaldi
4. Henderson Alvarez
5. Tom Koehler
Fernandez of course authored a brilliant rookie season in 2013 and profiles as a frontline ace moving forward. Turner can thrive by keeping the ball on the ground, doing a better job of limiting walks and cultivating his breaking stuff. Eovaldi has a blazing four-seamer, but he needs to stay healthy and do a better job of harnessing his stuff. Alvarez, meanwhile, can't miss bats, but he does an excellent job of inducing grounders. 
Probable bullpen
Closer - Steve Cishek
Setup men - A.J. Ramos , Mike Dunn
Middle men - Carter Capps , Carlos Marmol , Dan Jennings
Long man - Arquimedes Caminero
Cishek is a highly capable closer, and Dunn and Ramos, while not blessed with good control, can miss bats and keep the ball in the yard. The rest of the pen has sub-4.00 ERA potential, but other than Cishek and Capps, walks are going to be a concern for this bullpen as presently constructed. Disciplined lineups are going to give the Marlins problems in the middle innings. 
Under-the-radar offseason transaction
Jeff Baker. Baker, 32, is coming off a 2013 season in which he batted a robust .279/.360/.545 in 175 plate appearances for the Rangers. Obviously, that's the small sample size at work, but Baker's career OPS+ of 97 in tandem with his ability to man first, second, third and the outfield corners make him a useful roster piece. He's signed to a very modest two-year deal ($3.7 million, total) and could be someone the Marlins shop at the deadline. 
Fantasy breakout: Christian Yelich
"For a player like Yelich, the "breakout" label is almost too easy. He was so highly regarded as a prospect that most everyone assumes he'll be good someday. But after he hit just four home runs in what amounts to about half a season last year, he's not exactly a hot commodity on Draft Day. Instead of focusing on what he didn't do, though, consider what he did. In his first taste of the majors, with no Triple-A experience and on a historically miserable team, he reached base at a .370 clip that would have ranked in the top 25 if he had the at-bats to qualify. That's the difficult part for must up-and-comers, knowing when to swing and when not to. The rest you'd expect for a scrawny 21-year-old playing in a notorious pitcher's park. In time, he'll only get bigger and stronger, and it may well begin now. Yelich slugged .471 on the road last year, so it's not like he's far off. Worst case, you'll have a high on-base guy capable of stealing 20-25 bags." -- Scott White [Full Marlins fantasy preview]
Biggest strength
Upside in the rotation. Last season, the Marlins ranked a respectable 8th in the NL with a starters' ERA of 3.87. As noted above, Fernandez has the makings of a perennial Cy contender, and Turner, Eovaldi and Alvarez have ceiling. As well, there's a host of high-upside pitching prospects in the higher rungs of the system right now. To wit, Andrew Heaney, Justin Nicolino,  Brian Flynn , Jose Urena , Adam Conley and Anthony DeSclafani all have plus potential, are all likely ticketed for the high minors and all may reach the big-league level at some point in 2014. They won't all realize said potential, obviously, but strength in numbers is the way to go with young starting pitching, and the Marlins absolutely have it.
Biggest weakness
We're talking about a 100-loss team that was out-scored by 133 runs, so there's plenty to choose from here. I'll say the offense, though. As noted above, the Fish in 2013 pulled up last in the NL in runs and in the triple-slash categories. It wasn't just the home park though, as Miami also ranked last in the NL in runs scored on the road, with a measly 237 runs tallied away from Marlins Park. They couldn't hit anywhere. Things should be marginally better in 2014, but this will remain a listless attack. 
Outlook
There are no guarantees in baseball when it comes to predicting a team's precise place in the standings, but the Marlins are close to a lock to finish in last in the NL East. Sure, an utter collapse in Philly or Queens could bump them to fourth place, but that's unlikely to happen, at least to the necessary extremes. The Fish will, however, avoid another 100-loss season. So there's that. 
---
Coming Sunday: Previewing the Philadelphia Phillies
Thursday brings us plenty of stretch-drive MLB action, so keep it right here

The ballparks in Cincinnati, San Diego and Seattle will have expanded netting in place by Opening...

Mondesi spent six years as the mayor of San Cristobal in the Dominican Republic after reti...
The veteran skipper has been Mets manager since the start of the 2011 season

The Baltimore third baseman is eligible for free agency following the 2018 season

The clubs breaks ground on Globe Life Field next week