Adding context to Masahiro Tanaka's performance in Japan
Masahiro Tanaka has dominated in Japan these last three years, but just how dominant was he? Let's add some context to his stats.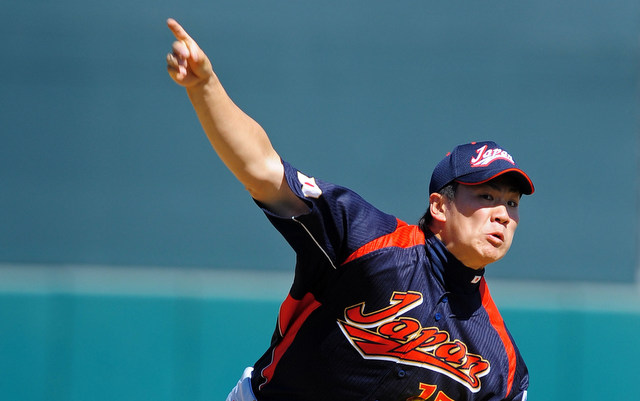 MORE: FA tracker: position players | FA tracker: pitchers
There are 17 days left in Masahiro Tanaka's 30-day signing period. Now that the holidays are over, you can bet agent Casey Close is working his phone hard to make his client the highest paid international player in baseball history. (The current record is the $68 million the White Sox gave first baseman Jose Abreu earlier this offseason.) Some team is going to commit a huge amount of money to the right-hander very soon.
By now we're all familiar with Tanaka. The 25-year-old completely dominated Nippon Professional Baseball with the Rakuten Golden Eagles in 2013, leading the team to the Japan Series title after going a perfect 24-0 with a 1.27 ERA and 0.94 WHIP in 212 regular season innings. That performance earned him his second Sawamura Award, the NPB equivalent of the Cy Young.
A 1.27 ERA and 0.94 WHIP is great just about anywhere, but exactly how great? What were the league averages in Japan? How do they compare to what, say, Yu Darvish and Daisuke Matsuzaka did before they crossed over to MLB? The raw stats lack the necessary context to properly evaluate Tanaka's performance, especially since NPB started using what amounts to a juiced ball* in 2013.
* Seriously, offense and power was down so much that NPB implemented the new ball and didn't tell the Japanese players' union until midseason. Eleanor Warnock of the Wall Street Journal had the story back in June.
Thankfully, David Golebiewski of Baseball Analytics took the time to add context to Tanaka's stats with Rakuten over the last three years (the most relevant years). Golebiewski also created a handy table comparing Tanaka's stats to those of other Japanese aces in the three years before they came over to MLB. Here's the data: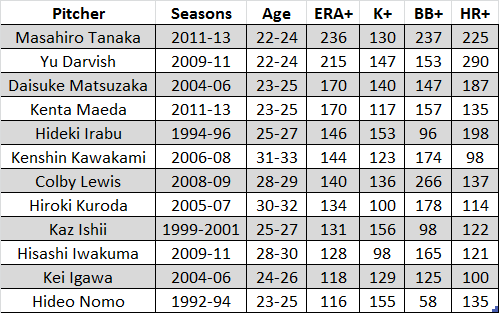 If you're unfamiliar with ERA+, it is simply a pitcher's ERA relative to the league average. A 100 ERA+ is perfectly average and anything over 100 is above-average. The bigger the ERA+, the better the pitcher performed. The smaller the ERA+, the worse he did. Simple enough, right? K+, BB+ and HR+ are the same thing, just using strikeout, walk and home run rates, respectively.
Tanaka's 1.44 ERA from 2011-13 was approximately 236 percent better than the NPB average. Darvish had a 1.64 ERA during his three years before coming to MLB and that was roughly 215 percent better than the average NPB pitcher. Tanaka walked way fewer guys than Darvish relative to the league average but also allowed more homers and recorded fewer strikeouts.
Darvish is really the only recent NPB pitcher whose performance was on par with Tanaka's. Dice-K's wasn't particularly close and neither was Hisashi Iwakuma's or Hiroki Kuroda's, two Japanese hurlers who have been very successful in MLB. (Both guys have exceeded expectations, actually.) Pitchers like Kei Igawa and Kenshin Kawakami were not particularly close to Tanaka in Japan and both flamed out in MLB.
Ultimately, no one knows how Tanaka will perform while starting every five days in the big leagues -- they start every seven days in Japan -- until he actually gets on a mound and the season is underway. His NPB performance and the various scouting reports suggest he can be an impact pitcher and soon, but that isn't guaranteed. Tanaka dominated with Rakuten these last few years -- dominated like few others in NPB history -- but that still doesn't make him a lock for MLB success.
The Red Sox and Cardinals are expected to make trade offers next

The free agent first baseman may be a fit in St. Louis

The front office changes in Atlanta continue
The Marlins are more likely than you think on our list

Judge finished a distant second in the balloting and he paid respect to the winner

Stanton just won the 2017 NL MVP award but could wind up being dealt this offseason