Brian Wilson signs with Dodgers
The former Giants' World Series hero, coming back from surgery, picks the Dodgers over several other clubs because of his desire to pitch for a contender and an affinity for Los Angeles. ...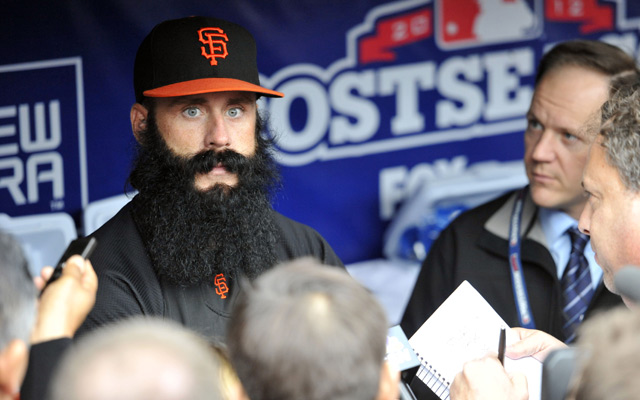 This one is going to be difficult for Giants fans to take:
Closer Brian Wilson, who played such an integral role in San Francisco's 2010 World Series win, has chosen to sign with the Dodgers, according to sources.
Wilson will report to the Dodgers' spring training facility in Arizona, then move along to Single-A Rancho Cucamonga, according to sources. Assuming all goes well, he is expected to join the Dodgers around mid-August. He signed a minor-league deal, running only through 2013.
The Dodgers have been seeking bullpen help, specifically an eighth-inning man who can work as a bridge to closer Kenley Jansen. Wilson, described by one scout who watched him work out last week at UCLA as "getting close" to major-league ready, has plenty of late-inning experience.
Wilson, 31, underwent Tommy John ligament transfer surgery in April, 2012. He last threw a major-league pitch on April 12, 2012.
Several clubs were in attendance at the UCLA workout, and the Pirates, Giants, Diamondbacks were among those who were serious with Wilson at the end. Wilson wanted to pitch for a contender, and he was described Monday by someone close to him as having an affinity for Los Angeles.
Here are the bullet-points of what went down Tuesday regarding MLB and the Braves' punishm...

The owners need to ratify on the new system in place, but the takeaway here is Ohtani is coming...

A preliminary report National Transportation Safety Board has shined some light on details...
John Coppolella was placed on the permanently ineligible list by MLB on Tuesday

Among other sanctions, Atlanta lost the player who was deemed the No. 1 international signing...

Among other penalties, No. 1 international prospect Kevin Maitan is now a free agent