Can Archie Bradley, MLB's top pitching prospect, make D-Backs?
Archie Bradley had his first misstep against the Mariners but he's looked great overall this spring and Arizona is tempted to promote him after only 21 games above A ball.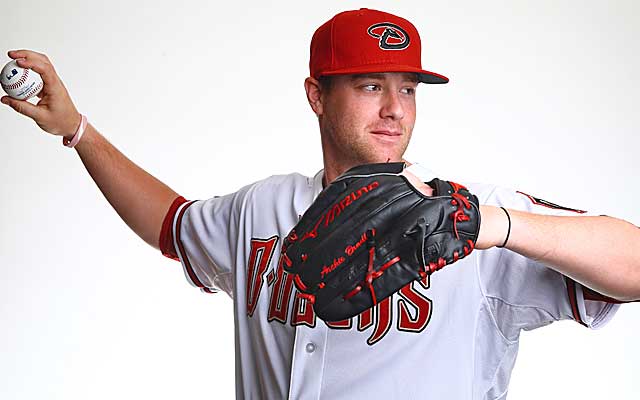 MORE: Spring Training | Scoreboard | FA tracker: hitters | FA tracker: pitchers
SCOTTSDALE, Ariz. – When Arizona Diamondbacks  21-year-old wunderkind pitcher Archie Bradley got into the slightest bit of trouble in grade school, middle school or even high school back in his home state of Oklahoma, a stern sort of principal named Pam Bradley -- yes, his mom -- would give him detention or even suspension.
"She's very tough," Bradley recalled with a smile. "She made an example out of me."
The tough parental/principal strategy worked. Bradley responded by being about as nice a kid as you can imagine. He smiles constantly, does whatever veteran catcher/locker neighbor Miguel Montero tells him to do and is very respectful of all his elders (i.e. when my pen ran out of ink in our interview, he offered to walk across the clubhouse to fetch me a new one).
For the first time this spring after early dominance, Bradley, the phenom righthander who's creating a Cactus League stir, hit a bit of a rocky patch on the mound Thursday. After showing great stuff in his bullpen session, he couldn't find the plate against the Seattle Mariners . And this time, the tough love came from no less a noted tough guy than Diamondbacks manager Kirk Gibson.
"Kind of a stinker," Gibson called Bradley's outing, before mentioning a couple positive things about a performance about as different as all of his previous outings this spring. In those earlier virtuoso performances, Bradley dominated a stacked Colorado Rockies lineup, retired Albert Pujols twice (Bradley floated off the mound after that one) and struck out more than one out of every three bats he faced.
It's no wonder the Diamondbacks have been weighing strongly the possibility of promoting perhaps baseball's best pitching prospect all the way to the majors even though he's only thrown 21 games above A-ball. His one bad spring outing may hurt his chances a bit, but the thought remains very tempting for the Diamondbacks. This kid is a can't-miss prospect. But does that mean now?
"He's got a power package, a bulldog makeup, and a football mentality," Diamondbacks general manager Kevin Towers raved about Bradley. "He's handled himself very well. You can sense it when you get around a special kid. For him, it's just a matter of when. Anytime we've challenged him, he's met the challenge."
The majors would be a big one. Towers sensed Bradley was a bit bored in A-Ball as he improved starkly upon his ascension from a regular A-ball to high A-ball (Bradley denies he was bored, for the record), but he most certainly is engaged here. Understandably, he acted like a fan when Montero introduced him before the Los Angeles Angels game to the great Pujols. But that didn't stop him from retiring Pujols twice, once on a strikeout and once on a groundout.
"Walking off the field, I felt the little kid in me," Bradley said. "I was like, 'Oh my God, I just struck out Albert Pujols.'"
Bradley is appreciative about how far he's come so fast, and sometimes may seem a bit awed. But he's growing up. When he went to Chase Field after he was selected No. 7 overall in the 2011 draft out of Broken Arrow (Okla.) high, he remarked to D-Backs execs after initially witnessing baseball's first retractable-roof stadium, "It's just like on the video game." At that point, despite Bradley's quarterbacking pedigree, they figured they had him -- though he waited to sign (for $5 million) until just a few minutes before the deadline. "It's life changing money. You can always go back to school and this game is a lot easier physically," said the son of an educator who can sound very wise himself.
Excuse Bradley if he still feels like a little kid, as he isn't that far removed from his days at Broken Arrow, where he was a major star as a quarterback and pitcher, just like his chief rival and friend Dylan Bundy , from nearby Owasso, Okla. who went three places ahead of Bradley in that '11 draft; Bundy went fourth overall to the Baltimore Orioles . The Diamondbacks actually had the No. 3 pick, too, and they used it on hard-throwing UCLA righthander Trevor Bauer , who was quickly shipped off to the Cleveland Indians in a three-team trade that brought them slick-fielding shortstop Didi Gregorius due to Bauer's control issues and quirkiness.
A scout who trailed both Oklahoma phenom pitchers recalls that the 6-foot-1 Bundy was a finished product (he had a 0.25 ERA his senior year at Owasso), while the 6-foot-4 Bradley dominated similarly but was really more about potential. The scout also recalls that there was a friendly competition between the two, and Bundy, who had the rep for being more driven in their high school days, took pride in being ahead of Bradley. Bradley's ERA was 0.38 his senior year, so technically, Bradley was indeed behind Bundy.
Bradley, more of a happy-go-lucky sort than Bundy, smiles about stories of their high school days. In fact, he smiles all the time. He smiles at the thought of being at his first camp, smiles when Montero makes fun of his habit of misplacing his cell phone and smiles a lot at the idea of making the majors, which is a lot closer to a possibility than anyone could have imagined. When the D-Backs announced the other day that Bradley would be starting the March 21 exhibition against the Los Angeles Dodgers in Sydney, Australia, that was the first big hint he's got a real shot. That decision guarantees he'll be around until the very end of spring, anyway.
There's a lot to consider regarding the possible promotion of their prized prospect, and the Diamondbacks are about as well-equipped to handle this call as anyone. In addition to new pitching coach Mike Harkey, they employ Dave Duncan, perhaps the greatest pitching coach ever, plus Towers, a former highly-regarded pitcher himself, not to mention Gibson and coach Alan Trammell, who've been around long enough to know about greatness.
Towers says he sees a young Chris Carpenter when he looks at Bradley. He has the broad shoulders, the downward pitching action and signs of similarly tough determination.
Bradley is tall, strong, throws hard and generally knows where the ball's going. That's quite a start. "He's got a chance to be the total package," Duncan, serving as D-Backs pitching guru, said, "He's not just a kid who throws hard. He shows good command." Because he's not "one-dimensional," Duncan said he believes he has a chance to be that rare No. 1 pitcher.
The fastball is consistently 94-96 mph, he has a big curveball and great control for someone his age. "He is going to be a stud," said one rival NL scout. "He looks the way they are supposed to look. He'll be a No. 2 starter, at least, with a chance to be an ace."
To get to the top of a rotation, scouts say, he just needs some more work on his third pitch -- a changeup that isn't quite there yet. "Developing," is the way one AL scout describes the changeup. Anyway, he threw five or six in the Angels game, and one of them was good enough to fool Pujols.
Bradley's possible ascension to the majors may depend some on the development of that third pitch, and it's possible it may depend to a lesser degree on the health of Bronson Arroyo , who is batting a bulging disk in his back (but as one scout says of Arroyo, he "always answers the bell") and perhaps Trevor Cahill , who jammed his knee covering the first the other day. It won't have anything to do with setting the clock back, folks agree. The Diamondbacks followed a stellar 2011 campaign with two straight seasons where they were as average could be (81-81 both years) and are about as annoyed about it as you can imagine. "We went to win," Towers says, flat out.
If that's the case, it's hard to imagine Bradley isn't one of the team's five best starters. If Arroyo and Cahill wind up healthy, they could also potentially trade a starter, with Brandon McCarthy and maybe Cahill the prime trade candidates. Bradley brings stuff, makeup, youthful enthusiasm, almost everything you want to see except experience and a third pitch. His goals, he said, were to compete, to learn and to have fun.
"I want to see where my stuff is at," Bradley said. "And I want to help the team win."
Principal Pam Bradley, who coincidentally or not, seemed to follow her son even as he switched schools, serving in that role at Archie's grade school and middle school before rising to Broken Arrow's principal, would be proud. Sure, Bradley had a blip Thursday against the Mariners, but he's created as much buzz as anyone in any camp, justifying MLB.com's tag as the No. 1 pitching prospect, just ahead of Seattle's Taijuan Walker , Kansas City's Yordano Ventura and others. Bundy, recovering from Tommy John surgery, is ranked eighth at the moment, incidentally.
While Bradley was a bit more fun-loving than the ultra-serious Bundy in high school, Pam Bradley's lessons paid off. He'd get into the occasional scrap, he said, though it's hard to imagine too many high school kids wanting to fight him. "I think it helped me," Bradley said with a smile. "She was all over me."
Now, he is learning from Montero, Gibson and others who won't let up on him, either. They won't let him squander any bit of that vast potential. While he says he wasn't bored at A-ball last year, the numbers suggest he fared much better as the hitters got better. He posted a mundane 3.84 in his first stop A-ball at South Bend (Ind.), then sub-2 ERAs at both high A-ball at Visalia (Calif.) and Double-A Mobile (Ala.), 1.26 and 1.96, respectively. Here, he has retired Pujols, the Rockies stars and a string of other big league stars. "You rise to the occasion," is the way Bradley put it. "As the competition gets better, you get better."
As it turns out, Bradley may rise sooner than anyone thought.
It's a full slate of MLB night games, so keep it locked right here

The Rockies are clinging to the second NL wild card spot at the moment

Plus Matt Olson and Kevin Kiermaier heroics, a look at Zack Greinke's dominance and more
Plus the Indians are now 27-1 in their last 28 games. Here is everything you need to know from...

The soon-to-be 43-year-old Dickey said he wants to spend more time with his family

The two NL Central rivals opened a four-game series at Miller Park on Thursday night