Core Values: Washington Nationals
It's time, once again, to check out the core value of one of Major League Baseball's 30 ballclubs. Sunday's entry is the Washington Nationals.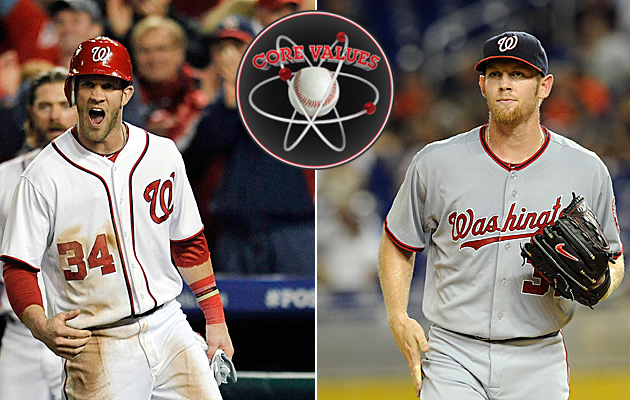 With Harper, Strasburg and more, the Nationals are loaded for both the short and long term. (US Presswire)
It's time, once again, to check out the core value of one of Major League Baseball's 30 ballclubs. Sunday's entry is the Washington Nationals. For those who may not have yet seen any of our entries, a short explanation:
What's a core? For our purposes, a team's core comprises a "cornerstone player," a "face of the franchise" and then the "future face of the franchise."

So what's a "cornerstone player"? For starters, it's one of the best players on the roster and perhaps the very best player on the roster. Beyond that, though, it's the player whom the organization has identified as the talent around which to build by signing him to a long-term deal. In other words, they've backed their faith in the player's abilities with the most powerful statement of all: lots of redeemable U.S. currency. Not only do they see this player as central to their current aims but also to their designs on future contention.

What's a "face of the franchise"? He -- and we're getting subjective here -- is the player who most prominently embodies the franchise in question. He's that player you think about when you think about this team. Is he the same guy as the "cornerstone"? Sometimes. But the cornerstone is primarily a financial designation. The "face" is, for lack of a better term, a cultural identifier. They're not mutually exclusive, but they're not not mutually exclusive, either. What about the word "values" you see in the headline above? After we identify and evaluate the three elements of the core, we're going to slap a letter grade on the whole thing.
On to the defending NL East champions.
Core Values series
Previous posts
Cornerstone player: Ryan Zimmerman
The Nats gave right fielder Jayson Werth (and his glorious beard, which has a Twitter account) a seven-year, $126 million deal prior to the 2011 season, but he's still not the man locked up for the longest on this club.
Prior to last season, the Nats stacked six years (and $100 million) onto Zimmerman's contract, which already went through 2013. There is also a club option for one more year, meaning Zimmerman could be locked up through the 2020 season.
The 28-year-old third baseman has been with the club since 2005, and it appears he's set to be a career National.
Faces of the franchise: Bryce Harper and Stephen Strasburg
The future is now. They're both established and are already stars.
Harper, 20, won the NL Rookie of the Year last season after hitting .270/.340/.477 with 26 doubles, nine triples, 22 homers, 59 RBI, 98 runs and 18 stolen bases -- not to mention great defense in all three outfield spots. He'll move forward entrenched in left field, where he's sure to have the best arm in baseball from that spot. In terms of offense, the surface of his potential has barely been scratched. He has the talent to win multiple MVP awards.
Strasburg, 24, went 15-6 with a 3.16 ERA, 1.16 WHIP and 197 strikeouts in just 159 1/3 innings last season. He's now past the innings limit controversy and will be among the elite pitchers in baseball as long as he stays healthy.
Faces of the future: Harper and Strasburg
What I wrote above still applies here, considering they are 20 and 24, respectively. Most 20-year-olds are still in the lower levels of the minors.
Nationals' core value: A+. This will be the only A+ we give during this series. There is no team better set up for success both next season and, say, five years from now than the Washington Nationals.
What's amazing is that, in addition to the impressive group of players mentioned above, the Nationals already had Gio Gonzalez (who finished third in NL Cy Young voting last year), Jordan Zimmermann (26 years old, 2.94 ERA last year), Ross Detwiler (26 years old, 3.40 ERA last year), Ian Desmond (All-Star shortstop) and Adam LaRoche along with a studly bullpen anchored by Drew Storen and Tyler Clippard. Don't forget about the likes of Wilson Ramos, Danny Espinosa, Tyler Moore and touted corner infield prospect Anthony Rendon.
Then, this offseason, the Nationals went out and added center fielder Denard Span, starting pitcher Dan Haren and closer Rafael Soriano.
Given the additions and the likelihood several players should be more healthy and see improvements, the team that had the best record in baseball in the 2012 regular season appears to be better.
Considering Ted Lerner is quite literally the richest owner in baseball and Washington, DC, is not a small market, there's little reason to believe things will get worse any time soon. It's very simple: There's dynasty potential here. Then again, potential means nothing. They now have to go out and get it done.
For more baseball news, rumors and analysis, follow @EyeOnBaseball on Twitter, subscribe to the RSS feed and "like" us on Facebook.
The Nats will host the All-Star Game in 2018

The Orioles are looking to trade Machado heading into his walk year

The Cardinals have been linked for a while to the Baltimore star
Gallardo spent the first eight years of his career in Milwaukee

MLB revenues are at a record high right now, but teams aren't spending it on players

Chicago added Tyler Chatwood earlier this offseason but might not be done adding to the ro...