Cubs hit home run with Anthony Rizzo contract
The Cubs have locked up 23-year-old first baseman Anthony Rizzo for seven years and $41 million. It's a bargain.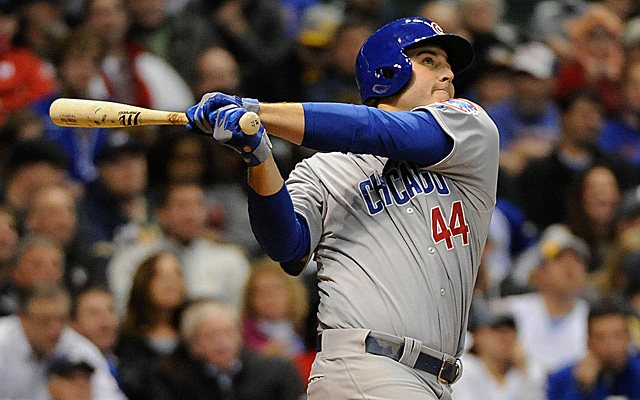 More MLB: Scoreboard | Standings | Probable Pitchers | Sortable Stats | Odds
News broke late Sunday night that the Cubs and first baseman Anthony Rizzo had agreed on a seven-year, $41 million contract. All indications point to this deal being a major bargain for the Cubs.
Knowing what we know about power-hitting first baseman, Rizzo's four arbitration years were likely to approach $40 million total, not to mention the first two years of free agency the contract bought out. If the Cubs end up picking up the two club options, it's reasonable to believe they have locked up a potential star first baseman for nearly a decade and saved around $50 million in doing so.
Even figuring conservatively, a power-hitting first baseman makes a bare minimum of $10 million a year, post-arbitration. So let's say Rizzo would have made roughly $90 million through 2021 had the Cubs never signed him to an extension. That's still $22 million in savings.
And, again, we haven't yet seen Rizzo's full potential. He's still growing at the big-league level, with only 680 career plate appearances.
Here's Rizzo compared to a list of the first baseman with deals that run past 2015 and carry an average annual value of at least eight figures (meaning at least $10 million per year), along with their numbers since Rizzo got the call -- meaning from June 26 last season to Monday. Note how well Rizzo stacks up, especially when one factors in age.
Since June 26, 2012
Player
Age
Remaining contract*
avg/obp/slg
hr
rbi
Ryan Howard
33
4 yrs/$95m
.230/.292/.432
20
78
Albert Pujols
33
9 yrs/$228m
.285/.350/.526
24
81
Mark Teixeira
33
4 yrs/$90m
.246/.330/.492
12
42
Adrian Gonzalez
31
6 yrs/$127m
.333/.373/.513
16
95
Joey Votto
29
11 yrs/$235m
.306/.452/.440
4
26
Prince Fielder
29
8 yrs/$189m
.313/.433/.559
28
95
Anthony Rizzo
23
7 yrs/$41m
.283/.345/.485
24
76
*Remaining contract = Deal from 2013 season through the end, excluding options
There have been some injuries in there with Howard, Teixeira and Votto, but this still shows Rizzo holding his own against baseball's highest-paid first basemen. Obviously, with the arbitration system in place, Rizzo didn't have a chance to net nearly as big a contract over the next several years, but just let this be an illustration as to how much a bargain he will likely prove to be.
Now, there's still a chance that Rizzo suffers through serious injury issues or becomes a bust. The latter isn't even close to being likely, considering age, Rizzo's development curve and how he's already made adjustments at the big-league level several times in order to combat slumps. For example, there were concerns about his swing mechanics, low batting average and high strikeout rate early this season. But in the past 16 games, Rizzo is hitting .419/.478/.694 with eight doubles, three homers, 14 RBI and six walks against eight strikeouts.
But still, we have to consider the chance he's an eventual bust. In that scenario, this still really doesn't cost the Cubs too much. Over the course of seven years, $41 million -- an average annual salary of less than $6 million -- doesn't amount to much for a large-market money machine like the Cubs. For example, Scott Fieldman is making $6 million this season and Scott Baker (on the 60-day DL) is making $5.5 million.
Even if the Cubs stay in the $100 million range in payroll -- and I'd bet they go way over once they get the Wrigley Field renovations done and decide they are content that the rebuilding of the minor-league system is complete -- Rizzo would be making roughly six percent of the payroll, hardly a big deal for any club.
Now, obviously this deal appears mutually beneficial because Rizzo gets financial security and feels a part of the franchise nucleus moving forward. It's just that if he plays the way he appears capable and even modestly improves, the Cubs have gotten an unbelievable bargain.
Our Latest Stories
Despite an awful month, the Dodgers are again NL West champions

The record of 38 previously belonged to Hall of Famer Frank Robinson

The report also says that Jeter had outgoing president David Samson do the firing
This wasn't a traditional hidden ball trick, but the Blue Jays pulled it off

The Tigers essentially fired Brad Ausmus on Friday, but things are going to be ugly for a...

The club made the announcement on Friday