Derek Jeter helped baseball through scandal and self-destruction
Yankees captain Derek Jeter is retiring after the 2014 season. His importance to the game goes beyond the numbers.
MORE: Jeter to retire after 2014 | Leaderboarding: Derek Jeter, all-time shortstop
Yankees captain Derek Jeter, who recently announced that he'll retire following the 2014 season, would be legend enough based on the numbers alone. Those numbers are unassailable, and they're why he'll be ferried into the Hall of Fame on the first ballot (will he be the first unanimous choice?).
Yet there's also Jeter's -- if I may indulge in some conversational French -- je ne sais quoi: those imprecise qualities like his poise under the lights, whether those of the camera or those of the stadium. His big moments (too legion to chronicle), his grace afield (imagine now a slow-mo jump-throw, if you would), his above-the-fray manner of carrying himself and handling the media and his relentless constancy all coalesced to make him one of the most revered players of this or any era.  
Sure, he was a bit too polished at times -- Derek Jeter to some, Derek JeterTM to others. However, it's that composed bearing in tandem with his on-field excellence that allowed Jeter to serve as a bridge of sorts across two most unfortunate baseball touchstones. 
When Jeter took the field for his major-league debut on May 29, 1995, baseball was still within hailing distance of the labor stoppage that snuffed out the 1994 World Series and soured many a fan on the modern game. I'd never suggest that any one player -- not even Cal Ripken Jr. and his streak -- saved baseball afterward. The game would've survived and eventually thrived again regardless of the names on the rosters.
However, Jeter's rise to stardom (he'd win Rookie of the Year the following season and be central to the Yankees' winning their first title since 1978) and the way in which he rose to stardom would be a "true north" of sort when baseball needed more than a few of those. He embodied a style that was at once elegant and workmanlike, fourishes utterly beyond us but leavened by a steadiness to which we could credibly aspire. He was a familiar archetype helming a team of familiar excellence, which was a sound prescription at the time. He helped, is all. 
Similarly, it's oddly fitting that Jeter announces the end of his playing career on the same day that MLB, at least subtextually, announces the de facto end of the biggest PED scandal in the game's history. Fair or not -- quick, everyone ignore football! -- the story of steroid use has clung to baseball for the last decade plus. Jeter was there all the while, in stark adjacency to the era's crowned main offender, Alex Rodriguez. The context of his times made Jeter look all the better, all the more unimpeachable. As easily as he makes the routine play (almost certainly to his right ...), Jeter satisfied a need for simple assumption all these years. 
Good, then, that even though Jeter's career is temporally framed first by self-destruction and then scandal on a wide scale, he bears almost no association to either event, tectonic though each event was. Cue no orchestral swells because I'm not here to crown Jeter as Savior of Our Game, mostly because he isn't. Still, while Jeter was a player fathers and mothers and sons and daughters could unite over in exaltation without any sense of generational disconnect, he perhaps meant more to this era than he would have to others less riven.
What Jeter means to baseball fans is an accident of time, in a sense, but that's so often a necessary component of greatness.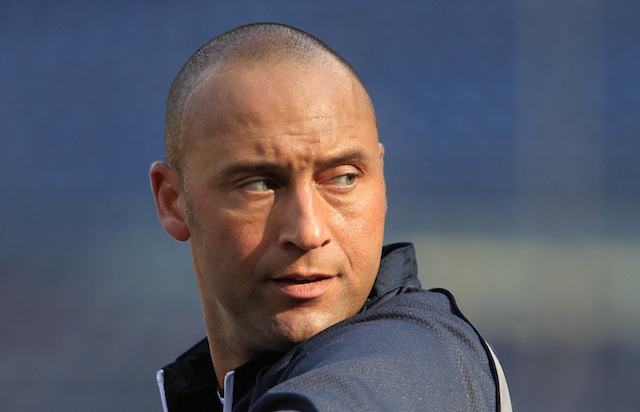 Will J.D. Martinez be Boston's next target?

Could catcher J.T. Realmuto be the next Miami player to be traded?

If the slow-play for Martinez, Hosmer and Arrieta sounds familiar, it should
The Nats will host the All-Star Game in 2018

The Orioles are looking to trade Machado heading into his walk year

The Cardinals have been linked for a while to the Baltimore star