Is Stephen Strasburg overrated?
Nationals starter Stephen Strasburg hasn't lived up to his immense hype to this point. Or has he? Let's take a look.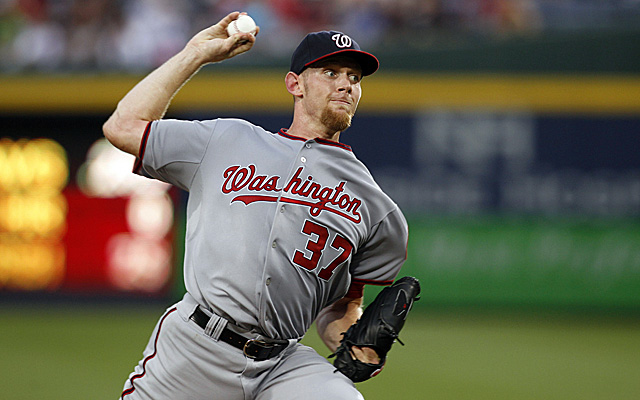 More MLB: Power Rankings | Expert Picks | Latest news & notes | Fantasy news
After coughing up seven runs on seven hits -- including four homers -- in five innings to the Braves on Friday night, Nationals pitcher Stephen Strasburg is now 8-10 with a 3.68 ERA. The Nationals are 12-13 when he starts and 50-39 when he doesn't. Given the excessive hype that came with Strasburg's arrival in the majors, this is causing some to call him overrated, overhyped or even a bust (the true overreactors).
So, what, truly, is Stephen Strasburg? Let's try to really nail it down.
This is his age-25 season (he's 26, but just turned 26 and age seasons are determined by the age on June 30 of that particular season). He leads the NL in strikeouts. He's tied for ninth in quality starts with 16. He's 27th in ERA. He's 19th in WHIP at 1.23.
How about advanced metrics? (Uh oh, better start screaming stuff about "nerds!")
Strasburg's 3.00 FIP ranks eighth in the NL. His 2.54 xFIP is second to Clayton Kershaw. His WAR (nerds!) of 3.0 is sixth among NL pitchers, trailing Kershaw, Adam Wainwright, Jordan Zimmermann, Johnny Cueto and Cole Hamels.
From that so-called stat-geek perspective, Strasburg has been victimized by poor luck, just as the .341 average on balls in play says.
It's not that simple, though. His line drive rate has jumped from 17.5 percent last season to 24 percent this season. His ground ball rate has dropped. He's allowed home runs on 14.1 percent of his fly balls, which is a jump from 11.1 percent. Basically, he's being hit much harder than he has in the past and certainly much harder than a guy with his raw stuff should.
Friday night was another example. The Braves had lost eight straight games and hadn't beaten a team with a winning record since June 20. They were averaging two runs per game in their previous seven, having not put up more than four runs in a game since July 27. This was a punchless lineup and yet they pounded him. Guess who started that aforementioned June 20 Braves win, by the way? Strasburg.
That's an astounding coincidence, but it's worth bringing up because of his splits. Specifically, Strasburg is 6-4 with a 2.62 ERA, 1.18 WHIP and 105 strikeouts against teams with a losing record. He's 2-6 with a 4.86 ERA, 1.28 WHIP and 81 strikeouts against teams with a winning record. The sample sizes are similar and, yes, many pitchers are going to be worse against good teams compared to bad teams, but this is a wide margin.
I believe there's enough here with his stuff and his bad fortunes outlined above to say that this is a trend Strasburg can reverse, but it's something that is there and at the very least raises a few eyebrows.
Another factor to consider is that, yes, Strasburg has been around (and heavily hyped) for quite a while, but he's still 26 and in his age-25 season. Jeff Samardzija wasn't even a starting pitcher yet at 26. James Shields was probably the worst regular starter in baseball at age 28. Max Scherzer had a 4.43 ERA (93 ERA+) at age 26. Cliff Lee was 19-19 with a 5.01 ERA in his ages 27-28 seasons. This isn't a comparison, per se, it's just an illustration that there's still time for Strasburg to improve upon his already strong resume.
And make no mistake, Strasburg's career resume is very strong. In his ages 23-24 seasons, he was 23-15 with a 3.08 ERA (126 ERA+ and 3.03 FIP), 1.10 WHIP and 388 strikeouts in 342 1/3 innings. He was the clear ace of the staff in 2012 when the Nationals posted the best record in baseball.
I think some of the "overrated" talk is justified. It may be a bit unfair and based upon the fact that he's not Clayton Kershaw or Felix Hernandez, but when he was coming up, he was treated as if he'd be those guys and maybe even better by now. Remember, his starts were treated like a holiday and, in fact, were billed as "Strasmas." What he's doing this season is not worthy of that type of otherworldly billing, so some level of backlash is to be expected.
By the same token, the fact that he hasn't yet lived up to his immense hype doesn't mean he "sucks" or is a poor pitcher. He's not even close to that. He's very good. If he was doing what he's doing right now and had a name like, say, Drew Hutchison, Kyle Gibson or Tanner Roark we'd be talking about how he's having a very good career. Maybe even that he's underrated. Hype has a funny way of changing the conversation, doesn't it?
I think it's fair to say that Stephen Strasburg isn't an ace and hasn't lived up to his billing to this point, but let's just not go overboard here. He's a very good pitcher and still has the chance to blossom into an ace and even win a Cy Young or two. Saying otherwise is falling victim to hype backlash.
The lefty starter is coming off a terrible season

After acquiring Ian Kinsler and Zack Cozart in recent days, the Angels are trending upward

Cozart's coming off a big season as the Reds' shortstop
The veteran slugger spent the last eight seasons with Cleveland

The Padres may be poised for an active winter

Yes, Bryce Harper is going to make a lot of money next winter