Prince Fielder flops, and ultimately so do the vaunted Tigers
Beyond its brilliant starting pitching, Detroit played a poor series, falling short of the World Series.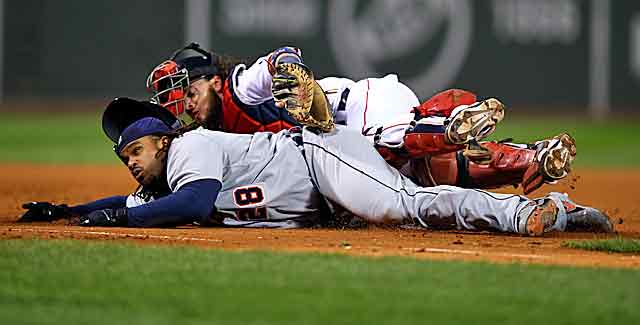 BOSTON -- The Fielder Flop may soon hit the baseball lexicon, whether you're talking about Prince Fielder's pseudo slide toward third base or his anemic postseason hitting.
The slow-footed Tigers star got caught in a rundown between third and home and wound up falling on his face, a metaphor for a sorry Detroit Tigers series, where they didn't live up to their vast ability. That is, all except the Tigers' vaunted starting pitchers, who almost without exception were brilliant in an ALCS lost to the Red Sox, four games to two, that was capped by Boston's late-earned 5-2 victory here Saturday.
Fielder's sixth-inning baserunning misadventure, with him ending up in a messy pile about five feet short of third base, and Red Sox catcher Jarrod Saltalamacchia on top of him, ball in hand, was just one unsightly episode in a series where the Tigers' terrific rotation was as advertised but received very little help.
No help from Fielder, who went 4 for 22 this series and had no home runs or RBI this entire postseason in addition to his memorable baserunning faux pas, whereby he ran toward home on a Jhonny Peralta grounder but stopped 30 feet or so short of his destination in what he explained was an attempt to limit the outs on the play to one. Regardless, it didn't work. Didn't come close to working.
But this series isn't all on Fielder. Not by a long shot. There were plenty of precincts that contributed little or no help.
There was no help from many of the other Tigers hitters.
None from several of their other baserunners either (neither team had many but there were a few).
Not much from the fielders (lower-case f), either.
None, too, from a maligned bullpen that leaves even more maligned, the victim of two grand slams that stole an otherwise even series and sent the Red Sox to the World Series for the third time in a decade, against their old rival, the St. Louis Cardinals.
"You make mistakes at this time they get magnified. They cost you," Tigers star Torii Hunter said. "We made mistakes. We can't do anything about it."
The first of the slams was an absolute necessity for Boston, a David Ortiz bomb in Game 2 off Tigers closer Joaquin Benoit that tied the score at 5 in a game won 6-5, the second the Game 6-winning drive that barely cleared the Green Monster by a foot or two, by noted hit-by-pitch specialist Shane Victorino That drive sealed a series that could have gone either way, especially if the Tigers' other players were a fraction as brilliant in the ALCS as stalwart starters Max Scherzer , Justin Verlander and Anibal Sanchez .
How great were the Tigers' starters? Well, all four of them posted ERAs below 3 and struck out more than a hit an inning in the ALCS. They are reasons one through four why Boston hit .202 for the series and struck out a record 73 times.
The Tigers' starters more than matched Boston's excellent starters, who were very good in their own right. Good enough to keep them in the close games (four were one-run games) and the close series (it was a one-run series, too, with Boston outscoring Detroit, 19-18).
"They pitched well. They made big pitches when they needed to," Hunter said of the Red Sox pitchers. "They kept the pitches on the outside corner. They did that well,"
Then Hunter's voice trailed off a bit. "It's over. There's nothing to talk about, really," he said.
The ironic part for Scherzer is the stat guys tried looking elsewhere almost all year for a Cy Young candidate because, they argued, his 21-3 regular-season record was significantly the product of the massive support he received from his glorious AL Central champion team.
That storyline didn't exactly hold in the ALCS where Scherzer pitched like the Cy Young winner he will be, and almost everyone played terrible behind him, around him, whatever. His first time out, in Game 2, his 13-strikeout performance was wasted. This time in Game 6 he wasn't quite as great, as he didn't quite make it through the seventh.
The pen was especially egregious in Scherzer's two outings, as both grand slams came not long after he left the game. He took the loss in this one despite leaving with a 2-1 lead.
The batter after Scherzer left, Jacoby Ellsbury reached on a rare error by Tigers shortstop Jose Iglesias , the defensive whiz they got in midyear from Boston. The next batter was Victorino, who parked a pitch from another Tigers in-season pickup Jose Veras into the first seat above the vaunted left-field wall, sending the Fenway faithful into delirium.
Earlier, the Red Sox had missed by inches plating three runs when a Pedroia drive curled a foot or so foul as hit flew past the left-field foul pole. So the breaks evened out -- though Tigers people saw the Victorino shot as a likely out elsewhere.
"Tonight was his (night)," Veras said. "He was 1 for 22 and he took advantage with the bases loaded. ... I feel bad. I let my team down."
The reaction had to be depression in Detroit, where fans saw the efforts of baseball's best pitching rotation wasted by untimely hitting, sloppy fielding and shoddy bullpen work, not necessarily in that order.
"We played good all season. We fought through rough times. We just couldn't come through at the end," Hunter said. "We couldn't get the job done. We made a couple mistakes, and they capitalized on them."
Nobody except Victor Martinez , another ex-Red Sox, hit especially well for the Tigers. Even the great Miguel Cabrera wasn't close to himself in the series, turning in a very human hitting performance and a worse baserunning exhibition himself.
Fielder shouldn't take all the heat as there were plenty of other missed opportunities to help that great Tigers' rotation. In the end, though, they got no help.
In terms of memorable plays, no one can top Fielder's flop, though.
The Tigers had just taken a 2-1 lead on Martinez's two-run line drive off the left-field wall when Jhonny Peralta s grounder to a drawn-in second baseman Dustin Pedroia was turned into a double play after Pedroia managed to tag Martinez while throwing home as Fielder stopped 30 feet from home.
"I was trying to keep us out of the double play. I kind of got stuck there," Fielder said.
Fielder (and everyone else) agreed later he should have kept going. "Yeah, probably, but it's over, bro,'" Fielder said in answer to the question of whether he should have just continued running home.
That's the plan, third base coach Tom Brookens said, on any grounder with runners on the corners.
"He tried to make something of it, and it backfired,'' Brookens said. "It was kind of a bad deal all the way around."
One reason Fielder should have just run home on the play is that the probability of him beating a rundown is beyond remote. But he tried that route, anyway, and the result was hijinks. His dash ended with a belly flop to encapsulate a sorry series for a normally excellent team.