Prospect spotlight: White Sox comeback kid Jared Mitchell
Jared Mitchell sat out all of 2010 after a serious ankle injury and underperformed in 2011. Now healthy and confident, he's playing well at Double-A Birmingham.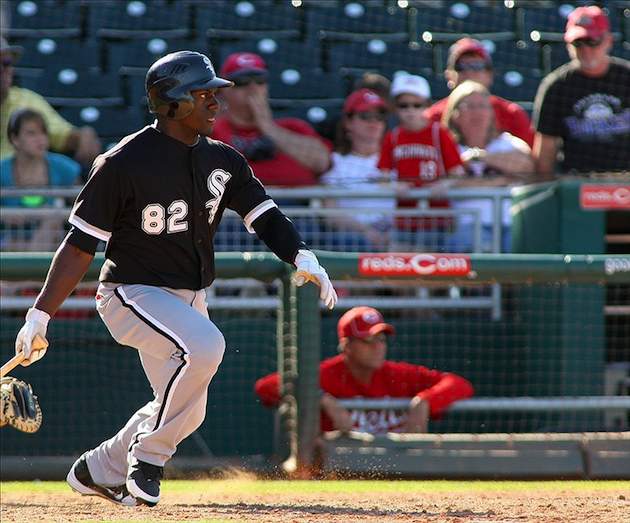 After missing all of 2010 following a freak ankle injury, White Sox outfielder Jared Mitchell thought he was healthy in 2011, but it wasn't until two weeks after the disappointed season came to an end that he realized it hadn't been.

"As an athlete, as someone who performs when it's time to go, you have to trick yourself that no matter what's wrong, you're ready to play, you're ready to go," Mitchell said. "That's just how it is. When it's time to play, it's time to play. I went through the whole year thinking I was 100 percent, but then I got home after the season and I'm sitting at home for two weeks and I was able to do things with  my ankle that I hadn't been able to do in more than a year."

During a spring training game in 2010, Mitchell slammed into a wall on a ball hit by Juan Rivera and after he realized he had the ball, he also realized he couldn't feel his leg. Mitchell suffered torn tendons in his ankle and remembers sitting in the hospital room as doctors discussed the results for his MRI for what he remembers as being 50 minutes, but feeling like two weeks.

He was told the doctors hadn't seen an exact case like his -- the closest they could think of was Curt Schilling's injury in the 2004 playoffs. But even that wasn't the exactly same injury.

"It was so freakish -- it was a blessing and a curse," Mitchell said. "The curse was that it wasn't something anyone had done before and the blessing was that I knew it was so freakish that it's not going to happen again."

Despite knowing that, he still wasn't the same player when he got on the field.

Mitchell played in high-Class A Winston-Salem last season and the team's first-round pick in 2009, who was ranked first in the team's minor-league system before the 2010 season by Baseball America and fourth in 2011, struggled mightily. He hit just .222/.304/.377, striking out 183 times in 129 games.

This season, though, instead of having Mitchell repeat the level, the White Sox pushed him to Double-A. So far, he's responded well. He's hitting .265/.394/.440. He's also matched his stolen base total from a year ago -- 14 -- in roughly half as many games (67). He's almost matched his walk total, as well (45 in 2012 versus 52 in 2011). He was also took part in the Southern League's All-Star Game, going 1 for 2 and also throwing out a runner on the basepaths.

All those things have one thing in common -- confidence.

You'd think someone who was a first-round pick, won national championships in two sports (football and baseball) at LSU and once scored from second on a sacrifice fly in college would have very few confidence issues. In fact, not even Mitchell understood that he had any deficit in the confidence department. But reflecting on it, he realizes there was an issue.

"Confidence is what it's all about at the end of the day," Mitchell said. "When you get to Double-A or really pro ball, all these guys have exceptional talent, but it's whether you allow yourself to do it."

In what is just his second full season playing baseball full-time, Mitchell's finally feeling comfortable -- and confident.

"It's funny, I moved up to Double-A and the actual game is faster than it was at the A-ball level," he said. "But for me, trying to do so much last year and trying to make up for lost time, I was trying to do so much that it seemed like it was going faster. I've been able to relax and not trying to worry about things and the game has seemed to slow down, even though I know it's faster."
PROSPECT TALK
• Following Tuesday's Southern League All-Star Game, the Mariners promoted left-hander Danny Hultzen to Triple-A. Hultzen, the second pick in last year's draft, threw just nine pitches in a scoreless first in Tuesday's game. At Double-A Jackson, Hultzen was 8-3 with a 1.19 ERA and 79 strikeouts in 75 1/3 innings.

• In his first game as a position player, Pittsburgh's Stetson Allie had two hits, including a triple, in three at-bats on Monday. He was hitless for the rookie level Gulf Coast League Pirates in his second game.

• Mitch Mustain, the former Southern Cal quarterback, made his professional debut on Tuesday, pitching two scoreless innings for the White Sox's rookie team. He gave up two hits and struck out two. Mustain, 24, hadn't pitched since high school when the White Sox signed him out of a tryout in January.

• Reds right-hander Daniel Corcino threw eight hitless innings on Saturday for Double-A Pensacola against Mobile, with reliever Wilkin De La Rosa coming in to finish off the no-hitter. Corcino struck out nine and walked three, throwing 110 pitches. He's 3-4 with a 3.34 ERA on the season. Many call the 5-foot-11 20-year-old the "little Johnny Cueto," because of their similar stature and stuff.

Let's just say the Blue Wahoos were excited about the no-hitter.



• Last year's top pick, right-hander Gerrit Cole, won his Double-A debut on Wednesday, giving up two runs on five hits with six strikeouts in five innings. Cole was 5-1 with a 2.55 ERA and amassed 69 strikeouts in 67 innings at Class A Bradenton.

• Diamondbacks outfielder Alfredo Marte was the MVP of the Southern League All-Star Game on Tuesday, going 2 for 2 with a double, RBI and run scored. Marte is hitting .283/.356/.557 with 13 homers at Double-A Mobile. Fellow Arizona prospect Tyler Skaggs got the win, even though he allowed a homer to the Mariners' Denny Almonte. Mariners right-hander Carter Capps hit 102 mph on the stadium radar gun in his four-pitch outing.

• Red Sox first baseman Travis Shaw took home the MVP for the Carolina League in the Double-A All-Star Game between the California League and Carolina League. Shaw was 1 for 2 with a two-run homer in the game. He also walked and scored a run. He's hitting .335/.424/.591 with 11 home runs on the season. The California League MVP was Reds speedster Billy Hamilton, who was 1 for 5 with two stolen bases and scored the team's only run. He led off the game with a drag bunt, stole second and third before scoring on a groundout to second. Hamilton has 80 steals at the All-Star break in 66 games.

• It wasn't a good night for pitchers at the Midwest League All-Star Game, as the Eastern Division team scored 13 runs int he first two innings en route to an 18-2 victory. West starter Drew Granier (Athletics) allowed two homers in 2/3 of an inning, giving up five runs (two earned) on three hits in 2/3 of an inning. He did have two strikeouts. Granier gave way to lefty Kyler Burke (Cubs). Burke gave up five runs on three hits in 2/3 of an inning while walking three. The Angels' Ty Kelley then gave up three runs on three hits in 2/3 of an inning. Gerson Montilla (Diamondbacks), O'Koyea Dickson (Dodgers) and Tyler Goeddel (Rays) homered for the East.

L.A. manager Dave Roberts indicated that Puig's benching was related to more than one inci...

Manager Torey Lovullo said so on Monday
Let's see how SportsLine forecasts the race for MLB's 10 playoff spots

Monday kicks off the final week of MLB action. Let's take a look at everything that went d...

No other rookie in baseball history has hit more home runs than Judge has this year