Right-hander Jake Westbrook retires
Long-time big league right-hander Jake Westbrook has decided to retire.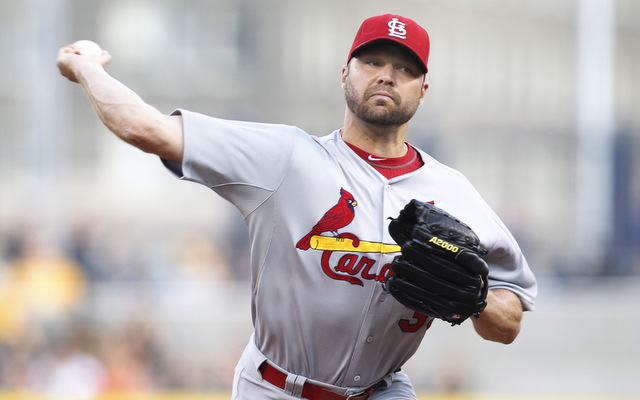 MORE: FA tracker: position players | FA tracker: pitchers
Longtime big-league right-hander Jake Westbrook has decided to retire, he told Rob Rains of StL Sports Page. There wasn't enough interest in him as a free agent, so he decided to hang up his spikes and spend more time with his family.
"I told them Daddy wasn't going to play anymore," Westbrook said Friday from his home in Danielsville, Ga. "They were disappointed and sad, but I told them, 'Daddy wasn't going to play forever.' Keaton said, 'We're glad you're going to be home forever.' That kind of choked me up, but made me feel good knowing they are happy Daddy is going to be home and not traveling anymore. I've got to make up for a lot of the stuff I've missed."

...

"The interest that I was getting wasn't significant enough for me to go through the grind of another year and be away from my family," Westbrook said. "I was kind of 50-50 on whether I wanted to play anyway. I'm good with the decision.

"I'm excited about the next part of my life and that's being home with the kids and my wife, Heather, and spending time with them and going to all of the things I haven't had a chance to do over the last 18 years in the spring and summertime. Being home is going to be fun."
Westbrook, 36, was originally a first round pick of the Rockies in 1996. He was later traded from the Rockies to the Expos (for Mike Lansing), then from the Expos to the Yankees (for Hideki Irabu), then from the Yankees to the Indians (for David Justice), and then from the Indians to the Cardinals in a three-team deal (Corey Kluber and Ryan Ludwick).
In parts of 13 big-league seasons, Westbrook went 105-103 with a 4.32 ERA (96 ERA+) and 1.41 WHIP in 1,747 2/3 innings. He went 7-8 with a 4.63 ERA (79 ERA+) and 1.56 WHIP in 116 2/3 innings for St. Louis last summer. He won World Series rings with the 2000 Yankees and 2011 Cardinals.
Westbrook spent parts of 10 seasons with Cleveland and was the quintessential league-average workhorse, throwing 180-plus innings five times from 2004-11. That was good enough to make him more than $70 million in career earnings, according to Baseball Reference.