R.I.P., 2013 Baltimore Orioles
Now that the Orioles have been officially eliminated from the postseason, it's time to pay our last respects.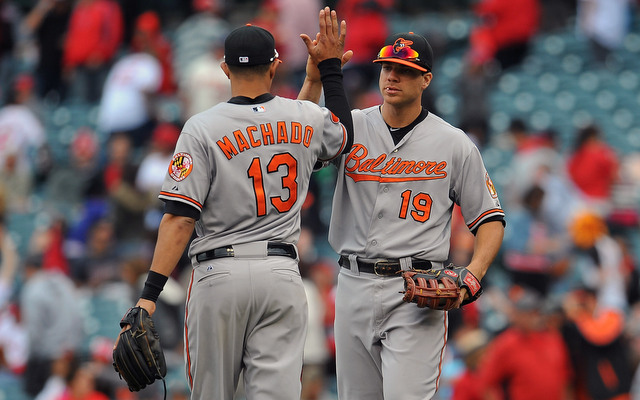 RIPs: Astros | Marlins | White Sox | Cubs | Brewers | Mets | Giants | Rockies | Twins | Phillies | Padres | Mariners | Blue Jays | Diamondbacks | Angels | Nationals
After surprising everyone by going to the playoffs for the first time since 1997 last season, the Orioles will not play in October in 2013. They have officially been eliminated from the postseason.
What went right
Two very big things despite the lack of postseason play. First, Chris Davis emerged as one of the game's premier sluggers by swatting a league-leading 52 home runs. He made the jump from okay player with potential to bonafide superstar and MVP candidate. Secondly, young Manny Machado dazzled on both sides of the ball and threatened the single-season doubles record for most of the summer. He has all the look of a franchise cornerstone and icon at age 21.
Aside from those two, the Orioles watched Chris Tillman establish himself as at least an above-average starter, particularly after the All-Star break. Wei-Yin Chen and Miguel Gonzalez showed their solid 2012 seasons were no fluke while Brian Matusz and Tommy Hunter became true late-game relievers during their first full seasons in the bullpen. Kevin Gausman, the team's first round pick in 2012, was always electric during a not-always-effective MLB debut.
What went wrong
More than I realized at first glance. Opening day starter Jason Hammel continued to battle injuries and was really ineffective when he was on the mound. Closer Jim Johnson had some very high-profile blown saves and nearly lost his job -- at least temporarily. Matt Wieters has struggled at the plate and Nick Markakis' power has completely vanished. Top prospect Dylan Bundy missed the year due to Tommy John surgery. The Orioles also got close to nothing from the DH spot. Oh, and Machado's season ended prematurely because of a knee injury. That was the icing on the "what went wrong" cake.
MVP: Can I take a easy way out and go with Machado and Davis as co-MVPs? The two have the same WAR for all intents and purposes. If I have to pick one, I'll take Davis because of the general sketchiness of defensive stats.
LVP: There is no obvious candidate, so I'll go with Hammel. After seemingly turning the corner with a 3.43 ERA in 118 innings last year, he's put up a 5.07 ERA in 135 innings this year. Yuck.
Free agents to be: IF Alexi Casilla, RHP Scott Feldman, RHP Jason Hammel, OF Nate McLouth, OF Mike Morse, 2B Brian Roberts, RHP Francisco Rodriguez, C Chris Snyder and LHP Tsuyoshi Wada. Casilla ($3 million) and Wada ($5 million) have club options in their contracts for next season. Wada has not thrown a single pitch for the Orioles since signing a two-year contract prior to 2012 due to injury problems.
Gameplan heading into the offseason
Most of the core is returning next year, so GM Dan Duquette only needs to tinker and not completely rebuild. They have a nice collection of mid-rotation/back-end starters but do need a true ace. Someone who can match up with a David Price or Yu Darvish in a big game, for exmaple. Those guys are very hard to find and there isn't one available via free agency this winter. Landing an ace is a move they might not be able to make. Replacing Roberts at second and McLouth in left should be relatively easy though, ditto finding an actually productive DH.
Ridiculously premature prediction for 2014
Man, the AL East is tough. The Orioles have a real good core -- especially if Wieters and Markakis get back to hitting like they once did -- and don't need all that much to go from an 85-ish win team back to 92-ish win team, which would probably be enough to get them back into the postseason. I'm going to say Baltimore finishes in third place and falls just short of sneaking into the postseason as a wild-card team.
The World Series champions aren't complacent

Stanton swiped at his old team on his way out

Your one-stop shop for all things MLB Winter Meetings-related
Matt Harvey could be on his way out of New York

The Nationals are looking to improve on the edges of their roster

Ellsbury is due at least $68 million over the next three seasons