R.I.P. 2013 Cleveland Indians
A successful season came to an end on Wednesday night as the Indians were knocked out of the postseason in the AL wild-card game.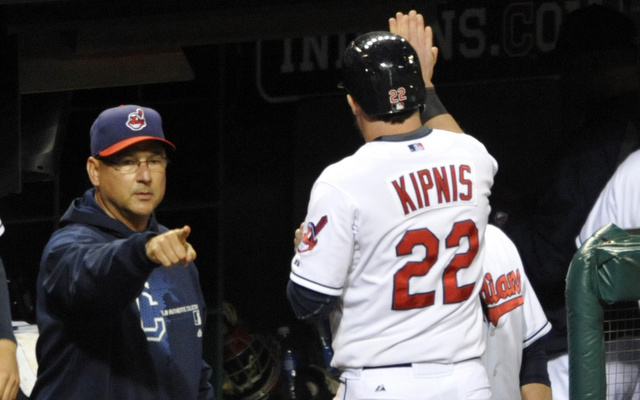 RIPs: Astros | Marlins | White Sox | Cubs | Brewers | Mets | Giants | Rockies | Twins | Phillies | Padres | Mariners | Blue Jays | Diamondbacks | Angels | Nationals | Orioles | Royals | Yankees | Rangers | Reds
Manager Terry Francona's first season with the Cleveland Indians was a smashing success. Sure, it came to a disappointing end with Wednesday night's loss to the Rays in the AL wild-card game, but they did make it back to the postseason for the first time since 2007. Getting to October makes for a successful year in my book. Let's review the year that was in Cleveland.
What went right
First and foremost, Jason Kipnis established himself as an All-Star level player and one of the best second basemen in baseball. That's one helluva cornerstone player to have on the roster. Yan Gomes also had a monster season behind the plate while starter Corey Kluber and setup man Cody Allen emerged as pitching staff stalwarts. Kluber is the oldest of that foursome at 27.
The Indians hit the reclamation project jackpot with Scott Kazmir , who was solid overall and downright dominant at times. Justin Masterson rebounded from a poor 2012 season and Ubaldo Jimenez pitched like a Cy Young contender in the second half. Seriously, he was outrageously good down the stretch (1.82 ERA after the All-Star break). The things that went right went really right for the Indians.
What went wrong
Not a whole lot, really. Michael Bourn was a disappointment after signing a fat free agent contract, stealing only 23 bases with a 93 OPS+. Mark Reynolds was pretty bad before being released, but his contract wasn't nearly as fat as Bourn's. Chris Perez had a disaster season, first being arrested on a drug charge and then losing his closer's job. Offseason pickup Trevor Bauer didn't exactly force his way into the team's rotation either, but that's really it aside from the usual ups and downs. Not a bad year for Cleveland. Not at all.
MVP: Kipnis and it isn't all that close either.
LVP: Brett Myers. Remember him? He allowed 19 runs in 21 1/3 innings before hurting his elbow in April, an injury that ultimately ended his season. The Tribe got all of that for the low, low price of $7 million.
Free agents to be: RHP Matt Albers , DH Jason Giambi , LHP Rich Hill , RHP Ubaldo Jimenez, LHP Scott Kazmir, OF Jason Kubel , C Kelly Shoppach and RHP Joe Smith . Jimenez can void his $8 million option for 2014, which he will surely do.
Gameplan heading into the offseason
With Jimenez and Kazmir hitting free agency and Bauer still an unknown, the Indians are going to have to address their pitching staff. They opened their wallets for Bourn and Nick Swisher last winter, but will they be able to do it again for Ubaldo (or a comparable pitcher)?
GM Chris Antonetti also has the option of shopping Carlos Santana around now that Gomes has emerged as an everyday option behind the plate. Santana would bring a huge return given his contract and production. The offense and bullpen is in good shape, but the Tribe will have to reinforce their rotation with at least one and likely two quality arms.
Ridiculously premature prediction heading into 2014
I think the Indians are headed in the right direction, but I feel the same way about the Royals. Add in the always good Tigers and winning the AL Central will be a tough task for the Tribe next summer. I think they'll battle for a wild-card spot again but ultimately fall short and finish third in the division