R.I.P., 2013 Kansas City Royals
The Kansas City Royals were eliminated from postseason contention Wednesday night. So you know what time it is ...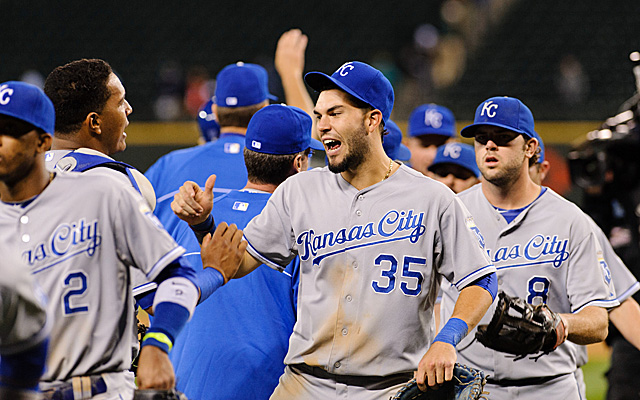 RIPs: Astros | Marlins | White Sox | Cubs | Brewers | Mets | Giants | Rockies | Twins | Phillies | Padres | Mariners | Blue Jays | Diamondbacks | Angels | Nationals | Orioles
The Kansas City Royals are going to finish the 2013 season with their first winning season since 2003 and second since the strike-shortened 1994 campaign. Still, they were eliminated from postseason contention Wednesday night, meaning they still haven't been to the playoffs since winning the World Series in 1985. So it's R.I.P. time.
What went right
Considering the lack of recent success, this is a crowded field. Salvador Perez is an All-Star catcher, Eric Hosmer has been excellent (.324/.376/.511 with 25 doubles, 16 homers and 62 RBI in his last 102 games) after a rough early season and appears poised for stardom. Justin Maxwell was very good after coming over in a trade in late July, too.
On the pitching side of things, it couldn't have been much better. Offseason acquisitions James Shields and Ervin Santana have been solid additions, as Bruce Chen has been very good since rejoining the rotation. Luke Hochevar was long considered a bust of a No. 1 overall pick, but this season he become one of baseball's best setup men. And closer Greg Holland is very clearly an elite-level closer.
Also, defensively, the Royals are having the best season in the majors according to several advanced metrics. In fact, I've seen a few use the term "historically good" when discussing these Royals defenders.
What went wrong
Mike Moustakas, unlike Hosmer, hasn't yet developed as many thought he might and while helpful to varying degrees on defense, the Royals haven't gotten as much offensively as they need from the likes of Alcides Escobar and Lorenzo Cain. In fact, I'd throw Alex Gordon (.268/.328/.426, good for a 105 OPS+) in that group. He's capable of far better at the plate. Billy Butler (115 OPS+, 14 HR, 78 RBI), while not bad, could be better offensively as well.
None of this should sound surprising, as the Royals rank 11th in the AL in runs and 12th in OPS.
On the mound, Wade Davis as a starter needs to be overwith.
MVP: Shields' performance in addition to serving as the man atop the rotation and racking up an AL-best 221 2/3 innings -- which, in turns, keeps the bullpen more fresh -- makes him my pick by a nose over Hosmer.
LVP: For me, it's Moustakas. He was a beast in the minors and entered the 2011 season as Baseball America's ninth-ranked prospect. He's racked up almost 1,500 big-league plate appearances and still isn't getting it done. In fact, he's regressed from last season. Royals fans have seen it turn around after things like this from Gordon and Hosmer. Plus, Moustakas is still only 25, so there's plenty of hope. For this year, though, the Royals really could have used the player they thought he'd be by now.
Free agents to be: 1B Carlos Pena, IF Miguel Tejada (suspended at present), SP Bruce Chen, SP Ervin Santana, SP James Shields (club option for $12 million).
Gameplan heading into the offseason
The first order of business is to pick up Shields' club option. He's far too valuable to even consider not doing this, especially since the Royals traded Rookie of the Year candidate Wil Myers (and more) to get him (and Wade Davis).
Also, they might try and find a cost-effective way to bring back either Santana or Chen, because there seems to be a match here and the pitching staff was good enough on the whole to take a "keep the band together" approach. Obviously, Santana would be the preference and Chen will be much less expensive.
Otherwise, the Royals biggest need is finding power. They rank fifth in the AL in batting average, ninth in on-base percentage and 14th in slugging percentage. It's possible they'll see power upticks from Perez -- though I wouldn't count on much more there -- Hosmer, Moustakas and Butler.
In terms of free agency, it's difficult to see the Royals being able to spend huge. And even if they could, I'm guessing owner David Glass doesn't want to. So they're looking for more mid-level guys. Would Nelson Cruz be tainted enough due to his PED suspension to be had at a Melky Cabrera-like price? I doubt it, but if so, the Royals would be wise to pounce all over him.
Too bad they can't sign Robinson Cano. Talk about a perfect fit in the field -- second base remains a hole for K.C. -- and the batting order.
Ridiculously premature prediction for 2014
Similar to this season. Look, they have the pieces to contend. If the young guys -- Perez, Hosmer, Moustakas, etc. -- make big improvements on offense while Butler and Gordon have close to career years, the offense would be good enough to aid the pitching and defense to a playoff berth. But it's rare that everything perfectly comes together in a perfect storm of a season like that. I'm saying third place again and still no postseason.
Neshek and the Phillies are closing on a two-year contract

And the team that first drafted Cole is interested

This scout was SUPER into Jeter
Stanton warned Marlins fans about the lean years that are forthcoming

The World Series champions aren't complacent

Stanton swiped at his old team on his way out