R.I.P., 2013 Los Angeles Dodgers
Just like with the first 26 teams eliminated in the 2013 season, let us eulogize the 2013 Los Angeles Dodgers, as they've lost the NLCS to the Cardinals.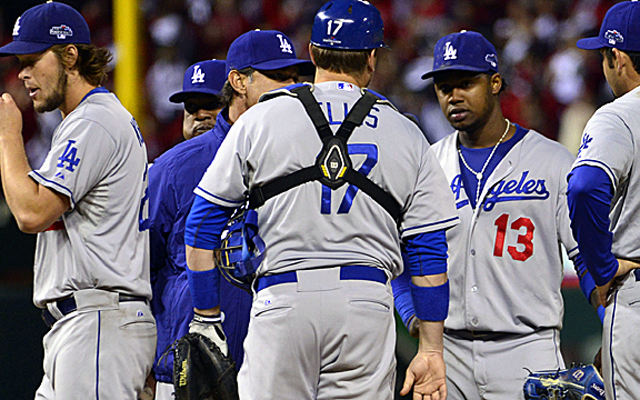 RIPs: Astros | Marlins | White Sox | Cubs | Brewers | Mets | Giants | Rockies | Twins |Phillies | Padres | Mariners | Blue Jays | Diamondbacks | Angels | Nationals | Orioles |Royals | Yankees | Rangers | Reds | Indians | Braves | Rays | Pirates | A's
After losing Game 6 of the NLCS to the Cardinals, the Los Angeles Dodgers became the 27th team sent packing for the offseason in 2013. Just as we've done with the previous 26 (hint: See links above), it's time to eulogize.
What went right
Clayton Kershaw did Clayton Kershaw things and he's going to win his second Cy Young, despite only being 25. New signee Zack Greinke was excellent and Korean import Hyun-jin Ryu makes for one of the better third starters in the league.
Kenley Jansen proved that he can be among baseball's elite closers, while Paco Rodriguez and J.P. Howell proved quality relievers. And late addition Brian Wilson is looking like the Wilson of old.
As for the position players, Adrian Gonzalez got back some of his power and also drove in 100 runs. Carl Crawford had a net-positive season, Juan Uribe was rather useful and Hanley Ramirez played like an MVP when he was healthy.
Oh, and there's that Yasiel Puig guy. He's been quite a find.
What went wrong
The Dodgers started the year 30-42. If not for that, they could have locked down the top seed in the NL, as they were unbelievably good after that.
Injuries were an issue. Matt Kemp only played in 73 games and he was hampered by his surgically repaired shoulder much of the time he was able to play. Ramirez only played in 86 games; Crawford 116. Issues for Andre Ethier and Ramirez also came into play in the playoffs. In fact, Ramirez's hit-by-pitch in Game 1 of the NLCS was a huge factor in the series.
On the mound, Chad Billingsley needed to get Tommy John surgery after just two starts. Josh Beckett was awful in eight starts before being shut down for the season with an injury of his own.
And Brandon League as closer was an unmitigated disaster.
MVP(erson): Jamie McCourt. I'm not even close to joking. Once the divorce settlements started to come through regarding Jamie and former husband Frank McCourt, money problems set in for the (deservedly-so) maligned former owner. It got so bad that McCourt had to sell the team. And since the new ownership group took over, the Dodgers have been spending lavishly. Due to the increased funding, the Dodgers have acquired the following players, among others: Adrian Gonzalez, Hanley Ramirez, Carl Crawford, Yasiel Puig, Zack Greinke and Hyun-jin Ryu. Where would the Dodgers be if not for Jamie's gigantic divorce settlement? Hard telling, but it's rather obvious they wouldn't be nearly this good.
LVP: Matt Kemp, specifically his awful luck with injuries. The Dodgers lineup wouldn't have been nearly as hard pressed to score runs in the NLCS if they had a healthy Kemp in the middle of it. He's only 29 and when he's going, he has the ability to carry an offense. And with the talent in this lineup, that's not even necessary.
Free agents to be: 2B Mark Ellis ($5.75M club option), 3B Juan Uribe, IF Nick Punto, IF Michael Young, IF/OF Skip Schumaker, IF/OF Jerry Hairston, SP Ricky Nolasco, SP Chris Capuano ($6M mutual option), P Edinson Volquez, RP Carlos Marmol, RP J.P. Howell, RP Brian Wilson, RP Peter Moylan
Gameplan heading into the offseason
The first thing they'll look to do is lock up Clayton Kershaw long term. The lefty is the best pitcher in baseball -- awful Game 6 outing notwithstanding -- and he's still only 25. They won't risk him hitting free agency after next season or even heading into next season with just one year left on his deal. This is the top priority.
From there, it's all about tinkering instead of major moves.
Second base will need to be filled if they don't pick up Ellis' option, and it sounds like they've decided on going after Cuban middle infielder Alex Guerrero. If they miss out on him, do they drive hard for Robinson Cano? Early indications say no.
Third base also looks to be a vacancy. Given the thin free agent market, bringing back Uribe on a one-year deal wouldn't be a bad idea. Otherwise the Dodgers could look to trade an outfielder (probably Andre Ethier, given the salaries of Crawford and Kemp) to land one. Would the Padres deal Chase Headley in division, for example?
Otherwise, in terms of position players, it's just about infield depth -- replacing the likes of Punto and Schumaker.
In the starting rotation, I think the Dodgers are fine. In addition to bringing back their top three, they also will have Josh Beckett and Chad Billingsley returning from injury, not to mention that prospect Zach Lee could be ready at some point.
With the possible departures of Howell and Wilson, however, the Dodgers will need to add a bullpen arm or two. Retaining Howell is possible, but Wilson will surely want to close somewhere and he'll have offers to do so given his performance this year.
Overall, though, most of the heavy lifting has been done. The Dodgers are in excellent position to contend again, and then some.
Ridiculously premature prediction for 2014
Go big or go home, right? So let me say this: The Dodgers will win the World Series in 2014.
The lefty starter is coming off a terrible season

After acquiring Ian Kinsler and Zack Cozart in recent days, the Angels are trending upward

Cozart's coming off a big season as the Reds' shortstop
The veteran slugger spent the last eight seasons with Cleveland

The Padres may be poised for an active winter

Yes, Bryce Harper is going to make a lot of money next winter