R.I.P., 2013 Tampa Bay Rays
Following a 92-win regular season and an ALDS berth, the Rays' season ended Tuesday. Let's recap the year that was.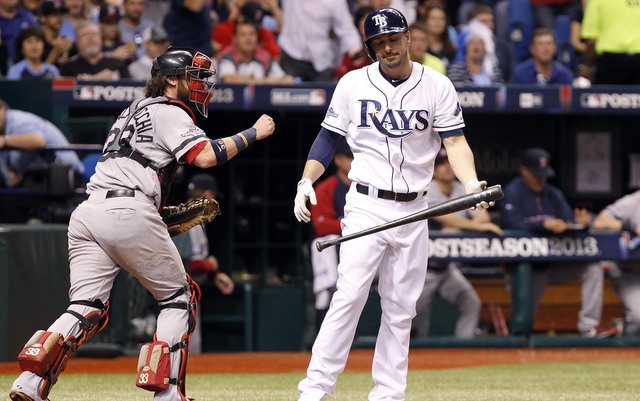 RIPs: Astros | Marlins | White Sox | Cubs | Brewers | Mets | Giants | Rockies | Twins | Phillies | Padres | Mariners | Blue Jays | Diamondbacks | Angels | Nationals | Orioles | Royals | Yankees | Rangers | Reds | Rays
Despite starting the season with the third lowest opening day payroll in baseball ($62 million or so), the Rays finished the year with the eighth best record in the game. That earned them a tie of the second AL wild-card spot. They beat the Rangers in the tiebreaker game and the Indians in the wild-card game before advancing to the ALDS and getting eliminated by the Red Sox. Tuesday night's loss was a disappointing end to an otherwise successful year. Let's pay our last respects.
What went right
I guess that when you talk about the Rays, you have to talk about their young pitching. Alex Cobb wouldn't let a line drive to the head and a concussion stop him from emerging as the team's next ace, as he posted a 138 ERA+ in 143 1/3 innings. Rookie righty Chris Archer (118 ERA+) staked his claim to a rotation spot while lefty reliever Alex Torres (224 ERA+) emerged as a bullpen force. Another year, another handful of great young arms emerged in Tampa.
The Rays struck reclamation project gold with James Loney (118 OPS+), who was their second best hitter from start to finish. Evan Longoria (134 OPS+) played in 135+ games for the first time since 2010 and Wil Myers, the key to last winter's James Shields trade, backed up the hype with a 132 OPS+ in 88 games. Desmond Jennings took a step forward with a 110 OPS+ and 20 steals.
What went wrong
Not a whole lot, all things considered. Cobb and David Price (114 ERA+) both missed a nice chunk of the season due to injury, and Jeremy Hellickson (74 ERA+) was pretty awful. Roberto Hernandez wasn't any good either (78 ERA+) despite being the first pitcher signed as a Major League free agent to start a game for the Rays since Hideo Nomo in 2005. (That's crazy.) Other than that, nothing went overwhelmingly wrong for Tampa Bay.  
MVP: Longoria by a solid margin. Loney, Cobb, Zobrist, Price and Moore had very nice seasons but all where a notch below Longo's.
LVP: There's no obvious candidate, so I'll go with Hellickson. He opened the year as their No. 2 starter behind Price and was worth -0.8 WAR in 174 innings.
Free agents to be: RHP Jesse Crain, OF David DeJesus, SS Yunel Escobar, RHP Roberto Hernandez, 2B/OF Kelly Johnson, C Jose Molina, RHP Fernando Rodney, DH Luke Scott, 2B/OF Ben Zobrist, Zobrist ($7 million), DeJesus ($6.5 million) and Escobar ($5 million) all have club options in their contracts for 2014.
Gameplan heading into the offseason
The Rays traded both Matt Garza and Shields two years prior to free agency, right where Price is now. That doesn't mean he will definitely be traded this offseason, but the time is coming. His salary is climbing -- he should approach $15 million or so in 2014, his third of four trips through arbitration as a Super Two -- and Tampa can't really afford to commit that much payroll to one player.
Whether they hang onto Price or not, the Rays still have plenty of holes to address. They need a first baseman and a closer for next season, maybe an outfielder or second baseman as well. Zobrist gives them the flexibility to target one or the other. A bench and some depth relievers are always in order as well.
Given their history, it seems likely the club will explore long-term contract extensions with guys like Cobb and Archer to help manage future payroll. They figure to do their free agent shopping in the bargain bin, as usual. Reclamation project types like Joba Chamberlain, Wilson Betemit and Jason Kubel give me that "sign with the Rays and have an awesome season for no apparent reason" vibe.
Ridiculously premature prediction heading into 2014
Manager Joe Maddon's club is approaching a critical time in franchise history. Their stalwart players like Longoria, Price and Zobrist aren't all that cheap anymore, plus the farm system isn't as insanely productive as it was a few years ago. Believe it or not, the Rays haven't done all that well in the draft these last few years. The Andrew Friedman-led front office is as bright and innovative as they come, so I have no hesitation saying they'll be in the hunt for the AL East crown and at the very least a wild-card spot again in 2014. I see another 90+ win season in the cards, which would be their fifth straight.
Cozart's coming off a big season as the Reds' shortstop

The veteran slugger spent the last eight seasons with Cleveland

The Padres may be poised for an active winter
Yes, Bryce Harper is going to make a lot of money next winter

Outfield prospect Clint Frazier might be part of the talks

Boston wants to add two big bats to their lineup, not just one