Scouts watch what A-Rod's record-setting nephew does for encore
Joe Dunand followed his record eight straight homers with a nice game but no more homers.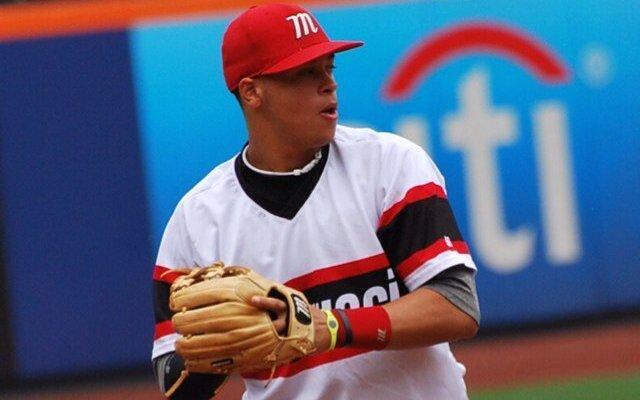 More MLB: Scoreboard | Standings | Probable Pitchers | Sortable Stats | Odds
MIAMI -- Miami ballplaying legend Alex Rodriguez didn't make it to the game here Wednesday to see whether his nephew Joe Dunand could possibly extend his impossible national high school record streak of eight straight home runs in eight at-bats, but about a dozen pro area scouts came to see for themselves whether Dunand has a chance to become another A-Rod.
Dunand, who looks as you would imagine an 18-year-old Alex Rodriguez would look like, has for a few years been known in Pinecrest, Fla. -- which is just south of Miami -- as a very good player and decent pro prospect. But his unimaginable streak has caused word to filter in this baseball hotbed that he could possibly be developing into something special. The other possibility, of course, is that Dunand's fairy-tale streak was little more than a wonderful but freakish occurrence. Going into the streak, he had hit two home runs this season.
Dunand's coach Javy Rodriguez at Gulliver Prep, not far from the University of Miami, where the new baseball stadium is still named for his famous uncle, said of Dunand's unreal streak, "It was like a video game." Everyone agreed; no one had seen anything like it.
This shouldn't surprise a soul, but eight home runs in eight at-bats is believed to be a U.S. high school record. It's likely all a blur, but as Javy Rodriguez (no relation) recalled it, the eight home runs came in eight consecutive swings. Eight walks, six of them intentional, were interspersed around the homers, which all came at a tournament at Scottsdale, Ariz., against legit teams. The traditional powerhouse Gulliver, in fact, finished third in the tourney.
The air is thinner in Arizona but that still doesn't explain eight straight homers on eight straight swings. "I heard someone once hit six straight," one pro scout in attendance Wednesday said, suggesting even that was hard to believe.
The only logical thing about the streak was the frequency of the walks, understandable since he was unconscious in the box -- though some around the team figured they'd have thrown even fewer strikes. He homered four times in one game, against a very good Hamilton High team from Chandler, Ariz. "I don't know why they kept pitching to them, but they did," Javy Rodriguez said.
Before his incredible feat, the most notable things about Dunand, 18, were the look and the bloodlines. He said folks often remark that he more closely resembles A-Rod than his own father, Joe Dunand Sr., who is a bit smaller. The younger Dunand stands 6-foot-2 and 200 pounds. He has the same twinkle as A-Rod, all the same mannerisms and much of the same equipment (he uses it he said not for sentimental reasons but because it's the best).
He is A-Rod the way he tugs on his jersey, the way he takes repeated practice swings, the way he makes pronounced expressions. Now, though, for at least a week he turned into A-Rod in the batters box.
"We knew he was a good hitter. We didn't know he was going to hit like this," Javy Rodriguez said.
No one had an inkling, really.
That's why the bird dogs flocked to the very next game, a matchup Wednesday afternoon against rival LaSalle. It isn't uncommon to see area scouts at games down here, where baseball is still king, but there was understandable extra interest in Dunand, who is committed to North Carolina State but could turn pro instead, depending on his draft position and prospects. Dunand himself speculated that it was a case of curiosity. "They probably wanted to see what's going on," he said.
Indeed, they did. He did carry a bit of a rep for power into the Scottsdale tourney, despite having hit only one home run before going out to Arizona, where he hit nine more in total. But now he has a legacy, even if doesn't follow in his uncle's footsteps as a major-league ballplayer, which is his goal, no surprise. Dunand, a very nice young man who carries good grades at Gulliver, is at a loss himself. "I was on. I was on fire," he said with a smile.
Scouts representing at least the Orioles, Angels, Royals, Giants, Braves, Mets and A-Rod's original Mariners came to see what all the fuss was all about. Before the streak, he wasn't necessarily viewed as someone who'd be picked in the first few rounds. In fact, a couple scouting directors contacted indicated they'd been looking at him to that point as a fringe pro prospect. However, his stock has to rise following his unreal streak, which combined with the bloodlines has caught folks' attention, at the very least.
Things have "sped up" one AL scout said.
"He has the tools. He's getting better and better," another scout said.
The scouts all came to see just how much better.
Dunand's biggest tool, no surprise, is the power. While he plays shortstop, one scout said he projects as a third baseman, at least as a pro, since he doesn't appear to have quite the necessary range. His uncle, the tarnished all-time great who's maybe the greatest prep shortstop in Miami history, also moved to third but in his case only to accommodate Yankees icon Derek Jeter.
Dunand's uncle was the slam-dunk No. 1 pick in the country when he came out of baseball powerhouse Westminster Christian School two decades ago, but while Dunand is still looking to establish his place as a prospect in the game, comparisons are unavoidable. "He has a lot of the same actions. Alex was a little better put together, but Joe's pretty well put together," an NL scout said.
A-Rod is said to be an occasional attendee at the games of his nephew. Javy Rodriguez, himself a former All-America infielder at the U, as they call it here, appreciates the occasional involvement of the three-time American League MVP who is suspended for the season for his involvement in the former Biogenesis clinic, which used to dispense PEDs to major leaguers a few miles from here.
"I'm always going to be on his side. It's family," Dunand said about his well-known uncle. "I still love him. You just got to live with it, and you've got to look for the best."
With scouts populating the concrete walkway behind the backstop, Dunand undoubtedly wanted to show his best. The idea of a ninth straight home run was going to be tough, though. Gulliver's home field has reasonable dimensions -- 305 down the left-field line, 345 to the gap and 375 to center field -- but the wind consistently gusts in from left field, thanks to the water behind the field.
"You've got to really get a hold of one here," he said.
With the wind blowing in, like usual, Dunand lined a bullet single to left field in the first inning. Afterward, a student announcer nicely paid tribute to the lost streak by commemorating it with an announcement, which received polite applause from the crowd, mostly parents of the other players.
Dunand stole second, was intentionally walked his next time up and wound up with two hits in three at-bats and fielded flawlessly in the 15-1 game dominated by Gulliver.  He laughed at the idea he could be disappointed by his streak-killing single. He said, "I'll take it. I got an RBI, and we got a W." Indeed, it was a nice way to cap his impossibly wonderful week.
Where might the Orioles third baseman land?

Kinsler will slot in at second base for the Angels

The Marlins got a better return for Ozuna than Stanton or Gordon
The two teams are going about things in very different ways

The Marlins are indeed in teardown mode under new ownership

The Marlins still have more attractive pieces