Throwback Rumor: Jake Peavy to the Braves
Five years ago, the Braves and Padres discussed a trade that would have sent Jake Peavy to Atlanta for four young players. How would the deal have impacted both teams? Let's try to figure it out.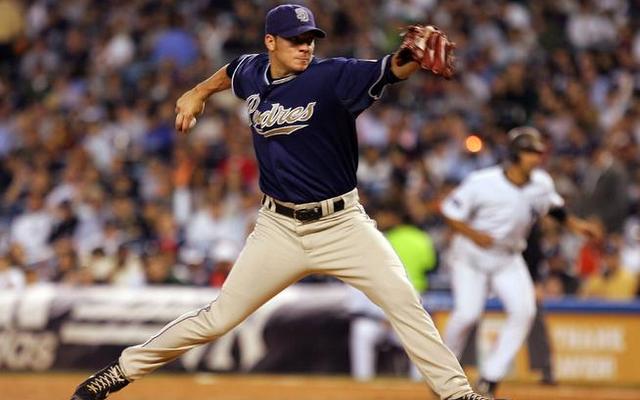 Throwback Rumors: Cano for Holliday
Over the next few months, we're going to hear all sorts of free agent and trade rumors as teams look to remake their rosters prior to spring training. Some rumors will make perfect sense while others will seem far-fatched. Occasionally one of these rumors will turn into an actual transaction, but most will fall by the wayside and amount to nothing.
Our newest offseason series -- the appropriately titled "Throwback Rumors" series -- is dedicated to reviving some of those old rumors and playing the "what if?" game. We don't want to look back and laugh at something that sounds completely ridiculous in hindsight, we want to have some fun and imagine what could have been had the rumor come to fruition instead.
Our latest entry comes courtesy of CBSSports.com's Scott Miller, dated Nov. 12, 2008:
Under terms of the deal discussed by the Atlanta Braves and San Diego Padres , San Diego would receive shortstop Yunel Escobar , Class A outfielder Gorkys Hernandez, one of two starting pitchers -- Charlie Morton or Jo-Jo Reyes -- and either reliever Blaine Boyer or one of two minor-league left-handers (one of which is believed to be Jeff Locke ).

In addition to Escobar and Hernandez, it is believed that the Padres, if the deal is completed, will opt for Morton, a 25-year-old right-hander who was 4-8 with a 6.15 ERA in 16 appearances -- 15 starts -- in 2008. They also are said to be leaning toward Boyer, a 27-year-old right-hander who was one of manager Bobby Cox's chief workhorses last season, finishing tied for ninth in the NL with 76 appearances.
Miller also notes talks had progressed to the point where the Padres were planning to ask Peavy to waive his no-trade clause. Let's assume San Diego does take Morton and Boyer over Reyes and Locke, so the four-player swap is Peavy for Escobar, Hernandez, Morton and Boyer. Let's break this sucker down.
SAN DIEGO PADRES
In 2008, Peavy went 10-11 despite a 2.85 ERA (133 ERA+) and made (at least) 27 starts for the sixth straight season. He was one year removed from winning the NL Cy Young and signing a four-year contract extension with a fifth year club option. The Padres went 63-99 in 2008 and were clearly looking to rebuild by turning their ace into multiple young players.
By adding Escobar, Everth Cabrera probably doesn't get taken in the Rule 5 Draft and given an opportunity to win the shortstop job in 2009. It took him a few years to establish himself at the big league level but he's now one of the best base-stealers in the league. Morton was a fringe big leaguer until he pulled off his whole "be like Roy Halladay" remake and we have no idea if he could have successfully made that transition with the San Diego coaching staff.
Peavy was traded to the Chicago White Sox at the 2009 trade deadline and Esobar alone would have been upgrade over what they received in that trade -- basically Clayton Richard and nothing else -- but it likely would have cost them Cabrera long-term. If Morton turns into the guy he is today, it would have been a huge win for San Diego. They've been looking to add a young, controllable starter like him for years now.
ATLANTA BRAVES
The Braves won 72 games and finished in fourth place in 2008, and their rotation was basically Tim Hudson and Jair Jurrjens with a little Mike Hampton mixed in. Adding a high-end starter or two was a necessity and Peavy would have fit the bill.
By acquiring Peavy, the Braves would have taken on $60 million in salary obligation over the next four seasons. Coincidentally, or perhaps not, Atlanta gave Derek Lowe a ... wait for it ... four-year, $60 million contract after failing to swing the trade. Pretty good reason to think that if they had traded for Peavy, the Braves would have not signed Lowe while still making the Javier Vazquez trade (that happened that winter as well) and not the other way around.
Lowe was mostly awful with Atlanta (87 ERA+ from 2009-11 before being traded away) while Peavy broke down physically in 2010 and 2011 (only 218 2/3 innings total). Atlanta won the wild-card spot by one game over the Padres in 2010 and having even a hobbled Peavy (1.6 WAR) instead of Lowe (-1.0 WAR) would have changed that race quite a bit. Of course, the players San Diego received from the Braves for Peavy could have pushed them over the top. This deal would have impacted that 2010 NL wild-card race substantially.
PITTSBURGH PIRATES
This deal trickles down quite a bit. Hernandez and Morton were packaged with Locke to get Nate McLouth from the Pittsburgh Pirates at the 2009 trade deadline, so they wouldn't have been available to deal had they gone to San Diego. McLouth was close to a disaster with the Braves (89 OPS+ in parts of three seasons), though it's unclear if the team would have been able to find a comparable outfield bat that fit into their budget. It's easier said than done.
CHICAGO WHITE SOX
With Peavy gone to the Braves, the ChiSox wouldn't have been able to acquire him from the Padres at the 2009 trade deadline. They were only 1.5 games back of first place at the time and figure to have pursued another starting pitcher to bolster their staff, and only two other starters were dealt at the deadline that year: Cliff Lee ( Cleveland Indians to Philadelphia Phillies ) and Tom Gorzelanny (Pirates to Chicago Cubs ). Did they have the chips to beat Philadelphia out for Lee? If so, that has a huge impact on the postseason race and the World Series.
NET RESULT
Obviously this is all speculation, but it appears both the Padres and Braves would have been better off by making the discussed Peavy trade. San Diego would have received a young everyday shortstop and potentially a solid big league starter while Atlanta would have upgraded their rotation and avoided Lowe. The Pirates and White Sox would have been worse had the deal gone through, but they were just bystanders and not directly involved. The impact the trade would have had on that 2010 NL wild-card race is fascinating to think about.