Before Showtime can begin, D'Antoni has to make peace with Magic
Before Mike D'Antoni can reinvent Showtime in Los Angeles, he has to contend with criticism from the architect of the original Showtime, none other than Magic Johnson.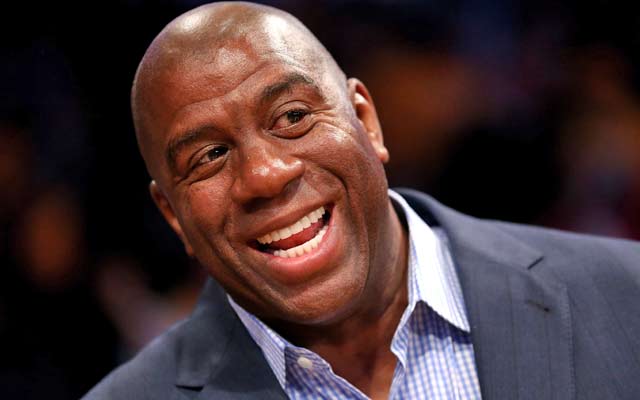 No one epitomizes the Lakers like Magic Johnson, and he's not happy with the D'Antoni hire.
(Getty Images)
EL SEGUNDO, Calif. -- Before Mike D'Antoni can reinvent Showtime in Los Angeles, he has to contend with criticism from the architect of the original Showtime, none other than Magic Johnson.
 Johnson, a Lakers executive and TV analyst, has made no secret of the fact that A) the Lakers shouldn't have hired Mike Brown to replace Phil Jackson in the first place, and B) they should've hired Jackson to replace Brown. He said on Twitter that he's been "mourning" the team's decision to hire D'Antoni instead, and added Wednesday night in his role as NBA studio analyst, "I don't believe in Jim Buss. He's made two critical mistakes already."
 In his introductory news conference Thursday, D'Antoni dealt with Magic's backlash as deftly as he could, saying he planned to reach out to Johnson in an effort to earn his approval.
 "I'm going to do everything in my power to make it a good decision," D'Antoni said. "I can understand all the stuff that went on. That's normal. Phil's a great coach, is a great coach, will be a great coach. I understand that.
 "Magic is, when you think of the Lakers, you think of him," he said. "I've reached out to him; I will reach out to him. We would love to be able to play Showtime-type basketball. Now they might have done it the best that you can do it. We would like to get someplace close to that, and I think that would be awesome. So what better person to talk to and pick his brain than him?"
More on Lakers
Related links
 Later Thursday, Johnson took to Twitter to backtrack and urge Lakers fans to support D'Antoni.
"The decision's been made that D'Antoni is the coach so we must support him," Johnson said. "I appreciate him reaching out to me & look forward to speaking." 
Kobe Bryant, who's said that D'Antoni was his first choice before he knew Jackson was an option, said of Magic's earlier comments: "Everybody has an opinion. But his opinion is valued greater than most others because of what he's done with this franchise. I can only speak from my perspective in my dealings with Jim and he's been phenomenal. So far he's made all the right choices. Going back in time, I'm sure he would've rather called me and consulted me on the Mike Brown hiring, but that is what it is. Other than that, he's been behind some pretty big trades, some pretty big moves for this organization."
 Lakers GM Mitch Kupchak said he was "disappointed" that Magic criticized the hire.
 "He's entitled to his opinion, and I respect his opinion," Kupchak said. "And I don't agree, with the exception of Mike Brown. I didn't see the comments, but I'm not going to stand here and say we did not make a mistake with Mike because he's no longer with us."
 Kupchak said he would've wanted to speak with D'Antoni two years ago when Jackson stepped down, but D'Antoni was still employed by the Knicks. Citing the protocol in the coaching fraternity, Kupchak said for the same reason he could not and would not speak with D'Antoni or Jackson while Brown was still in place.
 "Not only are Mike D'Antoni and Mike Brown represented by the same agent, I would never want to contact a coach before you let another coach go," Kupchak said. "That's just unheard of in this business amongst the coaching fraternity. So we couldn't contact anybody, least of all Mike D'Antoni, until we let go of Mike Brown."
 This is where the timeline gets puzzling. Kupchak went on to describe how he'd come to conclude that D'Antoni's up-tempo style emphasizing more possessions to accentuate the talent of the current roster was a better fit than Jackson's triangle offense. So if that were the case, why were Kupchak and Buss speaking with Jackson about the job at all? It's not like they were unaware of Jackson's coaching philosophy.
 "That seems contradictory," one reporter said to Kupchak Thursday.
 "It is," Kupchak said. "And that's why we hired Mike D'Antoni."
 Basically, Kupchak said the decision to meet with Jackson was strictly a response to public pressure that mounted almost immediately after Brown was fired.
 "When we relieved Mike [Brown] of his duties, clearly what we anticipated took place, which was a groundswell of support for Phil Jackson," Kupchak said. "And to be honest with you, by late Friday night after the game and early Saturday morning, if we had to make a decision at that point, statistically there was a real good chance that Phil Jackson would be our coach. There was just so much public support that it might be difficult not to hire him.
 "He really wasn't a consideration going into the decision to relieve Mike [Brown]," Kupchak said. "My feeling was that he didn't want to coach anymore, and when he in fact left two years ago, he felt he stayed a year too long. So it really wasn't something we thought about at that time. But once we got to the initial meeting with Phil and we had some time to challenge, in our minds, the public support, and look at our team and the personnel on our team, we gradually got to the position that we could and we should do what we think is right for the team -- not only for the present, but going forward."
 Kupchak said when he and Buss looked at the roster, the coaches available and the vision they had for a team with Steve Nash and Dwight Howard on it, D'Antoni's style was a better fit for the way they wanted to play "a year or two down the road."
 "It took us a couple of days to sort through that, and we knew there would be a ridiculous amount of criticism for making this decision," Kupchak said. "But it was clearly and only a basketball decision."
 If you're confused, as far as we know Mike D'Antoni is the coach of the Lakers, and not Phil Jackson. How that really happened, maybe we'll never know.
If Chicago was fleeced -- the prevailing thought -- when dealing its star, so were a lot of...

I.T. is optimistic about returning in time from a hip injury, but it all depends on how things...

Noel, now being represented by Rich Paul of Klutch Sports, reportedly feels he's worth a max...
Steve Kerr opens up about his back issues and more

OJ Mayo, banned from the NBA for positive drug test, is considering playing overseas

The King? 'LeBron, it turns out, is Aquaman,' or so the account via Dwyane Wade's wife goe...