Blatt takes needed, and successful, first steps with LeBron, Cavaliers
David Blatt's record -- multiple titles in international play -- is unassailable. And so far, connections between the new Cavs coach, his star and the team are linking up.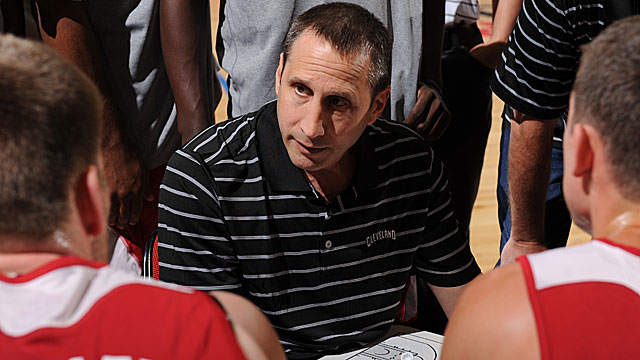 INDEPENDENCE, Ohio -- The early interactions between head coach and star player are always important. A relationship is established, marching orders are barked, boundaries are drawn and a foundation is built.
There cannot be cracks in that foundation.
When the star player is the biggest global icon in the sport and the head coach is among the world's most decorated leaders of huddles in what has become an increasingly international game, these first days of training camp take on added significance and intrigue.
One such moment occurred Monday night at the Cavaliers' practice facility in the Cleveland suburbs, a moment that revealed some of the eerie similarities between the brilliant basketball minds of LeBron James and his new boss, David Blatt.
But first, about that new boss ...
Blatt arrived in Cleveland in June, a man of impressive championship credentials and massive global appeal. In provincial America, Blatt's arrival to coach a team that was hoping to lure James back from his four-year hiatus in Miami sparked a scalp-scratching epidemic and a chorus of, "David Who?" Some very successful, intelligent participants in the NBA's booming player-movement business went so far as to surmise the Cavs' head coaching hire had doomed whatever slim chances they had of persuading James to come home.
"I mean," one prominent agent told me at the time, "they hired David Blatt."
Pejorative cracks such as this were born of ignorance to Blatt's unassailable track record as a winner, innovator, tireless worker, relationship-builder and amateur psychologist -- all necessary qualities for a successful NBA coach. If 19 championships in 21 years of international coaching -- including leading Maccabi Tel Aviv to the 2014 Euroleague title this past summer -- wasn't enough to assuage doubts, then it was just a sign of how steep the climb to credibility will be for Blatt in his new job on this side of the Atlantic Ocean.
"My biggest hope is that I can help this team reach its great potential -- and obviously not in a 10-year period, because the window isn't that big," Blatt said this week.
His greatest fear?
"Fear is not a word that I identify with," Blatt said. "My son told me once, and I couldn't agree with him more: Danger is real, but fear is a choice. I'm not fearful of this."
An American who grew up in Framingham, Mass., idolizing Bill Russell, Blatt is known more for the well-worn passport he toted with him to his first NBA job. In the relatively small but growing circle of international basketball intelligentsia, Blatt is a household name. But when the Cavs hired him over former NBA head coach Alvin Gentry and rising assistant Tyronn Lue, it was the first time some fans here had heard his name.
"I think people forget that I am American and grew up here until I was 22 years old," Blatt said. "This is not so new to me as a lot of people want to make it out to be."
Aside from a two-year hiatus to sell copier machines in Atlanta for a steady paycheck, Blatt has called Israel home since 1981 -- first as a player, then as a coach. His wife and four children live in the suburbs of Tel Aviv, which has become as much of a permanent home as any place can be for a family living the coaching life. Blatt, 55, has also touched down in Turkey, Greece, Italy and Russia -- where, in 2004, he became the first Westerner to coach a team in the former Soviet Union.
Sitting on a bench in the Cavs' practice gym Sunday, Blatt didn't need much time to add up the championships he's won as an assistant coach, to go along with the 19 he's collected in a leading role.
"Another bunch," he said, muttering softly and counting in his head before blurting out the precise answer. "Another eight."
Given the unending conflicts back home, there is no way to properly profile Blatt, a fiercely prideful Israeli, without examining that aspect of his heart and razor-sharp mind. Alas, here Blatt calls a timeout; with balls bouncing, sneakers squeaking and a circle of trust being formed within these gymnasium walls, his interview topics will now be basketball only, he said.
Which brings us back to that moment in practice this week when the basketball minds of James and Blatt collided on the Cleveland Clinic Courts, offering evidence and insight into how the two most important leaders in the Cavs' quest for a championship will interact.
In addition to a deep appreciation for winning and the sacrifice it requires, Blatt and James also share what can only be described as a photographic memory for basketball plays. James can tell you who was guarding him and how for shots that he made or missed in playoff games everyone else has long since forgotten. He can tell you, for example, that James Posey went under J.J. Hickson's screen and Kevin Garnett was a step slow to close out as he hit a 3-pointer on his way to 45 points (to Paul Pierce's 41) in Game 6 of the 2008 Eastern Conference semifinals in Boston (The Celtics won 97-92, one of several Boston daggers that eventually drove James from Cleveland to Miami in 2010).
When Blatt watches video or scouts games in person, he'll invariably blurt out a moment from the basketball highlight reel that forever spins in his mind. In this Sports Illustrated piece by Jack McCallum, Blatt describes a steal his top player on the Russian national team, J.R. Holden, made down the stretch against Spain's Pau Gasol in the 2007 Eurobasket championship game -- and how it reminded him of Michael Jordan's steal against Karl Malone in the iconic Game 6 of the 1998 NBA Finals between the Bulls and Jazz.
At the other end, according to the SI piece, Holden took an off-balance shot that caromed wildly and somehow went in to clinch the championship for Russia. Blatt said: "It was exactly -- and I mean exactly -- like the shot that [Boston's] Sam Jones took to beat the Lakers in Game 4 of the 1969 NBA Finals. Hit the front, hit the back, somehow bounced through."
So it was against this backdrop, this high-stakes, two-man game of Total Recall, that James stopped Blatt and his coaching staff in their tracks on Monday night, the Cavs' second day of two-a-days.
At the end of the evening practice, Blatt blew his whistle and told the players to clear the court and get off their feet; it was a long day, with many more ahead in this team's drive for the city of Cleveland's first major pro sports championship in 50 years. (The NFL's Browns are the city's most recent title celebrants, in 1964.)
The coaching staff retreated to their evening meeting, which lasted 30 minutes or so. When they emerged, what they saw was heartening, if not particularly surprising: There was James on the practice floor with four teammates, marching them through the intricacies of Blatt's offensive system from the perspective of each position, one through five. James had already mastered them all.
Something tells me these two basketball savants are going to get along just fine -- as long as, you know, they win.
"We've just got to build our habits," James said. "We've got to build our character and we've always got to protect each other no matter what's going on, through the best of times and through the worst of times as well."
From the game's greatest player, these are words spoken from experience. During his four seasons in Miami, James and Heat coach Erik Spoelstra built an unbreakable bond of mutual trust and support. But it wasn't always that way; it took time. Remember the Heat's 9-8 start in that first season of the Big Three era in 2010-11, when James bumped Spoelstra on his way to the huddle during a November game? Even in these first days of James' homecoming, there's a palpable vibe around the Cavs that they need to gird themselves for the storms that inevitably will come.
"There's going to be different things going on throughout the season," Kevin Love said. "There's going to be peaks and valleys. ... We just can't let anyone into the circle."
The more you learn about Blatt, the more you understand that there is a method not only to his Xs and Os, but also to his relationship-building -- a sanctity to his circle of trust. Former players describe him as demanding but adaptable, a coach who can be profane in multiple languages but also one who is quick with a joke to break up a tense practice session or huddle. He's the anti-coach in that he doesn't take himself too seriously.
"He's very diplomatic," said the Nets' Andrei Kirilenko, who has spent many a summer playing for Blatt with the Russian National Team. "... He knows what he wants on the floor. You can kind of play with it, but when it comes to certain situations, he'll say, 'No. Do it this way.' "
After the tumultuous four seasons that ensued after James' devastating departure, the Cavs needed a firm direction. More than anything, they needed a coach who would be able to establish a winning culture. Blatt's former players say everyone on the roster feels included, right down to the last man on the bench.
"He tries to build the team as a family," Kirilenko said. "Every teammate feels like they're really needed; every man is really important even if he's playing two minutes a game."
Every coach says he wants a culture like this, but very few -- Gregg Popovich and Doc Rivers come to mind -- actually pull it off. Whether at Maccabi or in Russia, Blatt has done so not just with words, but with actions -- and perhaps a little luck.
"Sometimes in a tie game, he'll just put a player in who hasn't played the whole game to take the last shot, and he'll make it," said the Nets' Sergey Karasev, who played for Blatt's Russian National Team in the 2012 London Olympics. "Not a lot of coaches would do like this."
Against Brazil in those London Games, the Russians trailed 74-72 with six seconds left. Moments earlier, Alexey Shved, had hit a 3-pointer for Russia to tie it at 72. But instead of going inside to Shved (who had made 7 of 15 shots) or to Timofey Mozgov (8 of 9), Blatt drew up an inbounds play that sucked the Brazilian defense (including his current starting center, Anderson Varaejao) into the paint. The misdirection allowed reserve Vitaly Fridzon, who'd attempted only two shots in the game to that point, to slip into the corner for a winning 3-pointer. Russia went on to win the bronze medal.
"At the end of the game, he's a really good coach," Karasev said. "The last possession, that's the best, best thing for him."
This fearlessness and contrarian thought stuck with Cavs GM David Griffin 21 years ago, when he met Blatt on his first European scouting trip. Griffin was just starting his career as a scout for the Phoenix Suns. Blatt was an assistant coach in Tel Aviv for Hapoel Galil Elyon.
"David's an innovator," Griffin said. "He's creative, and he wants to win more than he wants to be right."
In 2007, Griffin scouted Blatt's Russian team in Eurobasket from the preliminaries all the way through the medal round, with the Russians beating Spain for the gold medal on that aforementioned rim-rattling winner from Holden. Blatt's approach was entirely different with Russia (more deliberate on offense, lots of defensive switching) than it was later with Maccabi (a scrappy team that won with pace and pressure defense). Though he's a disciple of Pete Carril's Princeton offense, there's no evidence in Blatt's record that he's purely a system coach.
"I'd seen him win with elite talent, and I'd seen him win with an overachieving group," Griffin said. "One thing that really spoke to me was, depending on what we end up as and how young or veteran we're going to be, Dave can adapt."
Though it wasn't clear when Blatt took the job after a 38-day search, there is no question he's coaching elite talent now.
The first domino to fall was Kyrie Irving, MVP of the 2014 All-Star Game, agreeing to a five-year, $90 million extension when the free-agent negotiating period launched July 1. Blatt and Lue -- brought on with Blatt's blessing as associate head coach -- played key roles in closing the deal.
Thus began the long, stressful waiting game for LeBron. Griffin dutifully cleared the necessary cap room and could only hope that the allure of Irving (a young star James had been mentoring for years) and Blatt (a coach James had never met) would be enough to bring the King back home.
The verdict came in the form of a heartfelt essay from James in Sports Illustrated on July 11. After six more weeks of uncertainty, Griffin finalized the trade for Love that sent No. 1 pick Andrew Wiggins to Minnesota.
James' new Big Three was complete, and so was a mountain of expectations for the coach in charge of orchestrating it all. "It's not intimidating at all," Blatt said. "I'm honored to coach such a great group, but on the other hand, I've been a part of a lot of great teams. It's more pleasurable than it is intimidating."
James already has begun parroting some of Blatt's catch phrases, as he did with Spoelstra in Miami -- a superficial sign, at least, that the two are connecting. "No wasted days," is a rally cry James and Blatt are singing in unison. As for the pressure that comes with the talent, so far James seems to be making an effort to have his coach's back.
"Or you could have the alternative -- not have me, Kevin and Kyrie," James said. "So it's going to be tough no matter what."
As for the most important part -- building a strong relationship between coach and superstar -- James seemed to offer a piece of advice the New boss would do well to follow.
"He shouldn't try to impress anyone," James said. "People get caught up in trying to impress people instead of being who you are and what you stand for. We know what he stands for. We know what he's here to do, and that's to lead us and win ballgames."
Now, everyone else knows who David Blatt is, too. Soon, if there are still doubts, they will find out what he's made of.
Another day, another social media beef for Embiid

We have all the latest scores, highlights and news from Wednesday's NBA games

Thomas spent a day with a 10-year-old girl whose family is also new to Cleveland
Barkley did not hold back with his opinion of the Big Baller Brand patriarch

LaVar Ball also made it clear he thinks his sons are being placed in 'a great situation'

The Thunder are just 12-14 on the season, despite the addition of Paul George and Carmelo...