Clippers announce assistant coaching staff for Doc Rivers
Alvin Gentry, Armond Hill, Kevin Eastman and Tyronn Lue will make up the assistant coaching staff for Doc Rivers with the Los Angeles Clippers.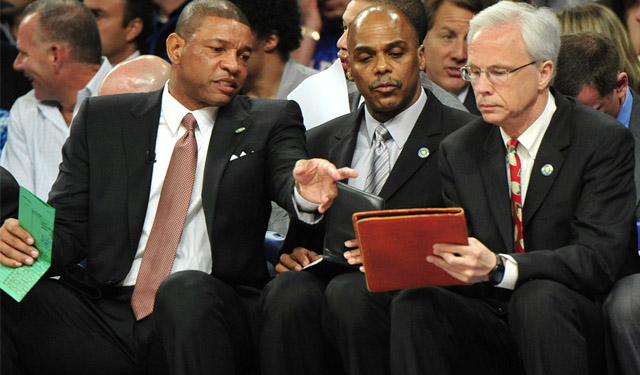 After the Los Angeles Clippers hired away coach Doc Rivers from the Boston Celtics by trading them a 2015 first-round draft pick as compensation, Rivers needed to put together another great assistant coaching staff to help develop and fine tune as much of the Clippers' roster and game plan as possible, like he did for the Celtics.
Monday, the Clippers announced the staff that will be working under Rivers. He will see plenty of familiar faces with Armond Hill, Kevin Eastman and Tyronn Lue coming over from the Celtics' old coaching staff to join the Clippers. He'll also have Alvin Gentry aboard as the associate head coach, otherwise known as the lead assistant. From the Clippers:
The Los Angeles Clippers today named Alvin Gentry Associate Head Coach and Armond Hill, Kevin Eastman and Tyronn Lue as assistant coaches on the staff of new Senior Vice President of Basketball Operations and Head Coach Doc Rivers. It was also announced that JP Clark will serve as Assistant Players Skills Coach.
Hill, Eastman, and Lue have been a part of Rivers' coaching staff for quite some time. Hill spent the last nine seasons helping Rivers in Boston, and Eastman was there for the previous eight seasons. Both have at least 20 years of coaching experience. Lue has been on Rivers' coaching staff for the past four seasons, after 11 seasons in the NBA. Lue played under Rivers briefly in the 2003-04 season before the Orlando Magic fired Rivers after a 1-10 start.
Gentry was recently the coach of the Phoenix Suns for the past four-plus seasons. He was fired this past season after a 13-28 start and a hope by the Suns to go more toward the youth movement. From 2000-03, Gentry coached the Clippers to a record of 89-133. 
Beal went on a tangent at Washington's media day about Trump's recent comments

The Cleveland Cavaliers also have 6-1 odds of landing the former Bulls and Heat star

OKC fans welcomed the 10-time All-Star at the airport with chants of 'Melo!'
Jordan joined LeBron James to show support of those who wish to exercise their freedom of...

Wade opted in to his $24 million player option earlier this summer

Barkley spoke to the NFL Today crew about the response the president received in his home...