Durant makes MVP statement with career-high 54
Kevin Durant went for a career-high 54 points on just 28 shots. And with it, officially kicked off his campaign to take the MVP from LeBron.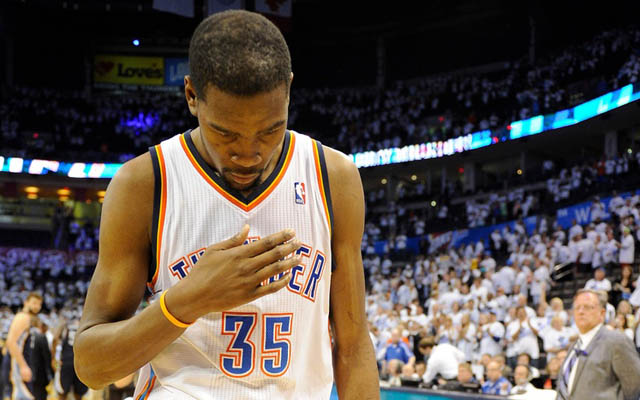 OKLAHOMA CITY -- Kevin Durant had just dropped a career-high 54 points on the Golden State Warriors in a transcedent scoring performance that featured 19-of-28 shooting. 
He spoke with the media, talking about his teammates and how it wasn't all about him, then stood up, threw a towel over his shoulder and on his way to the shower started singing a New Edition song. 
Sunny days, everybody loves them
Tell me baby can you stand the rain
Storms will come I know all the days won't be perfect
But tell me can you stand it can you stand the rain? 
For the Thunder the past few weeks, with Russell Westbrook missing in action, there have been a lot of clouds hanging over them. They've blown leads, they've struggled against mediocre teams, they've lost games they should've won. 
Friday night against the Warriors, Durant swept 'em all away and let the sun shine down in Chesapeake Energy Arena.
On the second night of a back-to-back, just 24 hours after he scored 36 in 43 minutes for the Thunder in Houston as they locked down the Rockets to just 19 second half points, Durant was popping the Warriors for 54 and six assists. He had 29 at halftime, and 15 in the fourth quarter as he almost single-handedly held off the onrushing Warriors and the Stephen Curry lightshow.
Naturally, Durant downplayed his supernova performance.
"As a leader my main objective is to serve my teammates. How can I help them out," he said. "Some nights I've got to put it up, I've got to score. Some nights I've got to do other things. Tonight, they found me and I was able to hit a few shots. And I just tried to do the best I could to lead the team and lead us to victory. It's far from just me."
Here's the thing about the Thunder without Westbrook: It kind of is about just Durant. Yes, Serge Ibaka was outstanding in Friday's win with 21 points on 8-11 shooting and eight rebounds. Reggie Jackson chipped in 14. But in the 12 recent games for OKC without its All-Star point guard, the Thunder are 7-5. And in those 12 games, Durant is averaging 36.3 points, 7.5 rebounds and 5.5 assists on 50 percent shooting. 
With the way Durant has played, he's taken firm hold of the MVP conversation and not just implanted himself as LeBron's challenger, but maybe the player to beat. LeBron recently said he was jealous of Durant and the number of shot attempts he's taking. Maybe it was a bit of MVP gamesmanship from the reigning four-time MVP to try and sway perception back to his side. 
Or maybe he's seeing what we all are. With his team in a tough spot, Durant is taking his game to a higher level. He's carrying his squad, doing what they need him to do. Friday against the Warriors, he shot a lot. And he made a lot.
"We have to get a set to put him in spot where he feels comfortable, which is any time you cross halfcourt," said Scott Brooks about OKC's offense on Friday. "But tonight we were running the plays and if they're guarding him one-on-one, he's going to have the ability to score."
There's no doubt the Thunder are a better team with Westbrook alongside Durant. If this team is going to compete for an NBA championship, Westbrook has to be healthy, and in the lineup. But this little stretch here is also a little treat for basketball fans, seeing Durant unchained and unhinged as a pure destroyer of basketball worlds. He said he's just doing what his team needs him to do. And right now, that's score the basketball. 
So with Westbrook out, the Thunder aren't as good. But it's opened up the door for narrative, which is one of the necessary elements in winning an MVP. Build the story, win the award. Right now, Durant is raising his game to new places to help his team win. And as Durant stood at the free throw line in the fourth quarter sitting on 52 points, the chants rained down on him.
M-V-P! M-V-P!
He's trying not to think about that. He's trying to just focus on each game, on his teammates, on his opponents and how his team can find wins without Westbrook. 
"That's premature man. It's still early in the season," Durant said of the MVP talk. "I try not to think about that type of stuff. Of course as a player, you'd love to win an MVP award. Can't think about that, can't take my focus off the team. Every day I've got to just keep chipping away, keep enjoying the process and we'll see what happens."
But there's no doubt, he's hearing the MVP noise.
"It is 20,000 people here," he said of the chant. "It's kind of hard not to hear it."
Jordan joined LeBron James to show support of those who wish to exercise their freedom of...

Wade opted in to his $24 million player option earlier this summer

Barkley spoke to the NFL Today crew about the response the president received in his home...
The restricted free agent has a deal in place that will keep him with the Bulls after a st...

James' support continues his trend of social activism on social media

The newly-acquired All-Star thinks the addition of Anthony boosts the Thunder in the NBA's...