Knicks-Pacers: How 'Born Ready' Lance Stephenson became able
Lance Stephenson stepped up and delivered for the Indiana Pacers to defeat the New York Knicks. How did "Born Ready" become a leader for the Pacers?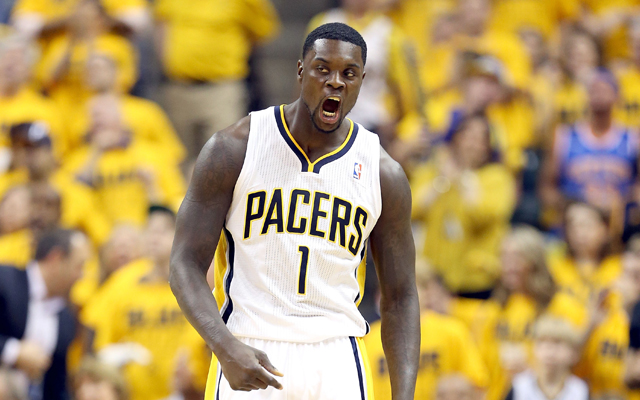 People change as they get older.
The NBA is about sport, and competition, and money. Mostly money. So much money. But it's also about boys becoming men. These kids enter into professional competition, paid millions of dollars at 18, 19 years old, and are put on a stage where every decision they make is examined, exploited, and analyzed.
That doesn't mean that some of their decisions are understandable, no matter how young they are. And their growth on the court doesn't equate to growth off of it.
I can't speak to whether there's been growth for Stephenson off the court from his problems. I know that Stephenson was hyped from high school. He had a website before he signed with a college, for crying out loud. I used to catch his games as a prep star and think that if he put it together, he could be special.
Instead, he was just another hyped name to come out of NYC that didn't know how to operate in a team concept. "Born Ready" wasn't prepared for a life where you need to know what you're doing and what the team needs you to do. He struggled. He vanished, mostly. He made choking signs at LeBron James, and that wasn't very smart.
Stephenson looked headed for infamy as a "Remember that 'Born Ready?' guy?" ("Born Ready" was his nickname coming out of New York. Ironically, this is a story about how it took time for Stephenson to mature.)
But he had the good fortune to be drafted by the Pacers. He could have wound on a lottery squad, wandering through the darkness and trying too hard to take on too much responsibility. Let me put it this way. If the Wizards had drafted Lance Stephenson, we wouldn't be having this conversation. But the landed with Frank Vogel's Pacers, and as good teams and coaches do, they developed him. They molded him and brought him along. Mostly, they taught him what most players miss out on early in their careers, defense.
On Sunday morning, there will be a lot of questions in the New York area about how the prep phenom who had fallen off the map and was most known for his bad decisions ended the Knicks' season. But if you'd been paying attention this year, you would have seen how often the Pacers came to rely on Stephenson. He went from a spot-player who could do a few things, to the X-Factor guy who could turn games, to "No seriously, Lance Stephenson took over this game."
And Stephenson took over Game 6, and the series against the Knicks, honestly. The biggest thing Stephenson brought was relentlessness. Nothing showed that more than his approach to Tyson Chandler. In Game 5, Stephenson challenged Chandler at the rim. Chandler put him on his back. In Game 6, Stephenson caught the ball on the cut, with Chandler right in his way. He went right back at him. Again, Chandler dropped Stephenson. But that was Stephenson's attitude in this series. He had no fear for anyone on the Knicks, and kept attacking.
When you have a player willing to do that, it puts pressure on the defense and the Knicks' defense wasn't smart enough, strong enough, good enough, to keep him out. Stephenson slipped baseline for easy scores under the rim. He attacked Carmelo Anthony off the dribble and went right at him. He was aggressive in a way the Knicks never were in this series. 21 points on 13 shots, 12 rebounds, six of them offensive, three assists, and one steal.
All nine of Stephenson's made baskets were in the paint.
So now "Lance Stephenson, playoff performer is a thing. It turns out you're not defined by who you are at age 18, and while Stephenson's play on the court is no guarantee he's improved his decisions off the floor, it is worthy of note. As a basketball player, Stephenson has come of age.
He wasn't born ready, but he has become able.
The Cavaliers are ready to reset everything if they have to. Their interest in Lou Williams...

It sounds like the Cavaliers are going to be active before the NBA trade deadline on Feb....

We've got all the scores, highlights and news for Friday night
George Hill, who is unhappy in Sacramento, could be a solution to Cleveland's backcourt si...

Shaquille O'Neal and Sir Charles cruise to an easy victory over some hot peppers

If Charlotte indeed moves its star guard, there's going to be more people impacted than just...