Kobe Bryant passes 30,000: How does he compare with greats?
Kobe Bryant passed the 30,000 points mark Wednesday. How does he compare to the other four members of the legendary club?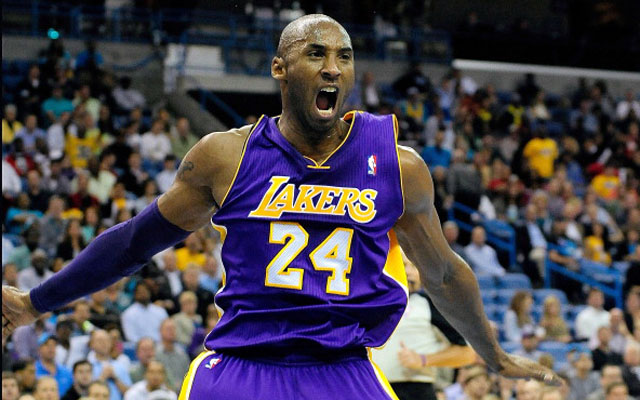 Kobe Bryant crossed the 30,000 points mark Wednesday.
(Getty Images)
Kobe Bryant joined the NBA's 30,000 points club Wednesday night against the Hornets. (Video: Bryant passes 30,000 points mark.)

He became just the fifth player in NBA history to do so, joining all-time scoring champion Kareem Abdul-Jabbar, Wilt Chamberlain, Karl Malone and the Greatest of All Time, Michael Jordan.

Much will be made when Bryant passes Wilt Chamberlain, and certainly much more so when he passes Jordan. Bryant has a good shot at ending second all-time in points (passing Kareem would require him to play a lot longer than he has indicated he's willing to). It will only add to his resume for consideration among the greatest players in the history of the NBA.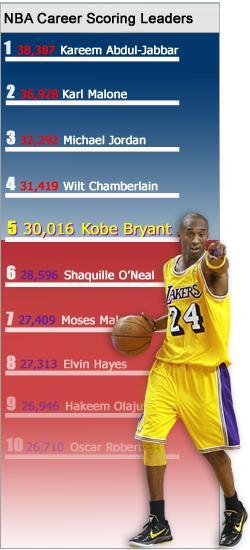 So how do we compare him to those other legends? That's the question we're faced with now that Bryant's in the 30K club.

(By the way, there's absolutely nothing special in and of itself about the number 30,000, other than the fact that so few players have reached it. It could be the 30,050 club, or the 31,000 club. but we like these nice big round numbers.)

All four players above Bryant are Hall of Famers, Bryant is in on that account, no question. Abdul-Jabbar, Malone, and Chamberlain are all in consideration for the best player ever at their position (Chamberlain and Abdul-Jabbar are both in contention for best center ever; Malone is considered the best power forward ever if you think Tim Duncan was a center, as many do).

Jordan, obviously, is considered the best at his position, and has been the primary comparison point for Bryant.

A key figure to remember is that it took Bryant more games than any of the others. He has the third-highest points-per-game mark of the club (though of course he hasn't gone through the late-season dip), and is the youngest to the mark, but did need more games than any of the others.

Also notable, Abdul-Jabbar, Malone, Chamberlain and Bryant all played for the Los Angeles Lakers at one point, though Malone was just a season.

The truth is that this accomplishment doesn't really affect his all-time consideration. It's a noteworthy mark to reach. But Bryant's place among the great was sealed with his fifth ring. At this point, as amazing as it is, he's only chasing Jordan, really.

Chamberlain played in a weaker generation with less competition, Abdul-Jabbar the same, and the estimation of Kareem's defense was lower as well. Malone, fair or not, is always regarded as part of a unit, with John Stockton and Jerry Sloan's pick-and-roll system.

Bryant will take his place inside the top three by the time he's done, and should he win a sixth title, the argument of Bryant vs. Jordan will be a serious one. (Jordan will always win because he was the first greatest of all time and redefined the sport. Everyone else battles Jordan's mythology not just his game.) This is just another moment to look back and recognize the reality that says Bryant is arguably the greatest offensive player in NBA history. The march toward history continues.
From the Warriors to the new superteams to the Sacramento Kings, get ready.

Brett Brown said recently that Embiid's minutes would likely be in the teens to start the...

According to D'Antoni's specific plan, Houston's All-Star duo will play 18 minutes together...
Mike McClure, a DFS pro with more than $1M in winnings, gives optimal DraftKings and FanDuel...

Iggy is as focused on giving back to the Boys and Girls Club as he is with his Silicon Valley...

Ball missed much of the preseason after injuring his ankle against the Nuggets on Oct. 2