Kobe Bryant will play vs. Pacers despite flu-like symptoms
Kobe Bryant will play Tuesday night with flulike symptoms vs. the Pacers.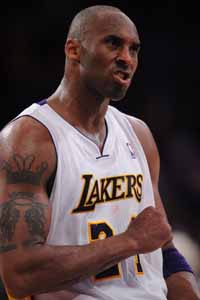 Kobe Bryant could miss Tuesday's game. (Getty Images)
Update: Bryant will play, because the disease he has for basketball is so much stronger than the one he has that is flu-like. People who are surprised by this: Noman McNobodies.
The Lakers announced Tuesday that Kobe Bryant missed the shootaround Tuesday morning with the infamous flu-like symptoms and is a gametime decision against the Pacers. 
Should Bryant miss the game -- along with possibly Steve Blake and definitely Steve Nash -- the starting backcourt for the Lakers could be Darius Morris and Jodie Meeks, making it the worst starting backcourt that Dwight Howard has played with in maybe five years. 
But as it is with all things Kobe Bryant, don't buy into the talk that he won't play. The guy has played through so much, you just can't buy into it. I don't think the Lakers are exaggerating his condition, and it's actually a good thing that they routinely open the door for him to not play. But he always shuts it and goes to work. 
That's who he is. That's what he does. 
So I'd bet on him playing, but we'll keep you updated. The man is human, after all. We think.
That same bug has been floating around NBA circles and has affected what seems like 70 percent of the league, from James Harden to LeBron James. Nasty bug going around the locker rooms. 
James' support continues his trend of social activism on social media

The newly-acquired All-Star thinks the addition of Anthony boosts the Thunder in the NBA's...

The Knicks were asking for the house in discussions for Carmelo Anthony
Steve Kerr has given his response to Donald Trump in writing

Trump rescinded Curry's invitation to the White House after Curry said he wasn't interested...

Silver said he was hoping Warriors would get chance to share their views directly with the...