NBA hasn't 'seriously' discussed a four-point shot
Antoine Walker is going to love this.
Update 1:44 p.m. Well, nevermind. The league issued this statement yesterday: 
"No one at the NBA,nor the competition committee, has had any serious conversations about increasing the size of the floor or adding a 4-point line. Rod Thorn and Kiki VanDeWeghe were entertaining a line of questioning about out of the box ideas and ESPN chose to make a story that doesn't exist."
So there's that. 
... But they've thought about it! (Just kidding.)
1:30 p.m.
ESPN reports that NBA president of basketball operations Rod Thorn recently acknowledged that the league has at least considered adding a four-point shot to the game. 
Rod Thorn, NBA president of basketball operations, didn't balk at the idea.

During a sit-down TrueHoop TV interview with our own Henry Abbott, Thorn was asked about the chances that a 4-pointer -- as outlandish as it may seem -- could be brought to the NBA at some point.

Turns out, Thorn didn't think the advent of a 4-pointer would be outlandish at all. Rather than reflexively squash the radical idea, as you might expect from a 72-year-old NBA lifer who has worn just about every hat in the league, Thorn seemed genuinely intrigued at the notion and revealed that the 4-pointer has "come up" in league discussions.

"Oh man," Thorn told Abbott, "Some of the players we have can shoot the ball from I assume it would be 30 feet? 28-30 feet. Somewhere in there. Some of the guys we have can shoot that as easily as a 23-, 24-foot shot." One of those players? Vince Carter. Thorn recalled a moment when he ran the New Jersey Nets from 2000 to 2010 as team president and general manager. As players tend to do at practice, Carter would showcase his shot-making abilities from far, far away.

"I remember when we had Vince Carter in New Jersey," Thorn said. "Well, he could shoot the ball from the seats and make half of 'em."

Don't we want to see that? Players pushed to the limits of their abilities?

"It would be unbelievable," Thorn said. "But you know coaches would go crazy because now you've got another line out there. That's crazy."
via Jamal Crawford would be among the NBA's top 4-point shooters - NBA - ESPN.
The standard idea is to implement a 4-point line somewhere beyond 28 or 30 feet. But I have an alternative. Implement circled zones. If officials can see when players in the clogged-up paint are inside the restricted circle they can see them from on the court. 
Observe.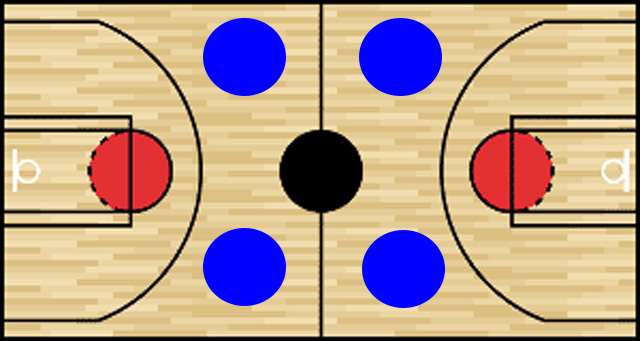 This makes the degree of difficulty higher, helps defense to defend it better and differently, and makes the shots more amazing. I'd also be fine with zones of different shapes and sizes that randomly change game by game, but the stickers on those would be slick and cause injury. 
Anyway, it's a fun idea. The leader of course would be Jamal Crawford, who has four-such makes this season, but Kyrie Irving is right behind him. 
Trail Blazers guards Damian Lillard and C.J. McCollum have been pushing for Anthony to join...

Anthony reportedly gave the Knicks an expanded list of teams he'd waive his no-trade clause...

The Suns will also receive a second-round pick in the deal
Kerr noted Warriors are deeper than the NBA championship team of last season

The Dubs will make a decision as a team on visiting the White House, but Steph would vote...

Wolves are an up-and-coming NBA squad, but this region knows heartache too well