Nets, Magic make progress on potential blockbuster for Dwight Howard
The Nets and Magic made progress Sunday on a blockbuster trade scenario that would send Dwight Howard to Brooklyn with an assist from the Cleveland Cavaliers, multiple league sources told CBSSports.com.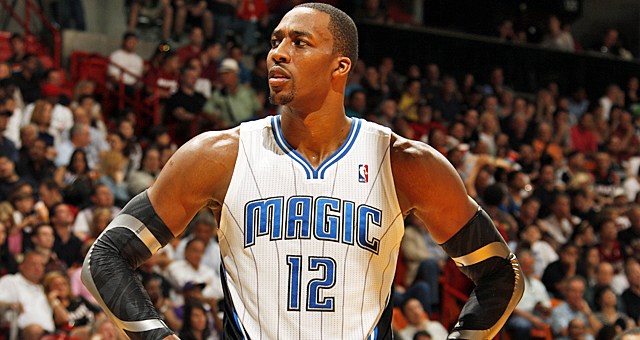 Howard is still a member of the Magic ... for now.
(Getty Images)
The Nets and Magic made progress Sunday on a blockbuster trade scenario that would send Dwight Howard to Brooklyn with an assist from the Cleveland Cavaliers, multiple league sources told CBSSports.com.
Despite significant work left to be done, the Nets moved toward a series of options that would "sweeten the pot" for the Magic and perhaps compel them to finally end the year-long drama involving their All-Star center, one of the sources said.
More on NBA
Related links
The first hurdle was involving the Cavs as a third team that would be able to absorb the contract of Nets forward Kris Humphries in a sign-and-trade aspect of a larger, vastly complicated proposal. Those details were still being discussed late into the evening, as the Cavs would want draft-pick compensation for facilitating the deal. ESPN.com reported that promising Nets guard MarShon Brooks could be routed to Cleveland as part of the cost of taking on Humphries.
Humphries, an unrestricted free agent, would have to agree to the deal, which would require him to sign at least a three-year contract with the first year fully guaranteed. As of early Monday, no negotiations had taken place between Cleveland and Humphries' representatives, sources said.
The chances of a deal coming together rapidly were remote, as various participants in the trade discussions had obligations with Team USA in Las Vegas starting Monday. But having fallen short of acquiring Howard at the March trade deadline when the All-Star unpredictably waived his right to become an unrestricted free agent this summer, the Nets roared back Sunday to become most likely landing spot for Howard in a trade.
While patiently examining all options for trading Howard, Magic GM Rob Hennigan continued to engage multiple teams in negotiations Sunday, including the Los Angeles Lakers, sources said. But the Lakers' chances were bogged down by uncertainty over whether Andrew Bynum, certain to head to Orlando in any Howard trade involving L.A., would readily agree to a long-term deal with the Magic as part of a trade. Yahoo Sports reported Sunday that Bynum has given no such indication.
Similarly, there has been no signal from Howard's camp that the Magic All-Star was willing to relax his insistence that, if traded, he would only agree to a long-term contract with the Nets.
The Cavs were a likely candidate to facilitate the trade, given their cap room and as many as six first-round picks they possess in the next three drafts -- plus the right to swap another first-round pick with the Lakers. Other teams with similar flexibility have exhibited little interest in helping create another super team in a major market, which is what would happen if Howard joined Deron Williams and Joe Johnson in Brooklyn.
"I don't think anyone is all that anxious to help the Nets," one executive on the periphery of the talks said.
Preparing for all contingencies, the Nets also have explored the possibility of signing and trading Brook Lopez to a third team in exchange for draft picks that would enhance the rebuilding blocks Orlando is seeking, sources said. But people involved in the Howard trade talks believe that, if a deal is there to be made between the Nets and Magic, the most likely scenario remains Lopez going to Orlando and Humphries going to a third team.
The complicated framework was far from agreed to Sunday, but the Nets were "making progress" in their longtime pursuit of Howard, one of the people involved said. The Magic have not been given the green light by Brooklyn officials that a third-team facilitator has been found, another source said.
In the ideal scenario for Orlando, the Magic would get multiple first-round and possibly second-round picks, "perhaps a player or two," a source said, and cap relief from moving the onerous contracts of Hedo Turkoglu and Jason Richardson. The resumption of serious talks with the Nets Sunday was an indication that Hennigan -- a 30-year-old product of the Spurs and Thunder organizations -- has sold Magic ownership on rebuilding from the ground up in the wake of the Howard debacle that he inherited mere weeks ago.
While it is possible that Hennigan ultimately elects to wait until more players league-wide become trade eligible on Dec. 15 -- when this summer's free agents can be dealt -- there are strong indications in the Orlando organization that the team senses the best deal for Howard can be extracted now. Also, what little appetite remained in the Magic organization for Howard and the drama that accompanies him has been all but eradicated, sources said.
"At some point, you have to move on," a rival executive said.
Despite the fact that the Nets' cap space for next summer has been exhausted with the re-signing of Williams and Gerald Wallace and trade with Atlanta for Johnson, Brooklyn may still be best positioned to help Orlando accomplish its full menu of goals in a Howard deal. The Nets have five trade-eligible players besides Lopez and Humphries, allowing them flexibility to provide cap relief to the Magic in addition to draft picks. There was optimism Sunday night that Cleveland's price for facilitating the deal by taking Humphries would be "accommodated," a person briefed on the talks said.
The Nets also forestalled the imposition of a hard cap on their payroll for next season at $74 million by getting Bosnian forward Mirza Teletovic to accept the smaller, taxpayer mid-level exception rather than the larger exception that would've activated the hard cap at $4 million above the luxury tax line.
The Nets have begun talks with Lopez's representatives on a contract extension, a step that one person close to Lopez described as "a formality." It is understood that Lopez would garner close to a max deal to be the starting center in Brooklyn or Orlando, depending on how the Nets' pursuit of Howard plays out.
Either way, the Nets have registered their interest in 38-year-old center Marcus Camby, who postponed his visit with Miami Saturday and had what a source described as a "very productive" meeting with Knicks officials Sunday. Brooklyn is pursuing Camby to be their backup center regardless of whether the starter ends up being Lopez or Howard, sources said.
CBS Sports HQ Daily Newsletter
Get the best highlights and stories - yeah, just the good stuff handpicked by our team to start your day.
Please check the opt-in box to acknowledge that you would like to subscribe.
Thanks for signing up!
Keep an eye on your inbox for the latest sports news.
Sorry!
There was an error processing your subscription.
Colangelo resigned in June following the discovery of several suspicious Twitter accounts

Who's in and who's out for each team? We have all the player movement and grades right her...

The Lakers enter the 2018-19 season with high expectations after a summer overhaul of their...
Here's 20 takeaways from CBS Sports' rankings of the top 100 players in the NBA

Seven of the players ranked in our top nine play in the stacked Western Conference

Reports had Butler meeting with Timberwolves management Monday, but he set the record stra...