Report: Bulls locker room not quite so harmonious
All has not been well with the Bulls this year. Turns out they're not just full of love for one another and the team. Reportedly.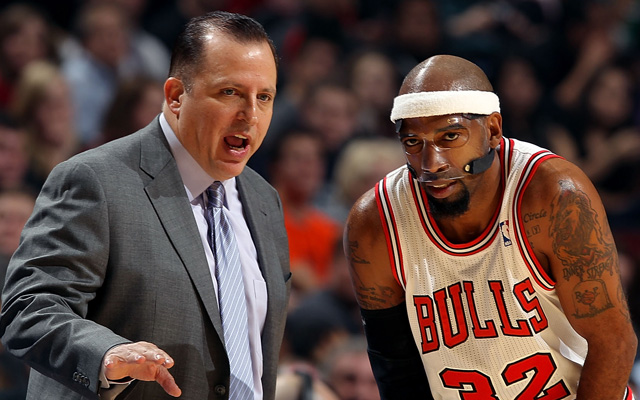 Things haven't been all peaches and cream with the Bulls this year.
(Getty Images)
The general impression is that the Bulls are like a family. They have such great chemistry. No one complains when bench players finish close games. They cheer for one another like a Cinderella team during
March Madness
. They have the best record in the league despite Derrick Rose having missed 24 games. All is well in Bulls land. 
But Yahoo Sports reports that this season hasn't been without a little disharmony, both between players in the locker room, and, surprise, surprise, their head coach and management. From Yahoo: 
The Bulls have needed much more consistent scoring out of Richard Hamilton, and far less telling everyone in the locker room what they need to do to be champions. Several sources say it grated on some Bulls since Hamiltons arrival in December, but eventually subsided.

The Bulls will have the best record in the East, and Tom Thibodeau will still sell that locker room as underdogs. He'll win the Coach of the Year again, and he'll bring something of a personal ferocity into the playoffs. He isn't happy the Bulls haven't addressed a contract extension and his relationship with GM Gar Forman remains tepid, sources said.
via Celtics Big Three nearly split at trade deadline - Yahoo! Sports.

The Bulls are notorious for their hard bargaining approaches, paticularly with coaches. This team quibbled with Phil Jackson after four championships for crying out loud. The'll re-sign Thibodeau, maybe get more of a deal than most would on him. They have never held keeping their personnel happy above getting the best deal possible. It makes little sense from a big-picture perspective, but hey, a few dollars are a few dollars to the Bulls.

The Hamilton info is interesting. Hamilton was supposed to be the difference maker for the Bulls, but has missed most of the season with injury, only recently able to start putting in significant minutes. His attitude in Detroit was the subject of much scutiny after the "mutiny" by the veterans against John Kuester. Hamilton is outspoken, clearly, but the Bulls aren't really in need of a lot of guidance. They didn't lose to the Heat last year because of a lack of leadership. They lost because of a lack of made shots.

The fact that this has blown over is good for Chicago, they're not going to be distractions in the playoffs on their own. If any other further disturbances develop, though, these things could play a part. It's all part of the tableau of a complicated season.  
We've got all the scores, highlights and news for Thursday night

The Sixers big man got his first All-Star selection -- and maybe some revenge -- on Thursd...

It appears some players are not entirely taking the All-Star voting process seriously
There were some weird discrepancies between the fan, media and player votes

LeBron and Steph will be the captains for the 2018 NBA All-Star Game

Arron Afflalo was involved in an altercation with Timberwolves big man Nemanja Bjelica on...