Report: Eric Gordon benched after screaming match with coach
Hornets guard Eric Gordon was reportedly involved in screaming match with coach.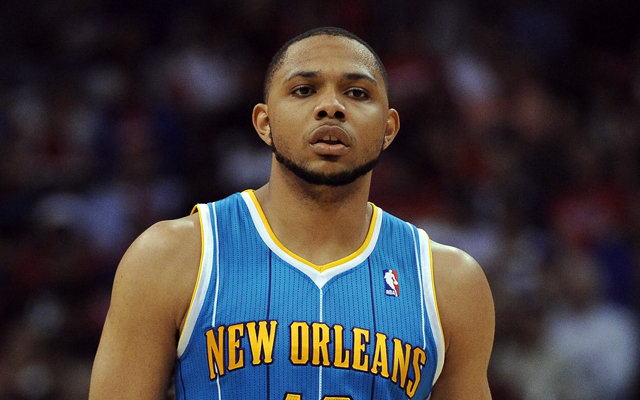 Eric Gordon and the Hornets have never really gotten along. He didn't want to leave the Clippers in the Chris Paul deal. He missed mosr of the season with a knee injury. He signed an offer sheet in free agency with Phoenix. He said publicly his heart was in Phoenix and he didn't want the Hornets to match. They matched. He had more knee troubles. An MRI didn't reveal any damage but he still said he was in too much pain to play. His coach, Monty Williams, wasn't happy. He left for a few months to rehab in LA. He wasn't on the bench for the team. He finally came back, and played pretty well without playing on back-to-backs and in general, things were OK, if icy. 
And then this, from Friday's game, via NBA.com: 
Hornets coach Monty Williams and point guard Eric Gordon got into a screaming match during a timeout with 8:37 left in the third quarter. Millsap had just scored on a putback to put Utah ahead 55-47 and New Orleans called a timeout. Williams was visibly agitated, yelling in Gordon's direction. He had to be held back by assistant coach Randy Ayers after Gordon hollered back at him, and when the team went to the sidelines, Williams continued screaming at Gordon. Gordon, the team's leading scorer, did not return to the game after the confrontation.
It needs to be noted that no other source has verified the match, but no one's refuted it either. 
So that's not good. 
The Hornets rewarded Gordon with a massive contract based on his injury situation and production, put their trust in him as the leader of the franchise, and Gordon's pretty much been nothing but a headache with a jumper. 
It may be time for the Hornets to pull a mulligan and move on this summer. They've got some good players and some decent chemistry. If Gordon doesn't fit, it wouldn't crush them, and the return might put them in a better position going forward. 
That said, we don't know what was said, what Williams screamed. And after this week in sports and the news involving how coaches treat players, maybe we should hang back. Williams has been exceptionally hard on his young team this year and openly critical at times.
But this thing doesn't appear to be working in New Orleans. 
HT: PBT
CBS Sports HQ Daily Newsletter
Get the best highlights and stories - yeah, just the good stuff handpicked by our team to start your day.
Please check the opt-in box to acknowledge that you would like to subscribe.
Thanks for signing up!
Keep an eye on your inbox for the latest sports news.
Sorry!
There was an error processing your subscription.
The new Laker recalls his most infamous moment with LeBron, who will play with him in 2018

The WNBA Playoffs begin Tuesday night with two single-elimination first-round games

Love says he thought he was dying during a game in November, and was hospitalized with high...
Apparently you can really buy and sell anything on eBay

The WNBA Playoffs begin Tuesday night with the single-elimination first round matchups

This might be the most J.R. Smith thing yet