Report: Kyle Lowry, Heat have 'mutual interest'
Raptors guard reportedly has interest in joining Miami. But will the Big 3 make room and will he take a pay cut along with them?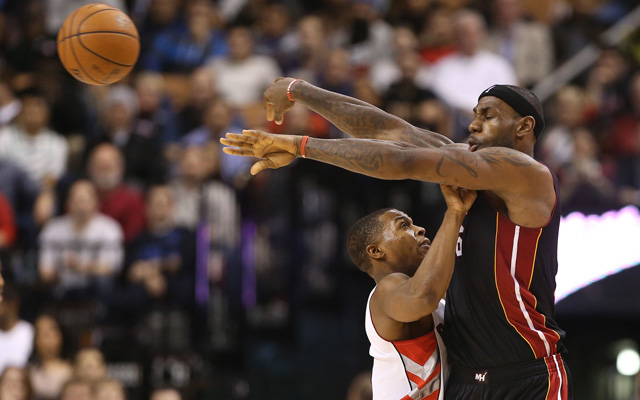 More Offseason Analysis: Coaching changes, news | Free Agency | Draft | Rumors
A report surfaced Tuesday from ESPN that Raptors point guard Kyle Lowry and the Miami Heat share a 'mutual interest.' Lowry is set to be an unrestricted free agent this summer. 
"The guy who has mutual interest with the Heat and who fits a position of need is Kyle Lowry," ESPN's Brian Windhorst said in a video interview. Lowry could attract max offers from the Raptors and elsewhere; for the Heat to sign him -- at a discount -- Chris Bosh, LeBron James and Dwyane Wade would have to opt out of their contracts and re-sign for less money.  
Lowry, 28, averaged 17.9 points, 4.7 rebounds and 7.4 assists this season for the Raptors, leading them to their first playoff appearance since Bosh departed in free agency in 2010. 
Coincidentally, I wrote about how Lowry would be an ideal fit with Miami after the Heat lost Game 5 of the Finals to the Spurs.
The Heat need a point guard who can run the offense and create shots when the Big 3 aren't on the floor. While all the talk of Carmelo Anthony has been the rage, a player like Kyle Lowry might honestly help them more. Meanwhile, the Heat desperately need outside shooters to replenish their stock, and athletic defenders. The Heat were dominant from 2012 to 2013 with their ability to force turnovers, get out in transition, and hit threes. Having to rely on Rashard Lewis, Allen, Battier, and Birdman Andersen made for tough going.
via Where do the Heat go from here? - CBSSports.com.
Lowry would provide them with a point guard who could bring the ball up the floor and manage the offense. He's great in transition, shot 38 percent from the outside this season and is a bulldog defender. He's also tough as nails, something the Heat could use on the perimeter. Adding Lowry would also mean that Dwyane Wade could rest more, a paramount concern after Wade struggled in the Finals despite sitting out 20 games during the year. 
Will the Big 3 take a paycut to allow such a move? Will Lowry take a paycut to chase a ring? And what would this mean for Carmelo Anthony? The Heat's free agency situation becomes more complex by the minute. 
Wade opted in to his $24 million player option earlier this summer

Barkley spoke to the NFL Today crew about the response the president received in his home...

The restricted free agent has a deal in place that will keep him with the Bulls after a st...
James' support continues his trend of social activism on social media

The newly-acquired All-Star thinks the addition of Anthony boosts the Thunder in the NBA's...

The Knicks were asking for the house in discussions for Carmelo Anthony