Roy Hibbert: 'The game plan really wasn't to utilize me as much'
Pacers center Roy Hibbert said he would have liked more touches on Monday.
• 1 min read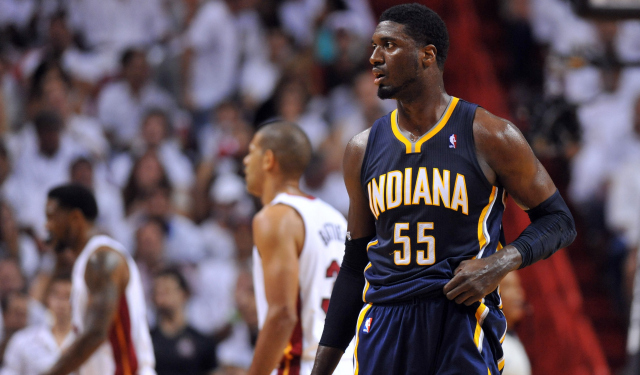 More Game 4: Court Vision | Indy not good enough | Bosh's big night
Indiana Pacers center Roy Hibbert had his fourth scoreless game of the postseason in Monday's Game 4 of the Eastern Conference finals, shooting 0-for-4 from the field and finishing with five rebounds, one assist, one block, one turnover and four fouls in 22 minutes. His team was outscored by 23 points in that span. It was a disastrous showing in the most important game of the Pacers' season, and after the 102-90 loss Hibbert quietly said the game plan did not involve feeding him the ball, via ESPN's Brian Windhorst:
"The game plan really wasn't to utilize me as much; I'm just trying to be effective as I can," Hibbert said. "Would I like a little bit more touches early on? Yeah. But that's how the cookie crumbles sometimes."

…

"I can only control what I can control," Hibbert said. "I can't control plays called for me."

…

"I just need to be a good teammate if I don't get looks," Hibbert said.
The Miami Heat started Rashard Lewis at power forward, and early in the game the Pacers made a point of making Lewis guard David West. Hibbert, indeed, was not the No. 1 option, and he's right that it's hard to find a rhythm when your perimeter players aren't looking for you.
There was also this:
I asked Roy re offense falling into 1-or 0-pass possessions in 3Q: "When we get down big, sometimes guys try to put the team on their back."

— Zach Lowe (@ZachLowe_NBA) May 27, 2014
Here we have Hibbert being honest after falling behind 3-1 in an extremely frustrating, lopsided loss. He knows winning three straight games against Miami is next to impossible, and that the Heat are scoring on his team at will. He could do more to assert his will on the game, but he does need help to get going offensively. Like Paul George with his comments about Lance Stephenson and the refereeing, though, this probably wasn't Hibbert's best move. On the verge of its season ending, Indiana once again looks like a team losing its confidence and pointing fingers.
Kris Dunn somehow took a chunk of the Bulls court out with his teeth, but didn't lose any in...

The fallout from the Rockets-Clippers tussle continues; no Clippers were disciplined

DH12 is picked for free throws after a teammate gets ejected. He makes both, and lets Scott...
Bell was injured defending a Robin Lopez dunk and had to be taken off the floor in a wheel...

Trevor Ariza and Gerald Green are reportedly both suspended two games

We've got all the scores, highlights and news from Wednesday night