Should Paul George develop his isolation game?
Paul George isn't good at isolation, so should he try and develop it or just avoid it?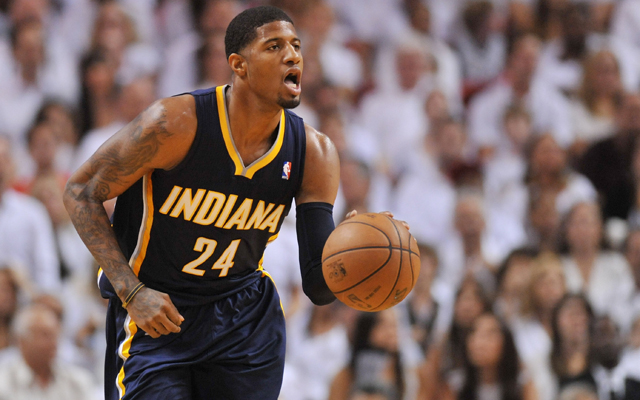 Paul George became a legitimate star last year, but the big weakness is that he struggles in isolation play. The Pacers had a lot of problems last year offensively (that randomly and amazingly disappeared vs. the Knicks and Heat), and at least some of it came down to their not having a go-to scorer to bail them out of "911" situations. The idea has been that George will develop those skills in time. 
George has problems with his handle and ability to create and make his own shot under those conditions. But he's a superb weapon off the cut, on the catch-and-shoot, and other "tip of the spear" situations. So if he improves in those situations, the Pacers will be a better team, right? 
Pacers blog Indy Cornrows broke down the situation and asked that question, and the piece is worth your time. 
George only got to the line 6.5 percent of the time, the third lowest percentage of players who had 100 isolations. Getting free throws is an instant upgrade to efficiency, and can help get the opponents' key players into foul trouble. Getting LeBron James to foul out can be quite helpful.

But all of that is important for George to become one of the best players in the NBA, not necessarily for the Pacers to become the top team in the NBA. Isolations are very inefficient. It was the least inefficient play in the NBA last season. Is it really important for Paul George to develop into a star isolation player?

The Pacers offense stalled at times last year, and a "weakness" of the team was not having a go to isolation scorer, someone who could end a quarter or end an opponent's run all by themselves. If George developed this part of his game he would erase the Pacers perceived weakness. It is much more effective for the Pacers to go to some type of simple play when the quarter or shot clock is coming to an end.

A lot of NBA teams make the mistake of going to an isolation for their best player late in games, when just about any other type of play is more efficient. So Indiana shouldn't be concerned with George excelling in the isolation. Instead, George should develop his pick and roll, or become more proficient in facilitating after drawing some extra attention.
via Would developing Paul George's isolation game hinder the Pacers? - Indy Cornrows.
That note about the free throw rate is key here. Derrick Rose struggled with a similar issue. In 2010, Rose got just 16 percent of his points off free throws. In 2011, that number jumped to 23.5 percent in his MVP season. George last season? 16 percent. Now, George isn't Rose in style, manner, skill, position, or role. But the point is that young players learn to draw contact and that significantly helps their scoring role. 
That will make up for other issues. But as George has moved more to shooting off the dribble, his percentage has gone down. In 2011, George shot  percent from mid-range as he focused on catch-and-shoot opportunities. That number plummeted the last two seasons, with George clocking in at 36 percent last season. In short: George shoots more when others aren't creating for him, and he's not as effective. 
The problem is that a. few teams are willing to rely on players actually working in the flow of a system and b. it's not cool to be a player who catches and shoots. You have to shake your man and then nail the pull-up J. It's a great skill for those who can do it consistently, but at some point you can't make that square peg round. 
And still, George will be just 23 next season. Maybe he can become the isolation player the Pacer need, or think they need. If not, maybe he'll just be that player who finishes the play instead of creating it. That would give the offense more options and probably improve their efficiency overall. 
George's career is at a fork, and the path that it takes could impact whether he continues to develop into a versatile, explosive weapon that doesn't need the ball, or your run-of-the mill dribble-and-chuck star. Interesting debate, if nothing else. 
Warriors' forward doesn't understand the reasoning behind the all-too-common double technical...

Hardaway Jr. gave a 'safe' call like he was an umpire in baseball

Barnes hits the trey with less than a second left to lift Mavericks to dramatic 95-94 vict...
Kevin Durant was once again back in Oklahoma City

Gregg Popovich has never seen an injury lead to the issues that Kawhi Leonard has been fac...

Kobe Bryant, of course, had his 81-point game against Rose and the Raptors back in 2006