Transparency on ref mistakes doesn't mean officials are worse
Recent high-profile errors in officiating have people buzzing again about the refs. Be careful. Don't assume a rise in transparency means a rise in incompetence.
It is that time of year again, time to openly speculate on whether NBA officiating is awful, corrupt, embarrassing, inept or all of the above.
One might get the impression that NBA officiating is the worst of the worst if one listens to fans of literally every team (and announcers of most) who believe the referees are out to get them. Obviously, a mandate from the league office to harm literally every one of the NBA's 30 teams on a nightly basis is A) impossible, and B) a theory only Inspector Clouseau would entertain.
But an old saying that is popular wherever the stench of corruption exists -- "mistakes have been made" -- has only been bolstered by the NBA's insistence on admitting that, yes, in fact, mistakes have been made. In the last two weeks, the NBA has acknowledged two calls that directly affected the outcome of two games. In a sure sign that the end days are nigh, both games involved the Dallas Mavericks, who are owned by noted officiating expert and agitator, Mark Cuban. In a twist of fate that spared us all some unspeakable outcome -- and Cuban a few hundred thousand dollars -- both mistakes favored the Mavericks.
Perhaps this would explain why Cuban was in such a healthy, constructive mood this week when he opined that he adores the NBA's transparency -- and wants more of it. That is a sword with two equally sharp edges if I've ever seen one.
"I love the transparency," Cuban said, according to the Dallas Morning News. "Now if I can just get them to do the same level of transparency for the other 47 minutes, 55 seconds, we'll really be making progress."
Surely, he jests. The NBA already gets more than its share of grief over the officiating, and that grief has only grown since it began publicly acknowledging late-game errors affecting the outcome of games. The admissions, adopted in the spirit of transparency in the wake of the Tim Donaghy scandal, started happening regularly during the 2011-12 season. That year, the NBA commented on five calls, including three by way of explaining why they were correct -- including why Dwyane Wade did not travel on a particular play because the rules allow an offensive player to take two steps to gather himself when receiving possession of the ball.
(Of course, officials missed this obvious and ridiculous travel by Wade this season and the league did not comment on it because it did not directly affect the outcome of the game. Also, it speaks for itself.)
 Last season, six publicly acknowledged mistakes were acknowledged via the league's official Twitter account (plus a goaltending call that was made correctly). This season, the league office has taken to issuing formal news releases as opposed to simply tweeting the information. That's fine by me; I'm sick of people tweeting information.
This is what happened on Dec. 25, when the NBA announced that the Clippers' Blake Griffin was erroneously ejected from a game against the Warriors. (It should've been a common foul on Griffin and a technical on Andrew Bogut, the league said.) This one didn't fit the typically tight criteria for an acknowledgement since it happened early in the fourth quarter, but the ejection of a star player clearly affected the outcome of the game. The Warriors won 105-103.
In the case of the Mavs, Cuban's team benefited from two personal fouls committed against opposing jump-shooters that were not called. First, the league acknowledged that the refs missed Shawn Marion's foul on Kevin Love while Love was attempting a two-point field goal late in Dallas' 100-98 victory on Dec. 30. Love should have been awarded two potentially tying free throws with one second left on the clock.
Then, the NBA acknowledged that its officials missed Monta Ellis' foul on Austin Rivers while Rivers was attempting a 3-point field goal in the Mavs' 110-107 victory over New Orleans on Jan. 11. Rivers should have been awarded three potentially tying free throws with 0.6 seconds left.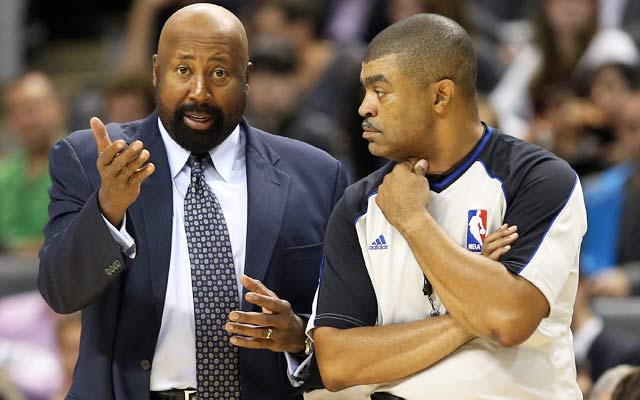 Those are pretty big mistakes.
It's transparency at its best, and in the view of some, at its worst. In Cuban's view, there should be more. Let's pump the brakes on that idea, though. Providing a nightly report card on the performance -- batting average, if you will -- of NBA officials would be pure chaos. As much anger as there is about the officiating now, just imagine if every missed call or non-call was publicly spelled out.
Regardless of what you think of them, NBA referees have one of the hardest jobs in the world. My job isn't easy, and I'll assume yours isn't, either. Also, I'll assume that neither of us wants a report on our performance distributed to the world on a nightly basis.
Be that as it may, let's not worry about hypotheticals. Instead, let's talk causes and solutions to this problem -- if there is a problem. First, is the league's acknowledgement of three pretty big blunders in less than three weeks indicative of a downward trend in the league's officiating quality?
Not necessarily -- not by itself, anyway. First, how many mistakes happen in outcome-altering situations late in games is not reflective of the overall quality of the officiating -- good or bad. Only the NBA has that data, and league sources say the officiating department has detected no significant upward trend in the percentage of incorrect calls or non-calls. Even if it did, that could be attributed to the league having more information than ever about such things since it has begun using remote observers to grade the referees -- instead of an in-arena observer.
Anyone who has watched a game from inside an NBA arena knows that there are details you can't possibly observe as well from there as you can from a room with multiple TVs and every replay angle available. More information doesn't necessarily mean things are getting worse; it simply means you have more information.
The second issue is the experience level of the officiating staff, which includes 62 full-time referees and several non-staff refs who normally work D-League games but receive NBA assignments throughout the year. The league uses this program to evaluate and promote officials who do well in an effort to deal with attrition.
As with just about any enterprise (including NBA reporting), the overall experience level of the league's officiating staff has declined over time. That is inevitable. The trend was particularly prevalent in 2010-11 and '11-'12. After the '09-'10 season, four referees with a combined 72 years of experience (Joe DeRosa, Joe Forte, Sean Corbin and Phil Robinson) retired and were replaced by non-staff or D-League refs who were promoted. After the '10-'11 season, the league lost Mark Wunderlich, Bob Delaney and Steve Javie. Non-staff officials J.T. Orr, Tre Maddox, Scott Twardoski and Karl Lane were promoted.
Attrition has stabilized over the past two seasons. Only Tommy Nunez did not return after the '11-'12 season; he was replaced by Kevin Scott. The league lost two officials after the '12-'13 season: Greg Willard, who died of pancreatic cancer, and Kevin Fehr, who was not brought back for the '13-'14 season. Non-staff officials Ben Taylor and Steve Anderson were promoted.
And so it goes. While the declining experience of the NBA's officiating staff is beyond dispute, it has stabilized in the past two years. And if anyone has a better way to train officials and promote them when more experienced refs retire, please drop a line to the incoming commissioner, Adam Silver. (Actually, Adam, I can't think of one.)
Which brings us to the recent string of missed calls and what factors may or may not have caused them. The crew for the Griffin ejection consisted of two of the league's most experienced officials (Bill Kennedy and Gary Zielinski) along with Twardoski, who'd worked his way up through the development program. Hard to blame inexperience for that one.
For the missed call on Marion against Kevin Love, the crew was Ed Malloy, David Guthrie and Twardoski -- and the call was missed specifically by Malloy, a Finals ref. Similarly, the missed call on Ellis against Rivers was observed by the crew of Tony Brothers, John Goble and Eric Dalen -- with the call itself missed by Brothers, another Finals ref.
The point being, stuff happens. Officials in sports get things wrong -- just as they do in the NFL and just as they do in Major League Baseball (where the accuracy or inaccuracy of every ball-and-strike call is broadcast to millions of viewers in real time).
Overall, transparency is good and the NBA is as good as it's ever been at collecting data on the quality of its officiating and publicly acknowledging mistakes when they directly affect the outcome of games. While the increase in frequency of the NBA's public acknowledgements creates the impression of transparency, it also creates the impression that incompetence is on the rise. That's a difficult leap to make without proof.
The point of all this is to get as many calls correct as possible. Thus, the ever-expanding scope of the replay rules -- which, in theory, is designed to achieve a higher degree of accuracy but in practice actually has made the officials' jobs more difficult.
To give the public the impression that you're doing your best, you have to admit when you've made a mistake. To me, that doesn't mean you have to admit every mistake. Too much of a good thing is not always a recipe for improvement. Sometimes, it just makes a bigger mess.
With 2K18 out everybody wants to know who has the 10 highest ratings in the game. Here's the...

Durant noted in an interview that all of the criticism in the immediate aftermath hit him...

Want the swagger of LaVar Ball? "NBA 2K18" lets you copy his absurd run from his WWE appea...
Durant apologized for a few tweets in which he criticized OKC and his former coach Billy D...

Lue does not expect the Cavs' big trade to affect the team's starting frontcourt ... at least...

Dwight Howard wants to be a farmer in his future and retire with his donkeys