In the winter of 2011, with a looming lockout set to hijack the NFL offseason, quarterback prospects Andrew Luck and Cam Newton were the talk of the football world. Luck, who starred at Stanford, was widely expected to be the top pick in that spring's draft, while Newton, an Auburn product, had led the Tigers to the national championship.
Newton was the 2010 Heisman Trophy winner, but Luck was the top runner-up. They were to be this generation's Peyton Manning and Ryan Leaf atop the draft, except ideally with neither pivot busting like Leaf did.
That failed to come to fruition, though, when Luck decided instead to return to school for his redshirt junior season.
As a result, both got to be top choices, with Newton going first overall to the Carolina Panthers in 2011 and Luck being selected first by the Indianapolis Colts in 2012. And now, they're meeting for the first-ever time as franchise quarterbacks in the NFL.
Using numbers to tell the story, here's what to expect Monday night when Newton's Panthers host Luck's Colts at Bank of America Stadium in Charlotte.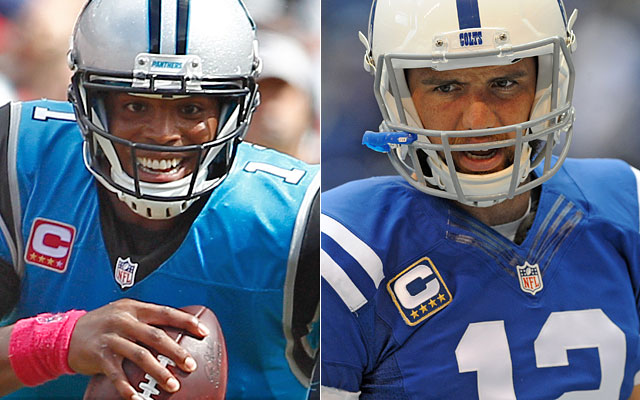 1. Top picks lacking top stats
Key stat: Among 29 quarterbacks who have started at least five games, Luck and Newton ranked 27th and 28th in terms of completion percentage and 28th and 26th in terms of passer rating.
In other words, on paper, they've been two of the worst starting quarterbacks in football, with Luck entering Week 8 possessing the highest interception rate in the NFL and Newton only a few points back in third place.
NFL's lowest-rated passers, 2015 (min. 5 starts)
Rank
Comp%
INT%
Rating
Last
Bortles (55.7)
Luck (4.3)
P. Manning (72.5)
28th
Newton (55.8)
P. Manning (4.2)
Luck (76.3)
27th
Luck (56.2)
Newton (3.9)
Bradford (78.4)
26th
Foles (58.5)
Winston (3.9)
Newton (78.4)
25th
Winston (59.1)
Bradford (3.7)
Foles (78.8)
Yet Luck's Colts are just 3-4, with their only wins coming against feeble division opponents Jacksonville, Houston and Tennessee, while Newton's Panthers are 6-0. That indicates that the 2011 No. 1 overall pick has been better supported by his teammates than the 2012 No. 1 overall pick, but this is also about timing.
In the fourth quarter of one-score games this season, Newton has a passer rating of 109.6, which ranks fourth among 14 quarterbacks who have thrown at least 20 passes under those circumstances.
Top-rated passers in the fourth quarter of one-score games
Player
Rating (min. 30 att)
Philip Rivers
114.2
Cam Newton
109.6
Drew Brees
109.1
Josh McCown
104.9
Note: Entering Week 8
Meanwhile, Luck has thrown just three passes all season with his team either trailing by one score or leading by one score in the fourth quarter. The Panthers have been competitive despite Newton's hiccups, while the Colts have failed to compensate for the many mistakes their quarterback has made.
2. Bullies in the division, bullied everywhere else
Key stat: Dating back two calendar years, the Colts are 14-0 in their last 14 games within the AFC South and 6-12 against the rest of the league.
They've lost seven of their last 10 road games against non-divisional opponents, and they've been outscored by at least 10 points in six of those games.
This is no coincidence. The Jaguars, Texans and Titans are bad, and have been for some time. They've been so bad the last few years that they've made Indianapolis look at lot better than it actually is.
Colts vs. non-divisional opponents since the start of 2013
Category
Total
Rank
Record
10-14
22nd
Points dif.
-85
21st
Points for
23.4
19th
Points allowed
27.0
27th
Turnover margin
-15
29th
3. Wrong place, wrong time for Andrew Luck?
Key stat: Opposing quarterbacks have a passer rating of just 67.5 when facing the Panthers this season, which is the lowest mark in football.
Led by defensive player of the year candidate Josh Norman, that secondary has is given up just 5.9 yards per pass attempt, which ranks second in football. They have nine interceptions and have surrendered a tied-for-league-low five touchdowns, and they rank tied for first in football with just three 30-yard completions allowed.
That explains why Football Outsiders ranks them second to only Denver with a pass defense DVOA (Defense-Adjusted Value Over Average) of -24.0 percent.
So good luck, Luck.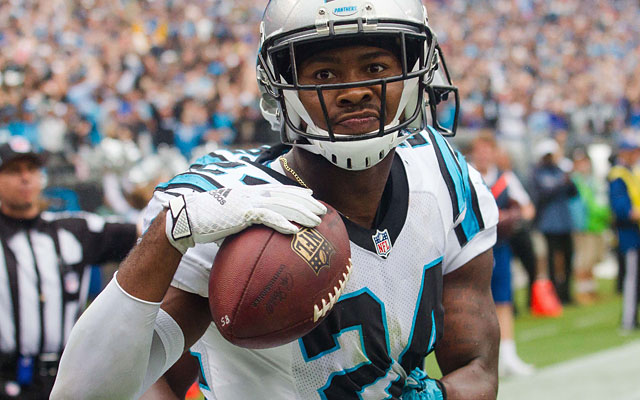 4. Accounting for discipline and mistakes
Key stat: Carolina has been penalized just 37 times for 300 total yards. Only one team (San Francisco) has been more disciplined.
And only four teams have been penalized more than the Colts (56 penalties, 459 yards), who also have more turnovers and fewer takeaways than the Panthers (ranking 31st in baseball with a turnover margin of minus-8).
Comparing the Colts and Panthers in terms of sloppiness, 2015
Category
Colts (rank)
Panthers (rank)
Penalties
56 (5th)
37 (T-29th)
Turnovers
15 (T-2nd)
8 (T-23rd)
Turnover dif.
-8 (31st)
+4 (T-6th)
5. Ready for prime time?
Key stat: Before beating Philadelphia last Sunday night, the Panthers had lost four consecutive prime-time games.
And they were beat by at least 18 points in all four of them, with two coming in Charlotte at the hands of the Saints and Steelers.
The Colts, meanwhile, have lost three of their last four prime-time games but have won five of their last six night games on the road. However, only one of those victories has come against a non-divisional opponent.
Considering that, as well as the fact the Panthers are still 16-5 in their last 21 home games overall with five straight wins at Bank of America Stadium, Carolina shouldn't be all too concerned.
Prediction: All signs point to the Panthers moving to 7-0. Luck is still Luck and the Colts are both skilled and experienced, and nothing's guaranteed in this league, but Carolina's at home and red hot on both sides of the ball. We'll give Newton and Co. a 10-point victory.
Brad Gagnon has covered the NFL since 2007. You can also read his work at Bleacher Report, Awful Announcing and This Given Sunday. Follow him on Twitter. Or don't. It's entirely your choice.