'Hard Knocks' to continue after HBO agrees to extension
Great news if you're a 'Hard Knocks' fan. The show will continue beyond this season.
• 1 min read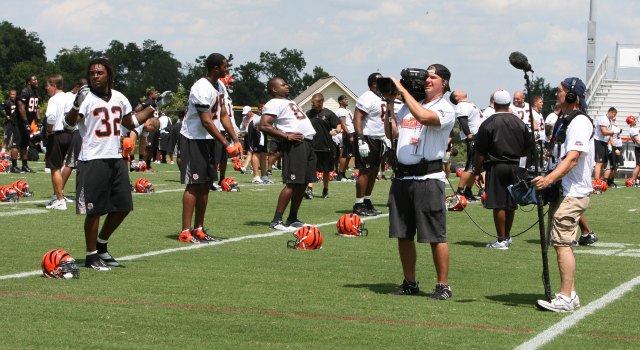 Although it hasn't been easy for HBO and NFL Films to convince teams that they should participate in a season of Hard Knocks -- after all, this is the second time in five seasons the Bengals have been featured -- the league seems intent on keeping the preseason documentary alive.
And for now, that's exactly what will happen as HBO and NFL Films announced Thursday that a multi-year contract extension had been signed, meaning the series will stick around for at least a few more seasons.
Which is great news for those NFL fans who don't/can't miss an episode. It's great news for those who [NAUGHTY LANGUAGE ALERT!] prefer their pro football players to act like (F-bomb) professionals. And it's great news for those who are hungry and just want a late-night pep talk and a nosh.
It also is apparently great news for the Bengals and coach Marvin Lewis.
"I think the organization is excited to be part of it again," Lewis said Thursday. "People have asked why? From the standpoint of fans, they had a great opportunity to get to know the players when we did it four years ago. From the standpoint of coaches, we have to go out and win games."
With the paranoia that runs rampant through NFL locker rooms -- some, if not most teams, are worried that something will be caught on tape by the NFL Films cameras that will hurt them afterward -- it seemingly hasn't been easy for the producers to find willing subjects.
But commissioner Roger Goodell also has made it clear that he wants the show to continue.
"We're talking about some kind of formal rotation where teams participate in the show on a more regular basis," Goodell said last month. "Not necessarily more frequently, but on a regular basis so that it is a shared obligation and it would give more teams an opportunity to have this."
And hey, maybe this means another Emmy for everybody involved.
Here's an up-to-date look at the 2018 Pro Bowl roster

Bettors are favoring the Eagles to keep Super Bowl LII close, but the Patriots remain clear...

Here's everything you need to know about Super Bowl LII
Here's a look at the NFL's entire postseason schedule for 2018

Here's all the details you need to know on watching Super Bowl LII between the Patriots and...

All of the information you need to know about the 2018 Super Bowl