Monday Observations: Forecasting trade winds before Tuesday deadline
La Canfora: Who's getting dealt before Tuesday's deadline? Jared Allen could join a contender, but Tony Gonzalez isn't likely to leave Atlanta.
• 11 min read
The trade deadline is finally, almost here. We have accumulated as much empirical evidence about the teams, and their needs and their odds of reaching the postseason as we are going get prior to the Tuesday afternoon cutoff (OK, save for  a Monday night game between Seattle and St. Louis).
Time is running out for general managers to work the phones with the results from Week 8 now in, and the time to find an upgrade is pretty much now or never, as the talent still available on the free agent market is slim at best. The deadline was moved back two weeks just for this reason -- to allow clubs more time to assess their chances before deciding whether to part with some talent for future assets.
It's spurred no shortage of trade talks, that's for sure, and certain positions in particular have ample potential for swaps to take place. Now, having taken in Week 8, here is a final look at how things seem to shape up regarding the deadline one day away from that window closing for the 2013 league year:
Strong chance of a deal
Kenny Britt, WR, Titans: These trade talks have been going on for weeks, with the Titans asking for too much in the eyes of some clubs, and many of those clubs looking at Britt, who has been troubled off the field and is struggling on it, as a fall-back plan in case they couldn't land a better prospect like Josh Gordon or Hakeem Nicks. Well, it's about time to make this happen and, realistically, for someone with his baggage who is a free agent in March and who hasn't contributed much in a while, getting more than a fifth-round pick would be tough. Ultimately, a change of scenery makes sense for all involved, and it could be New England, Baltimore, or San Francisco, who are all over the receiver market.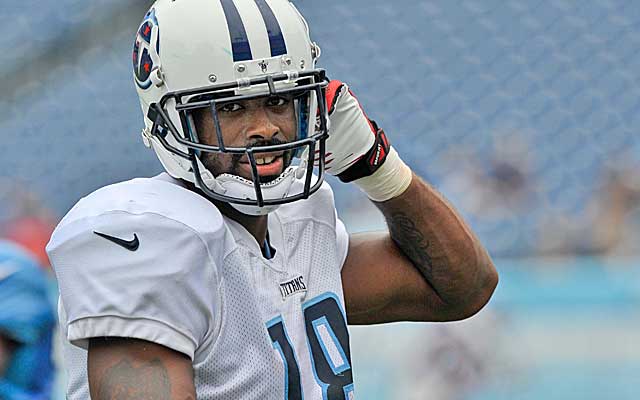 Greg Little, WR, Browns: His drops have become maddening at times, and this regime inherited him and is intent on loading up on 2014 draft picks. This is another situation where a change seems inevitable and with so many contending teams in need of another pass catcher, Little becomes a more viable option in particular if the price is just too high on Nicks and Gordon. The Browns have been in contact with a good chunk of the league ahead of the deadline, and the front office tandem of Joe Banner and Mike Lombardi are willing wheeler-dealers and they are looking to churn the roster some here.
Fred Davis, TE, Redskins: He's been shopped all over the league and, like these other two mentioned so far, has had his share of off-field issues. He's another failed drug test from being out of the league, and he won't fetch much in return, but at 2-5 and being so bereft of picks from the bounty they gave up for Robert Griffin III, the Redskins need to replenish, and a back-up tight end who won't unseat Jordan Reed and who won't be there in a year, might as well end up elsewhere now. The Chiefs could use a move tight end and Andy Reid saw Davis flash at times when he was coaching in the NFC East.
Fair chance of a deal
Jared Allen, DE, Vikings: The $8 million that is still owed will rule out a lot of teams for budgetary or cap concerns, but if the Vikings want to move some money here and shed a big contract -- and it makes all the sense in the world they do just that, then Allen would accommodate them from everything I gather, having a great working relationship with the organization. A parting makes sense; he wants a ring and they are rebuilding and he won't be re-signing there in all likelihood. Could they get more than a third-round pick for him? Maybe not, but I'd do it anyway. The Vikings would likely have to rework his contract and eat some of it to facilitate a deal, and Allen is only a fit with 4-3 teams and would only be interested in playing for a contender, but should a team like Seattle or Denver or a handful of other teams try to make it happen, it's hardly out of the question.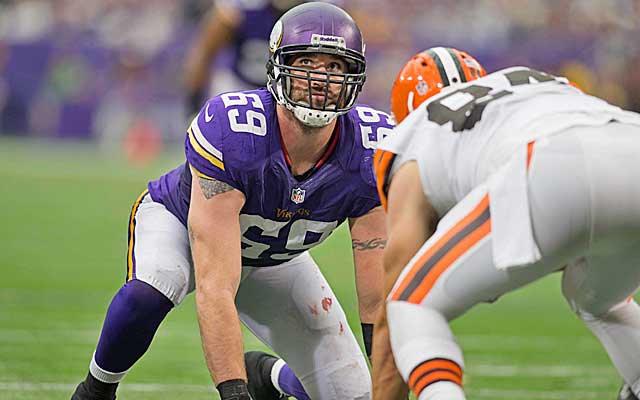 Mikel Leshoure, RB, Lions: The Lions have been in contact with a wide swath of teams seeing if there is any market for him, and there are a few teams that could use a running back, but not many true contenders. Dallas is willing to make moves and they can make the youngster fit in their tight cap situation, and the Dolphins are unlikely to make a move from everything I've heard, but GM Jeff Ireland may be feeling the heat after another loss and perhaps may explore this more. Leshoure hasn't played much this season in a deep backfield and he's been banged up, but of all the guys being offered up at this position, I could see this recent second-round pick having the most real potential to be dealt.
Jairus Byrd, S, Bills: The fact he is a franchise player and cannot extend his deal with any club in 2013 greatly limits the options here. Plenty of teams like Byrd -- contenders and non-contenders alike -- but they won't part with a significant pick for a player they might only end up renting. Still, the Bills are reeling some, even with him back from injury, they won't franchise him again in 2014, which means he walks for a 2015 compensatory pick. I could see a proactive team like Cleveland, even though rebuilding, maybe flipping a pick they have received from some of their recent trades to land Byrd, and then get a jump on trying to extend him before the market opens in March.
Josh Gordon, WR, Browns: He has been a stud since returning from suspension … but it's the fact that he's already reached a stage in the drug program where his next positive test puts him out a year that's the problem. Teams have been calling for weeks on him and the Browns have let other clubs know they are willing to listen to offers on pretty much anyone on their roster, but would likely take a second-round pick and a player with some value, at the least, to pry him away. There have been enough discussions about him that I can't rule it out entirely, but someone would have to really give the Browns something to think about with their offer.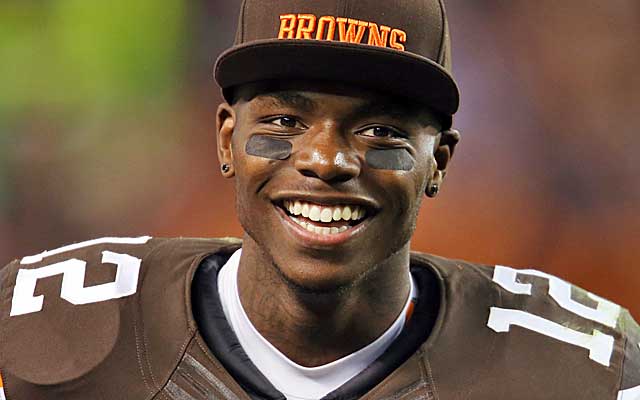 Maurice Jones-Drew: The Jags ate about $2.5M in the trade that sent left tackle Eugene Monroe to Baltimore and if they are willing to absorb a financial hit on MJD, maybe they can pull off a deal here and recoup some sort of pick. Jones-Drew will be moving on as a free agent, and there is not much demand for running backs right now but the guy has performed at a very high level in the past. He brings unique leadership skills and perhaps could get a boost by going to a winning team that might just want some insurance in the backfield. The draft compensation wouldn't be much, but given the state of the Jaguars, getting as many picks as they possibly can wouldn't be bad way to go.
Weak chance of a deal
Hakeem Nicks, WR, Giants: Teams have been calling since the Giants fell to 0-6, and the Giants have resisted all temptation. Now, suddenly back in the mix in the NFC East at 2-6, the odds of dealing Nicks are looking bleaker. Still, if someone offers a second-round pick, with provisions for more should Nicks re-sign with that new team, then you never know. It's a non-Giants like thing to do, and their most modest two-game win streak makes it less likely. Nicks' status as a pending unrestricted free agent probably limits the offers to more like a third-round pick, but the Giants have a lot of needs, and they very well may lose Nicks anyway in March. They also have options at receiver. So I'm not going to rule it out entirely.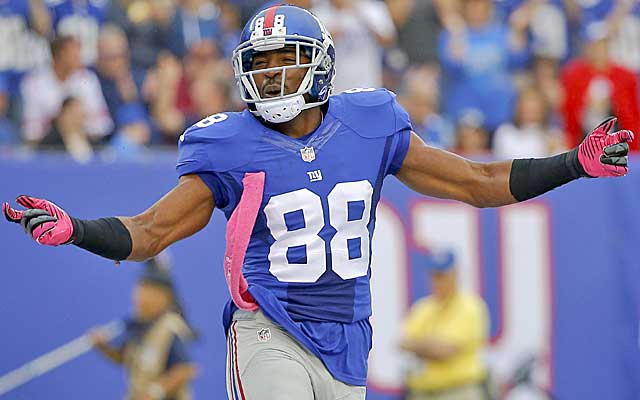 Mark Ingram, RB, Saints: It wasn't long ago the Saints traded up to draft him in the first round, but he has not seen much of the field, he has been hurt this season and he doesn't seem to fit their scheme. He would greatly welcome a trade, I'm told, but again the market for running backs is limited, and he simply hasn't shown much at the NFL level. Could some teams double back to his film from Alabama and say what the heck? Maybe, and the Saints have no shortage of other backs in the mix. It's not likely this comes together, but Ingram is hardly damaged goods either at this stage of his career.
Tony  Gonzalez, TE, Falcons: I know, I know, I know. He has told the Falcons he doesn't want to go anywhere and he loves them and they love him and purple dinosaurs are dancing all over the place even though the team in Super Bowl or bust mode is now sitting at 2-5 and just might get punched in the mouth by division rival Carolina next week. So, with so many teams in need of a pass catcher and Gonzalez the ultimate rental candidate, and this team getting humiliated Sunday in Arizona with that long flight back, they'd be naïve not to at least discuss internally what they could get for moving Tony G. And, with him so worthy of getting to a Super Bowl, a trade could still be a win-win situation. Maybe he wakes up this morning and feels like going to a winning team makes sense. He began his career in Kansas City, and they have a need. Could you imagine if the Pats revived their two-tight-end dominance with Gonzalez catching balls from Tom Brady opposite Gronk? Falcons GM Thomas Dimitroff is a former Pats front office man. If Gonzalez remains dead against it, then so be it, but it's worth discussing if nothing else.
The Dolphins are in big trouble
Ryan Tannehill, battered and bruised behind weak tackles and a protection scheme that too often leaves him exposed to abuse, is regressing the past few weeks, holding the ball too long at times, chucking it up for grabs at others. Not good. And it's been several weeks coming now, too.
He still doesn't really have a running game and his already limited receiver options took a hit with Brandon Gibson suffering a possibly season-ending knee injury on Sunday. Mike Wallace shows up intermittently at best, and you get the sense he has some sideline explosions in his game.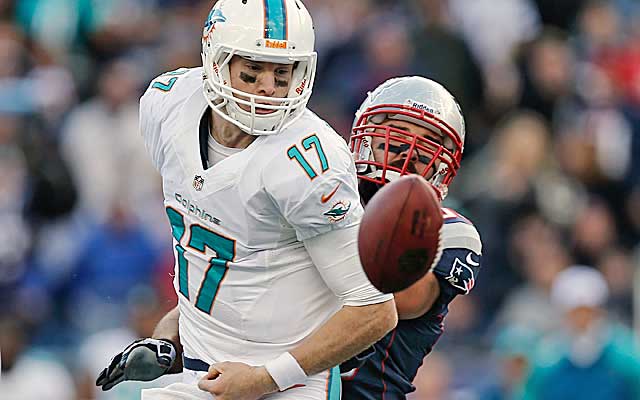 Bryant McKinnie at left tackle isn't going to help anything at this point in his career, and he was getting torched in Baltimore. Again, Sunday, as the game wore on, the Dolphins line wilted. Same ol' story. Too many players sent out to routes, not enough help, and Tannehill floating some balls that got his receivers banged up and making some poor decisions. Could be that "big" win over Atlanta at home turns out to be the high-point of this season -- not that it looks like much of an accomplishment now given the state of the Falcons -- and if things get ugly against the surging Bengals Thursday night (and that Cincy defensive line will cause no shortage of problems), how long before the calls for GM Jeff Ireland's job return?
This isn't a team that seems like it hit a hiccup, it looks more like a team that has discovered who it is, and how limited it is, and it might not be too easy to pull out of this skid. Their total collapse in the second half to the Pats, after having them on the ropes for a good part of the day, could doom them.
Extra points
Chip Kelly is about to experience how severe the differences between some college and pro media coverage can be. His offense has reverted each week, and now looks among the least productive in the NFL. The yards and points have dried up and his questionable decision making in terms of click management and when to go for it (fourth-and-nine? Fourth-and-forever?) have now made his game-management a key talking point in Philly. He has quarterback issues and the running game that looked unstoppable in September is sputtering along. The focus will fall squarely on the head coach, and anyone still thinking this Eagles thing was a quick fix, if they've actually sat through the past eight quarters of their play, must realize otherwise by now … Great comeback by the Pats but Tom Brady still doesn't look right to me. That hand certainly seemed  … Few things you can count on in this league every week, but a slow start by the Redskins offense is pretty much a sure thing. Their first halves have been awful … If the Steelers end up missing the postseason by a game, that loss in Oakland will haunt them. Shaun Suisham, such a reliable kicker for them, faltered, the Steelers showed up in a fog and seemed to take it for granted they would win after outlasting the rival Ravens the week before. I didn't see it coming and with a chance to gain ground on Baltimore and try to stay within striking distance of the Bengals there for the taking, the Raiders blew them off the ball, stifled their run game and deserved to get the win. Go figure.
Patriots QB's ring, given to one of his friends/family members, was auctioned off to an anonymous...

If the Redskins get petty, Cousins will try and get his vengeance through a grievance

The Dolphins also donated $100,000 to the victims' fund after the school shooting that killed...
The Cardinals GM explains his process for finding Carson Palmer's successor

Stefen Wisniewski narrowly missed out on a chance to earn $250K, but the Eagles gave it to...

Shazier heads into the Steelers' facility every day and helps with 'personnel stuff'