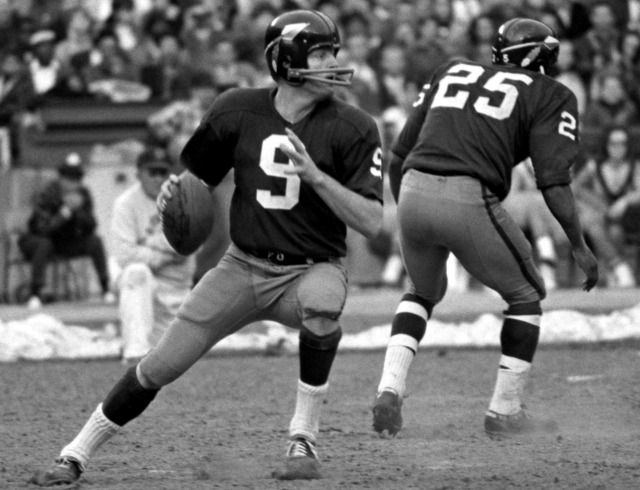 When the Giants travel to Washington to take on the Redskins on Thursday Night Football this week, they'll enter as the 24th- and the fifth-ranked offenses in points scored, respectively.
Obviously, one is not so good, and though the Redskins seemingly have been reinvigorated by quarterback Kirk Cousins and have been scoring touchdowns at a surprising rate, both teams still are a combined 2-4.
This probably won't be a contest that has long-lasting impact -- in the standings or in the long history of the rivalry.
Whether the game on Thursday is titillating or not, it likely won't match the sheer offensiveness of the time Washington faced New York in 1966 and history was made at D.C. Stadium. That's because, by virtue of the Redskins 72-41 win, the two teams set the NFL record for most combined points in an NFL game with 113.
Here's the way it looked in the box score in the next day's paper.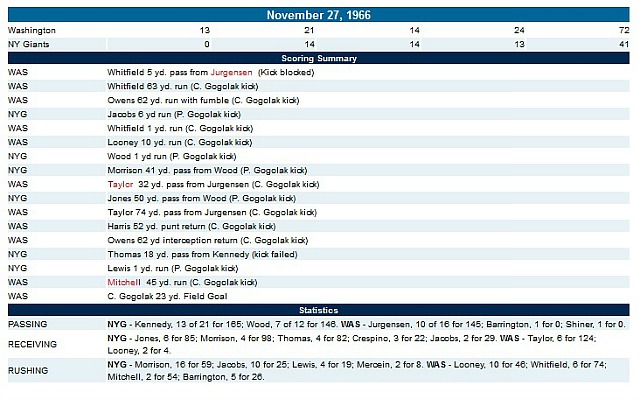 As the Washington Post wrote, "Yesterday, [Giants coach] Allie Sherman's rag-tag platoons were bombed, boomed and doomed by the Redskins, but remained alive to know they were newly implicated in National Football League history."
Really, though, who could have predicted something like this?
The Giants were 1-8-1 entering the contest, and the Redskins were on their way to a mediocre 7-7 record under the direction of first-year head coach Otto Graham.
But on that day, the Redskins looked Super Bowl championship caliber. The two squads combined for 16 touchdowns, nine of them on plays of 30 yards or more, and to top it off, Graham called for a last-second field goal with Washington already nursing a 28-point lead.
Afterward, Graham was in a jovial mood, remarking that, "It was a great defensive battle."
As for the extra field goal, Graham claimed he wanted to get some extra practice for his place-kicker Charlie Gogolak, who had missed twice the previous week. Besides, what was the harm?
"In a crazy game like this," he said, "what's another three points?"
Giants coach Allie Sherman, as was to be expected, was not pleased by that last little bit of gamesmanship.
Remembered Ed Croke, a former Giants PR man to Paul Schwartz for his book, Tales From the New York Giants Sideline: "Allie Sherman went out of his mind, and Graham's excuse was, 'Well, I thought he needed a little more work on his kicking.' The guy just kicked 11 extra points!"
But perhaps it wasn't Graham's doing after all.
Washington linebacker Sam Huff later took credit for calling the timeout and calling for the field goal unit because he was still so upset that Sherman had traded him from a championship-caliber Giants squad after the 1963 season. Before the game, Huff told Graham, via John Keim's Stadium Stories book, "You show no mercy today ... We're going to beat the hell out of them. They have no defense. I'm telling you, lay it on them."
Forty years later, this is what Huff remembered, telling Keim, "I didn't get close to Sherman because I would have hurt him if I could. But I looked across the field and shouted, 'Justice is done, you SOB.' I hate to say it, but it was the greatest moment of my life because I got even."
But as the Pro Football Hall of Fame points out, the Redskins triumph came at a cost.
Writes the HOF: "In the days before nets were placed behind the goal posts, extra points would sail into the stands. So, needless to say, the team shelled out a fair amount of money in the cost of footballs that afternoon. According to a newspaper account, 14 footballs ended up in the stands – thirteen of the lost footballs came on extra point attempts while the other lost ball came courtesy of Brig Owens who heaved it into the crowd after he returned a fumble 62 yards for a score. At a value of $22.50 each, the total tab for balls for the Redskins that afternoon came to $315."