Richard Sherman made headlines on Sunday when he ripped NFL commissioner Roger Goodell during an interview with Jim Trotter on SportsCenter. During that interview, Sherman touched on two topics -- the NFL's proposal to turn two personal fouls into an automatic ejection and the unclear catch rule -- and took shots at Goodell for being a "suit" and for never playing the game.
On Monday, Ryan Clark, who played in the NFL from 2002 to 2014 and served on the NFLPA's Executive Committee, helped explain Sherman's comments. Clark, now an analyst for ESPN, believes that Sherman's comments weren't just about those two rules that were mentioned in the interview. Instead, Clark believes a larger issue exists and that issue fueled Sherman's comments.
"When you've been in those meetings and you've been through labor negotiations, and you see how Roger Goodell and the owners feel about the players, the things that were said to the players during this time, you develop a hate -- you really do," Clark told ESPN's Russillo & Kanell. "And sometimes you can't see through that hate. Sometimes it factors into all of your thoughts about the NFL, about the owners, about Roger Goodell."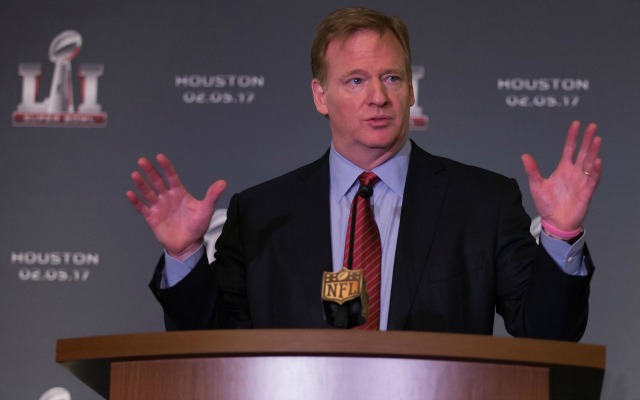 According to Clark, Sherman's comments are entirely related to a few different things.
1) Goodell's power
"Guys getting fined, guys getting suspended, and Roger Goodell having all of this power -- I think it spills into these comments ... Richard is super intelligent, which is often overshadowed because he's so brash and blunt. ... But if you listen to him, I think there was more in that comment other than those two questions asked."
2) The relationship between the players, and Goodell and the NFL executives, which Clark called "dysfunctional" and "adversarial." He used an anecdote to explain:
"For (Panthers owner) Jerry Richardson to tell Peyton Manning -- the face of our game at the time for sure -- that you don't know nothing about business, son. And to call him a boy. ... Those things show you that they sit on the other side of the table. ... When you have those feelings and when those things happen in the relationship, you just don't forget it ... These things are still talked about."
Finally, Clark touched on the personal-foul-ejection rule proposal.
"I was in the competition committee meeting this year. And we talked about the catch rule, and we talked about the personal fouls," Clark said. "And I said to (NFL Competition Committee head) Rich McKay, I was like, 'There is no way you can do this to a player.' I was like, 'I understand it's a reaction after the Cincinnati Bengals game. You don't want to see that. You don't want that to be a representation of our game. But when you look at it, there are so many ways to get personal fouls.'"
Now, just to be clear, as Will Brinson explained earlier, the new rule wouldn't have resulted in an ejection for Vontaze Burfict during the game that Clark is referring to. And, as Ryan Wilson explained last week, only a few types of personal fouls will fall under the new rule -- if it passes. Still, Clark's comments, along with Sherman's, give us another indication of what players think of the proposal. 
You can watch Ryan Clark's interview here.