Michael Phelps's 19 Olympic medals: a look back
Michael Phelps broke the world record for most Olympic medals Sunday with the 19th of his incredible career. Here's a rundown of all 19.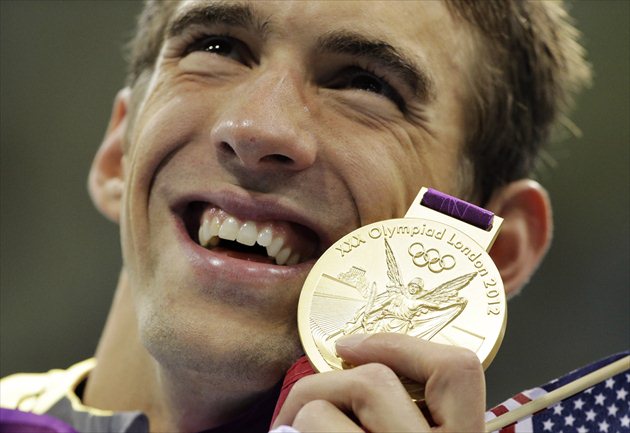 Michael Phelps now stands alone as the most decorated Olympian of all-time. (AP)
Michael Phelps' gold medal in the 4x200 freestyle relay -- one in which he fittingly swam the anchor leg -- gave him 19 total medals in his legendary Olympic career, breaking the record of 18 held by former Soviet gymnast Larisa Latynina. The gold was his 15th of that color, a career record he already held after his total of 14 following the Beijing Games.
Here's the rundown of all 19 of Phelps' medals:
1. 2004 Athens, 400 individual medley: Gold. Phelps won his first medal, won his first gold, and set his first Olympic record all in the same race, when he swam a world-record 4:08.26 in the 400 IM. Phelps won by more than three seconds over American teammate Erik Vendt.
2. 2004 Athens, 4x100 freestyle relay: Bronze. A sick Ian Crocker's lackluster first leg put the U.S. in a hole from which they couldn't recover as South Africa won gold. Phelps and teammate Jason Lezak would have a nice relay future ahead of them, though.
3. 2004 Athens, 200 freestyle: Bronze. The so-called "Race of the Century," in which Phelps took on the other three fastest 200 free swimmers in history: Australian superstars Ian Thorpe and Grant Hackett, and Netherlands legend Pieter van den Hoogenband. Phelps finished third, beating out Hackett, and set an American record of 1:45.32--but it wasn't enough to catch Thorpe. The good news for Phelps: this was the last time he'd settle for anything other than gold until London.
4. 2004 Athens, 200 butterfly: Gold. Phelps set an Olympic record of 1:54.04 in beating Japan's Takashi Yamamoto by a little more than half a second. The 200 butterfly was an event he would own from 2002 until losing to South Africa's Chad Le Clos Tuesday.
5. 2004 Athens, 4x200 freestyle relay: Gold. Only minutes after winning the 200 fly, Phelps swam alongside Ryan Lochte, Peter Vanderkaay, and Klete Keller in the 4x200 relay against the favored Australians. Phelps helped the U.S. out to a lead and Keller surprisingly held off Thorpe by .13 seconds.
6. 2004 Athens, 200 individual medley: Gold. Phelps swam an Olympic record 1:57.14 to comfortably beat silver medalist Lochte.
7. 2004 Athens, 100 butterfly: Gold. Crocker was the world record holder in the event, but Phelps touched him out by four-hundredths of a second in the final, with Ukraine's Andriy Serdinov only .11 behind in bronze.
8. 2004 Athens, 4x100 medley relay: Gold. This is the only relay in which Phelps won gold as part of the preliminary relay team but didn't swim the final. Phelps offered Crocker the honor of swimming the butterfly leg of the relay final as Crocker won his only gold of the Games. Phelps's eight total medals set a record for a single Games, and his six golds tied him with gymnast Vitaly Scherbo for the second-most at a single Games behind Mark Spitz's seven in 1972.
9. 2008 Beijing, 400 individual medley: Gold. Phelps started his bid to break Spitz's record with a bang, breaking his own Olympic record in the prelims and lowering his own world record -- set at the U.S. Trials -- by 1.41 seconds to 4:03.84 in the finals. Hungarian Laszlo Czeh finished a distant second.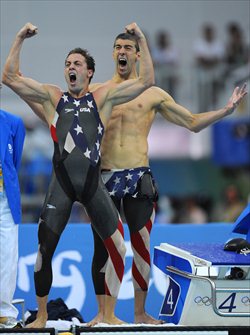 Phelps and Garrett Weber-Gale celebrate the U.S.'s famous victory in the 2008 4x100 freestyle relay. (Getty)
10. 2008 Beijing, 4x100 freestyle relay: Gold. You probably remember this one: Jason Lezak swimming a surreal 46.06 split in the anchor leg to chase down mouthy Frenchman Alain Bernard and give Phelps, Cullen Jones, and Garrett Weber-Gale the gold. The top five teams in the final all broke the world record in one of the most amazing races in Olympic swimming history.
11. 2008 Beijing, 200 freestyle: Gold. Phelps lowered his own world record for the second time in the Games, going 1:42.96 to beat South Korea's Park Tae-Hwan by a comfortable 1.91 seconds. His ninth gold medal tied him with Spitz, Latynina, the great Finnish distance runner Paavo Nurmi, and U.S. track legend Carl Lewis for the most all-time.
12. 2008 Beijing, 200 butterfly: Gold. Phelps broke the career gold-medal record with another world record and another relatively easy victory over the unfortunate Czeh, despite his goggles infamously filling with water halfway through the race. 
13. 2008 Beijing, 4x200 freestyle: Gold. That same night, Phelps swam the lead-off leg of a far easier win than the 4x100, with the U.S. team of Phelps, Lochte, Ricky Berens, and Vanderkaay blasting past the world record in 6:58.56 and leaving runners-up Russia more than 5 seconds behind.
14. 2008 Beijing, 200 individual medley: Gold. It was six world records in six for Phelps after swimming 1:54.23 and beating -- you guessed it -- Laszlo Czeh by 2.29 seconds.
15. 2008 Beijing, 100 butterfly: Gold. The closest and most controversial of all Phelps's victories, Serbian Milorad Cavic held a commanding lead after 50 meters only for Phelps to close on him down the stretch and touch Cavic out by the absolute slimmest of margins--one one-hundredth of a second. The Serbian delegation filed a protest of the result, to no avail. The gold not only tied Spitz's one Games record but the record for most individual golds at a single Games, one shared by Scherbo and American speed skater Eric Heiden.
Though Phelps's time of 50.58 set an Olympic record, it was the only one of his Beijing swims not to set a world record--that honor continued to belong to Crocker until Phelps broke it at the world championships in Indianapolis the following year.
16. 2008 Beijing, 4x100 medley: Gold. The U.S. has never lost the Olympic medley relay, but it came close in Beijing, needing a strong butterfly leg from Phelps and effective close from Lezak in the freestyle to overcome an early Australia lead. Lezak held off Eamon Sullivan to nip the Aussies by only .07 and hand Phelps his record-breaking eighth gold medal of the Beijing Games.
17. 2012 London, 4x100 freestyle: Silver. Turnabout was fair play for France Sunday as Yannick Agnel chased down Lochte in the final leg, won the French a stunning gold, and consigned Phelps to the first silver medal of his career despite Phelps swimming the fastest split on the American relay.
18. 2012 London, 200 butterfly: Silver. Perhaps a failure that will be even more galling to Phelps than his fourth-place finish in the 400 individual medley Saturday? Phelps was in command after 75 meters in his best event, but approached the wall between strokes and was touched out by the hard-charging le Clos by .05 in a finish eerily similar to his own victory over Cavic in 2008.
19. 2012 London, 4x200 freestyle: Gold. In what felt like a flashback to Beijing -- finally -- Lochte, Conor Dwyer, and Berens handed Phelps a huge lead over the French and he did nothing to waste it, swimming the Americans' fastest split to win the gold by more than three seconds. Phelps's second medal of the night also made him the most decorated Olympian of all-time.
But how high can Phelps set his record? Though the 400 IM and 200 butterfly performances are worrying omens, Phelps should still land on the podium in another 100 butterfly showdown with Cavic and another 200 IM showdown with Lochte. A medal in the medley relay is all but assured--the only question is whether the U.S. can beat out Australia for the gold.
That would put Phelps at an incredible 22 career Olympic medals--a record that might actually deserve the overused adjective "untouchable."
Nassar continues to have to listen to victim impact statements as he awaits sentencing

The former USA Gymnastics doctor issued a six-page complaint during his sentencing hearing

Mancuso went out in style on her final run, rocking a Wonder Woman outfit and cape
Unsurprisingly, an investigation has been launched into why so many Russian athletes got s...

Rippon says 'Mike Pence doesn't stand for anything that I really believe in'

Couric will be joining Mike Tirico at Pyeongchang Olympic Stadium for the Feb. 9 Opening C...