Mayweather defeats Canelo via majority decision
Floyd Mayweather earned a majority decision over Saul "Canelo" Alvarez
`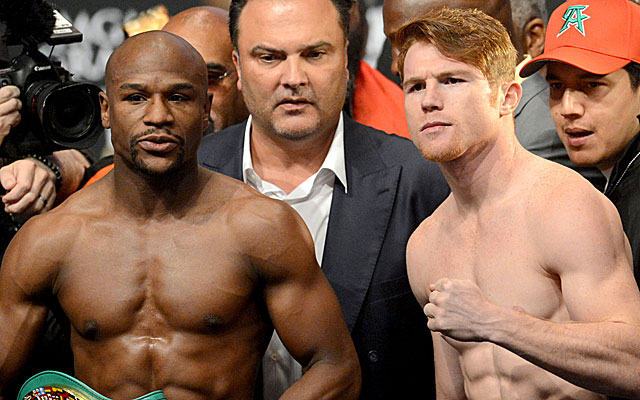 A 13-year age and 15-pound weight disadvantage was no issue Saturdaynight for Floyd Mayweather Jr., who added the WBC super welterweight belt to a burgeoning trophy case.
The 36-year-old virtuoso downed youngster Canelo Alvarez by ridiculous majority decision in front of a full house at MGM Grand Garden Arena that got quieter by the round.
Attendance was 16,746, according to Golden boy Promotions executive Rixhard Schaefer, who added that more than 25,000 closed circuit tickets were purchased as well
The main event verdict was ridiculous in the sense that it wasn't more one sided in favor of the winner, whom dominated most rounds with speed, defense and precise punching.
Two judges gave the win to Mayweather by 9-3 and 8-4 scores in rounds, while the third saw it 6-6, making it a majority nod instead of a unanimous one.
A consensus of media members gave Alvarez either Ero or one round, and shock was widespread afterward at the card of CJ Roth.
"I was a little shocked that someone might have had him ahead," Maywather said.  "but that's the sport of boxing."
"I listened to my dad (trainer Floud Mayweather SE.), he had a great gameplay. Seventeen years and we're still going strong. Canelo
Is a young strong champion. He can take a
Loss and bounce back. I take my hat off to him."
Fitzsimmons Scorecard: 119-109 Mayweather
 
1:31 a.m. ET: Alvarez: "I did not know how to hit him, it's as simple as that. The frustration was getting in there.  The 15 pounds were basically negated tonight."
1:28 a.m. ET: Mayweather: "17 years and still going strong. It was cool today."
1:26 a.m. ET: Majority decision.  Unreal.  114-114 even from CJ Roth.  Dave moretti as Craig metcalge make it 116-112 and 117-111 for Maywethaer.
1:25 a.m. ET: USA chants takeover the building.  Mayweather moving and potshotting in final victory lap.  Crowd boos lack of finishing drive.  No embrace at finish immediately, but teams shake hands afterward.  Mayweather landed 232 shots to Albarez's 117 for the night.  10-9, 119-109 on this card.  Any more than two rounds for Canelo would be generous.
1:21 a.m. ET: Alvarez lands right to body, missing lunging overhand right, Mayweather talks to him.  Straight right hand buckles Alvarez'z knees in mid ring.  Mayweather backs to ropes, Alvarez flurries with little impact other than crowd noise.  Alvarez misses winging right hand, Maywwather crouches and looks through the ropes, as if to track the punch, mocking Alvarez. 10-9 Mayweather.
1:16 a.m. ET: Alvarez out strong again.  Though Canelo chants aren't nearly as prevalent or loud as an hour before.  Lands overhand right to back of crouching Mayweather's head.  Mayweather lands four lefts and a right in a flurry along ropes.  Mayweather turns and talks to Alvarez corner at bell.  10-9 Mayweather. 
1:11 a.m. ET: Alvarez opening strong again, pressing.  Fans start TMT chant for The Money Team.  Two jab and a big straight right for Mayweather, who appears to have his man frustrated by the inability to hit a man directly in front of him.  Mayweather 10-9
1:08 a.m. ET: Alvarez looks refreshed to start eighth, wins first minute.  Mayweather lands in center of ring, Alvarez drives him to comer an lands glancing overhand right.  Best work of fight, but may have cost some fuel as Mayweather rallies late.  If you wanted to give youngster a round, that was it so far. Maybe.  10-9 Alvarez
1:03 a.m. ET: One minute in, Mayweather spins off ropes with left jab/uppercut an straight right.  Standing right in front o Alvarez but not being hit consistently, and rarely at all.  Drives Alvarez to corner with two big overhand right, Alvarez replies with 1-2.  Mayweather 10-9
12:59 a.m. ET: Mayweather circling to left, countering well as Albarez presses.  A little roughhousing in clinches.  Sign of frustration perhaps.  Mayweather finishing every exchange, but Alvarez replies with 1-2 at bell, his best exchange of the fight.  Mayweather 10-9
12:55 a.m. ET: Maywether snapping counter right at 45 seconds.  Sweat flies.  Alvarez still pressing but face reddened.  USA chant beginning to out do Mexican chants.  Mayweather lands to body in final 30 seconds, stares Alvarez back to corner.  10-9 Mayweather.
12:51 a.m ET: Mayweather looks very confident.  Counters Alvarez body shot with right hand.  Sticks jab.  Alvarez warned for low blow.  Alvarez presses at 2-minute mark, doesn't land much.  Mayweather lands left right to body followed by left to head.  Big round.  10-9 for Mayweather.  Shutout so far.
12:47 a.m. ET: Mayweather reacts to feint, crowd cheers.  Maywether lands jab.  Alvarez looks frustrated by inability land.  Maywether lands overhand shot in corner.  Best punch so far.  Mayweather 10-9.
12:43 a.m. ET: Alvarez not getting off through 90 seconds.  Random boos begin for lack of action.  Mayweather lands jab, evades 1-2 reply.  Alvarez lands left to body and jab in final 15 seconds.  Mayweather 10-9.
12:39 a.m. ET: Mayweather press early.  Mayweather lands stiff jab at 40 seconds.  Floyd reacted to feints and looked concerned with Alaverz's speed, but landed what little there was.  10-9 Mayweather.
12:26 a.m. ET: Alvarez looks warmed up and serious on the ring walk, for which he's being serenaded on loudspeakers and by thousands of very loud, very excited people.
12:10 a.m. ET: Garcia: "I'm the champ of the world. I'm not scared of anybody. If you can make it out of Philadelphia you can make it out of anything."
12:06 a.m. ET: Danny's father, Angel, nearly blew a gasket during the final flurry.  Judges scores as follows: all for Garcia, 115-111, 114-112 and 114-112.
12:03 a.m. ET: One of the year's best flurries to close the fight. We've got it 116-111 for Garcia here.
12:02 a.m. ET: Round 12 begins after Matthysse was dropped with a three punch combination in the 11th that probably seals the verdict, provide Garcia remains upright. Point taken from Garcia for low blow with 30 seconds left. Won't matter.
11:55 p.m. ET: Action picked up in the 10th, with Matthysse continuing to press and Garcia landing hard.  Matthysse surged at the end of the round and began the 11th with a rush, so the round result remains uncertain.
11:51 p.m. ET: Garcia taking over through eight.  Severe eye issue not limiting Matthysse's courage, but definitely his competitiveness.
11:42 p.m. ET: From the start of the round to the end, what began as a mouse under Matthysse right eye turned into a full-blown situation, with the opening nearly closed shut as Garcia worked with jabs and left hooks. Matthysse landed some solid blows of his own and Garcia showed some fatigue for the first time, but the eye will be a lingering issue. 
11:38 p.m. ET: Halfway home, they've got to feel good in Garcia camp. He appears to have a slim lead and has handled the frightening power of Matthysse well enough.
11:34 p.m. ET: Hockey fans of the boxing world unite. Wayne Gretzky in the house.
11:33 p.m. ET: Garcia faring well through five entertaining rouds, both initiating and countering well with dangerous Matthysse, who's not landed anything conistently. Garcia looks completely unintimidated. Meanwhile, Alvarez shown in his locker room to big cheers and Mayweather in his to loud boos.

11:22 p.m. ET: The second round is more action-oriented with Matthysse pressing and drawing Garcia into exchanges. A low blow from the Philadelphian and a late shot at the bell from the Argentine don't hurt matters. Elsewhere, Magic Johnson is on the big screen.
11:18 p.m. ET: Garcia wins a tame round one and Alvarez is shown being interviewed backstage. A noticeable uptick in the buzz in the building.
11:14 p.m.ET: Referee Tony Weeks is done with the instructions. There's the bell.

11:09 p.m. ET: Philadelphian Danny Garcia heading to the ring for his WBA/WBA super lightweight title defense against Argentine slugger Lucas Matthysse. Expected to one of the best, and potentially most brutal, fights of the year.
10:57 p.m. ET: Carlos Molina earned a split decision (116-112, 117-111, 112-116) over Ishe Smith to capture the IBF Junior Middleweight championship.
10:24 p.m. ET: For the punch-counters in the audience, it seems the final Showtime stats from the previous fight had Cano landing 273 of 681 shots over 10 rounds compared to 212 of 669 for Theophane. Cano had a better percentage of jabs landed - 33 to 23 - and a better ratio on power shots as well, 44 to 41. Alongside the paperwork, the latest big-screen intros in house go to Charles Barkley, Bernard Hopkins and Amir Khan.
10:18 p.m. ET: Main event referee Kenny Bayless is making the rounds backstage giving instructions. His appearance with Alvarez in the arena prompted another vocal reaction from what, at least so far, seems a more enthusiastic - if not more plentiful as well - fan gathering for the pound-for-pound challenger.  
10:14 p.m. ET: Round three of a tame affair begins between Smith and Molina. The challenger spent the first six minutes in relatively hot pursuit of the backpedaling champion, but Smith has begun to stand his ground and initiate exchanges. In the meantime, Canelo Alvarez made his first appearance on the in-house cameras, looking calm in a red warmup suit and a bit fuller in the face than when he scaled 152 pounds and Friday's weigh-in.
10:04 p.m. ET: The other 154-pound title fight of the night is being announced, this one for the IBF championship and involving incumbent claimant and Las Vegas native Ishe Smith against veteran Carlos Molina. Smith is the first Las Vegas born and raised fighter to win a world title and is making his first defense of the crown.
9:55 p.m. ET: Jack Nicholson in the house and gets a hearty roar from the crowd, as well as a shout-out from emcee Tattoo. Meanwhile, Jimmy Lennon reads the split-decision cards, 98-92 and 97-93 for Cano, a harder-to-fathom 96-94 for Theophane. The 97-93 card seemed the most correct of the collection. Mexico 1, London 0.
9:50 p.m. ET: Cano and Theophane enter the 10th and final round of what's become a lively affair with several ringing blows by both men. Cano has gotten the consistent better of things with a perpetual plodding aggression that slowed Theophane to a crawl compared to the early rounds.
9:41 p.m. ET: Jim Gray with Floyd Mayweather Jr. on the big screens, to little in-building acclaim. "I'm not overlooking this guy," he said. Says he's got no concern about hurt hands, but will "cross fingers and hope for the best."
9:33 p.m. ET: Moment when it's tough to be a boxer... Theophane landed a whistling right hand, right on the button as the round ended. Sweat flew from Cano's head and the crowd "ooohed," but Cano simply quick-stepped to his corner, seemingly unimpacted.
9:25 p.m. ET: Rosie Perez gets a Showtime interview on the pay-per-view broadcast and on the arena's big screens. Meanwhile, Theophane and Cano just closed round three of a so-far uneventful bout, though Cano has begun scoring well to the body - following his career M.O.
9:02 p.m. ET: Golden Boy Promotions emcee and Los Angeles radio personality Tattoo in the ring, warming up the crowd as the pay-per-view broadcast begins. Welterweights Ashley Theophane and Pablo Cesar Cano are scheduled to start it off with a 10-rounder. Arena still half-empty at best, though press row has filled nicely.
8:50 p.m. ET: All three judges gave unbeaten super middleweight Luis Arias a wide unanimous decision in his six-round super middleweight match with James Winchester. Arias, who wore a Green Bay Packers logo on his trunks and is a member of Floyd Mayweather Jr.'s "Money Team," improved to 7-0 as a pro. The pay-per-view portion of the night is next, beginning at 9 p.m.
8:30 p.m. ET: Punches have been thrown at the MGM Grand. Three fights' worth of them, as a matter of fact. The pre pay-per-view portion of the undercard began and has continued in front of a less-than-half-full building, with Chris Pearson and Lanell Bellows winning their middleweight and super middleweight bouts by first-round stoppages, followed by Ronald Gavril winning an eight-round unanimous decision over Shujaa El Amin in an eight-round super middleweight bout. Now in the ring, super middleweights Luis Arias and James Winchester for a six-rounder.
---
It's finally fight time in Las Vegas.
Super-welterweight rivals Floyd Mayweather Jr. (44-0) and Saul "Canelo" Alvarez (42-0-1) have exchanged dirty looks and incendiary words for three months, but they'll meet up Saturday night at the MGM Grand Garden Arena with an intent to transition from posing to punching.
The atmosphere around the city's signature fight arena clearly revealed a captivated fan base as early as Saturday morning, when supporters from each camp posed in rival T-shirts alongside every available fight poster in the hotel, the casino and the venue lobby. One all-in Alvarez supporter, in fact, strolled through a half-filled casino floor in full Mexican flag face paint and a rooster stuffed animal atop his head -- while blowing a makeshift horn to the tune of "Ca-Nel-O, Ca-Nel-O."
The match has already yielded a live gate in excess of $20 million, according to Golden Boy Promotions executive Richard Schaefer, and the Showtime pay-per-view broadcast is expected to at least take a symbolic run at a 6-year-old record of 2.4 million buys.
The PPV show begins at 9 p.m. ET and is available for $64.95 in standard definition and $74.95 in high definition. Gates open at 5 p.m. ET and Mayweather and Alvarez are expected in the ring well after 11 p.m. ET -- after three lead-in bouts on the broadcast.
Mayweather was still a solid betting favorite as of mid-afternoon, with sports.bovada.lv requiring a $280 wager on him to return $100. On the other side, a $100 outlay on Alvarez would return $220 if the 23-year-old springs an upset.
That's possible, but not likely, according to former welterweight championship claimant Kermit Cintron, who lost via fifth-round TKO when he faced Alvarez two years ago in Mexico City.
Cintron was 33-4-1 in an 11-year pro career when he faced Alvarez, who was then just a few months past his 21st birthday. And his pick isn't so much based on what Alvarez, now 23, isn't, but on what Mayweather -- undefeated in 44 fights at age 36 -- is.
"He can fight. He's pretty good, a lot better than what people think," Cintron said. "Speed and defense, and he's got some pop as well. I just think that Floyd will beat him to the punch with the intelligence. I'm giving Canelo four [out of 12] rounds." 
Patrick plans to call it a career after running at the two most iconic U.S. auto races

Let the truth set you free, sir

The poor kid never even saw it coming
The burglars that Childress fired at were carrying military-grade weapons on them, the cops...

'Kong Infinity' and 'Happy Ending' headline two additions to the ultimate endurance course...

Nik Kayler's body has been found after going missing last week during a fishing tournament