Pacquiao retains title with wide unanimous decision over Algieri
Filipino superstar scores six official knockdowns while winning nearly every moment of WBO welterweight title defense in Macao, China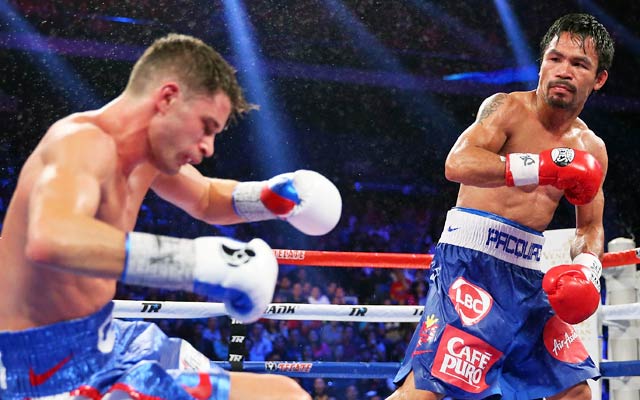 For the latest updates, refresh this page.
Manny Pacquiao didn't get the knockout victory that he and his entourage had sought, but he did emerge with a decisive victory Saturday night in his World Boxing Organization (WBO) welterweight title defense against challenger Chris Algieri in Macao, China.
The 35-year-old Filipino scored six official knockdowns of the previously unbeaten challenger en route to capturing a gapingly wide unanimous decision by ringside scores of 119-103, 119-103 and 120-102 -- meaning he lost just two of a possible 36 rounds across three judges.
CBSSports.com had it only a fraction closer at 118-106 for Pacquiao, who's now 57-5-2 in a pro career that started in 1995, when he was 16 years old. Algieri fell to 20-1.
"Tonight, I did my best," Pacquiao said. "I'm satisfied with my performance. I came to fight. I did my best. That's enough. I was looking for a knockout, but he was fast and he was moving."
Ringside punch-count statistics indicated Pacquiao landed 187 power punches to Algieri's 80 in dominating nearly every round against an opponent who was hoping to bedevil him with movement early before setting him up for potentially decisive punches late.
Unfortunately for the challenger, that scenario never came close to unfolding.
Instead, he was dropped officially in rounds 2, 6 (twice), 9 (twice) and 10.
"Manny is the best in the world at being Manny Pacquiao. He's perfected fighting like Manny Pacquiao," Algieri said. "It's not so much the power. He has a very, very distinct style that works for him. He's good at being him, and Manny Pacquiao is a hell of a fighter."
1:09 a.m. ET: Pacquiao lands 187 power shots to Algieri's 80, according to ringside punch-count statistics. Truth told, it didn't seem nearly that close.
1:08 a.m. ET: The official scores are 119-103, 119-103 and 120-102 for Pacquiao.
1:07 a.m. ET: CBSSports.com calls it 118-106 in the champion's favor. Official scores to follow.
Round 12: Algieri lands a winging right that would have looked good had he not already been down six times. Pacquiao pursuing, but not in a hell-bent-for-leather fashion. Final minute arrives, "Manny, Manny" chant begins. Final 30 seconds, and it looks as if Pacquiao's knockout-less streak will stretch to nine fights. It does. 10-9 Pacquiao
Round 11: Though his corner is insisting a rally is coming, Algieri looks like a guy who'll be thrilled to see the final bell. Pacquiao lands a straight left and smiles as Algieri rattles backward. Another left hand lands in the final 30 seconds, as it has in nearly every round previously. 10-9 Pacquiao 
Round 10: Algieri's trainer, Tim Lane, is shown on HBO's broadcast before the round telling his man, "We are exactly where we need to be." Ummm... yeah. Algieri boxes and moves through initial 60 seconds of round, before Pacquiao lands a counter that again wobbles him. Algieri ducks to elude Pacquiao feints and almost twists himself to the floor. Another knockdown, the sixth of the night, comes from a left-right-left volley with 15 seconds left. He rises and jukes his way through the rest of the round. 10-8 Pacquiao
Round 9: Algieri still moving and flicking. Pacquiao has landed a few lefts as a response. Sudden straight left drops Algieri flat on his back in a corner with 1:15 remaining, he wobbles up at 9. Upon rising, he takes a knee to avoid further damage. Pacquiao shakes off a clinch, continues battering along ropes. Algieri takes a big left-right at the bell. 10-7 Pacquiao
Round 8: Not much of interest in the first half of the round, but Pacquiao counters an Algieri jab with a snapping left with 1:15 remaining. Algieri lands slapping left hook, which prompts another Pacquiao rush. Another snapping jab lands for Algieri in the last 10 seconds. It's getting hard to see many rounds that he's actually winning, though. He simply looks better in surviving some than others. 10-9 Algieri
Round 7: Algieri moving and flicking shots, but not landing anything noticeable as Pacquiao moves forward. Pacquiao lunges in with four shots midway through the round that don't score, but they show what's been occurring this round -- Pacquiao is aggressive, Algieri is doing little to dissuade momentum. Algieri's best punch of the round is another long right hand to the body late, but it can't possibly be enough. At this point, it looks like lasting 12 rounds will be Algieri's best post-fight claim. 10-9 Pacquiao
Round 6: Same blueprint early as Round 5, though Pacquiao does land a glancing left hand to the jaw. Algieri lands long right to the body and is warned, though it didn't at all look low. Pacquiao lands left that wobbles Algieri and he falls into a somersault, then rises. Pacquiao charges and drops Algieri in same corner in which he'd slipped earlier, though it may again have been a slip. Unlike the first time, though, this is a legit two-point round. Pacquiao 10-8
Round 5: Algieri starts round with jabs and lands a straight right as Pacquiao approaches. He eludes a follow-up flurry from the champion, then replies with a right to the body that may have strayed low. The fighters touch glove as a symbolic gesture. Algieri leans in with a straight right to the head and looks more offensive than at any point so far. Pacquiao lunges with a short right and a long left, both miss. 10-9 Algieri
Round 4: Algieri's corner is exhibiting confidence, but his lack of offense is making it difficult to see him winning any early rounds. Pacquiao scores inside with a short right uppercut at the midway point. Algieri lands a quick right hand with little effect, but it looked good. Pacquiao lands one-two combination with 30 seconds left, while Algieri scores with another right hand in the final 10 seconds. Still not enough attack for the challenger. 10-9 Pacquiao
Round 3: Pacquiao still pressing, but Algieri has landed a couple clean left hooks as lead shots. Pacquiao not yet able to mount sustained offensive action. Pacquiao body shot moves Algieri, and he lands another single right hand in the final 10 seconds. Algieri's best round of the three -- he's having isolated moments -- but he probably still didn't do enough to win it. 10-9 Pacquiao
Round 2: Algieri jabs more in first 10 seconds than in entire first round, lands left hook as he moves. Algieri's left eye already showing redness. Pacquiao jumps in with left-right-left and it's called a knockdown, though it appears he slipped in the corner. Pacquiao lands overhand right at 2-minute mark that buckles Algieri for a moment, but he spins away. Pacquiao lands left to the body in final 10 seconds. Algieri showing no intention of planting his feet, but he's not yet establishing anything style-wise. 10-9 Pacquiao
Round 1: Thirty seconds in, Pacquiao lands a snapping straight left. Drives Algieri to the ropes with a right hand, though not entirely because of a flush landing. Algieri moves well, finally throws a combination after 90 seconds. Pacquiao rushes in and lands at 2:15 mark, doesn't appear to fear counters. Just then, Algieri lands a clean straight right lead. 10-9 Pacquiao
12:18 a.m. ET: Bell rings.
12:18 a.m. ET: Pacquiao introduced -- incorrectly, as usual -- as an eight-time world champion. He's had sanctioning body belts at 112, 122, 130, 135, 140, 147 and 154.
12:17 a.m. ET: Algieri introduced as "The Fighting Collegian."
12:15 a.m. ET: Michael Buffer is about to say something about rumbles.
12:13 a.m. ET: Pacquiao, who walked to the ring ifor his last fight to Katy Perry's "Roar," leaves the locker room this time to AC/DC's "Thunderstruck," which is followed by Queen's "We Will Rock You/We Are the Champions" as he reaches the arena of 13,201 fans.
12:09 a.m. ET: Algieri begins the ring walk with a primal scream.
12:08 a.m. ET: According to HBO's unofficial locker room scales, Algieri weighs 155 pouds tonight while Pacquiao is at 149.
12:04 a.m. ET: For the Filipino anthem, it's a gathering of similarly dressed gentlemen introduced as "The World Choir." Pacquiao doesn't acknowledge the tune, instead continuing a late-stage warm-up session with trainer Freddie Roach, who arrived late after working Shiming's corner in the previous fight.
12:02 a.m. ET: It's time for the U.S. national anthem, courtesy of Melody Thornton from the Pussycat Dolls singing group.
12 a.m. ET: And now, everyone is finally on the same page of the calendar. Midnight on the East Coast of the United States equates to 1 p.m. at the fight site in Macao. Neither main event fighter has left his locker room and no anthems have been played, so it'll still be a little while before we hear an opening bell.
11:58 p.m. ET: Well, whaddya know. What appeared to be an imminent early knockout ultimately turned into a prolonged 12-round skills domination for Shiming, who'll leave the ring with his unbeaten record intact at 6-0, in spite of a bruised, swollen and cut left eye. He floored his Thai opponent again in the 12th round, boosting the total to four for the night. The scorecards were 119-106 twice and 120-103, all in his favor. The CBSSports.com count was 120-103 as well. OnesongchaiGym, now 27-1-2, was outlanded by a 340-119 tally.
11:40 p.m. ET: Similar to the Lomachenko fight, a touch of drama enters -- thanks here to an accidental headbutt that resulted in a vertical cut alongside Shiming's left eyebrow. The Chinese fighter is still winning every round, but he's not punching with the same snap as he had in the early rounds.
11:30 p.m. ET: Over 18 rounds in the last full fight and half fight, the Thai fighters -- who entered with a combined record of 79-1-2 -- have won a grand total of zero rounds and been on the floor four times. Shiming has a shutout thus far and appears as if he could end it at any moment he decided to step on and stay on the gas.
11:12 p.m. ET: A huge second round for the hometown Shiming, whom Bob Arum has credited with enabling the emergence of boxing in China. He floored OnesongchaiGym with a straight right hand midway through the round, floored him with a sweeping right hand in the final 45 seconds and had him reeling into the ropes at the final bell. The end seems near.
11:06 p.m. ET: Interesting that Filipino referee Danrex Tapdasan read final instructions to a Chinese fighter and a Thai fighter in English. Score one for American cable TV networks.
11:05 p.m. ET: The last appetizer before the Pacquiao-Algieri main dish is between flyweights Zou Shiming and Kwanpichit OnesongchaiGym. Shiming is in a WBO title eliminator in the sixth bout of a thus-far unbeaten pro career that followed an amateur run highlighted by a pair of Olympic gold medals. OnesongchaiGym enters with 27 wins and two draws in 29 fights and a remarkable facial resemblance to Pacquiao.
10:57 p.m. ET: There's little else to say other than Lomachenko is simply a remarkable fighter. He dominated each and every round, including the final five-plus with almost no forceful use of his left hand. The scores were academic at 120-107 across the board, which matched the CBSSports.com card and presumably any tally of anyone resembling a genuine boxing aficianado. He landed 368 punches to 86 over the course of 36 minutes, according to ringside punch-count statistics. A complete and total outclassing. Lomachenko is now 3-1, Piriyapinyo dropped to 52-2.
10:43 p.m. ET: It's senior-citizen action hero night in Macao, as Schwarzenegger and Stallone have made the trip to China to glad-hand with Pacquiao in his dressing room. Meantime, Algieri is shown in his room working out in solitary with resistance bands on his legs. A tale of two tax brackets.
10:35 p.m. ET: And all of a sudden, there's a smidge of drama. Lomachenko has apparently injured his left hand, based on his reluctance to throw it in the seventh round and an instant near the end of the round when he noticeably shook it. He won the seventh with a right-hand only approach, but the eighth began with him in a brisk side-to-side retreat.
10:30 p.m. ET: Six rounds down in the Lomachenko-Piriyapinyo encounter, which has been dominated through the first half by the champion. Piriyapinyo was dropped by a hellacious right uppercut and left hook combination in the fourth and appeared on the verge of an early loss, but managed to survive the session and has endured -- while not at all thriving -- through six.
10:20 p.m. ET: A mildly amusing moment on the big screens, when Pacquiao was shown in the dressing room with his mother, who was attempting to engage him in a religious function -- repeatedly drawing her hands across his head and chest. The fighter appeared at least mildly annoyed by it all, looking away and taking a swig from his water bottle as the theatrics continued.
10:07 p.m. ET: In the chute for the fifth bout of the night is the World Boxing Organization (WBO) featherweight title match between champion Vasyl Lomachenko and challenger Chonlatarn Piriyapinyo. Lomachenko, a two-time Olympic gold medalist and considered by many to be the best amateur of all time at 396-1, fought for a world title and lost in his second professional bout, then won a championship in his third fight. 
9:58 p.m. ET: The fighters reached the final bell with faces that looked like they'd been scraped by sandpaper for 36 minutes, but the unbeaten Vargas -- with gashes above and below his left eye -- clearly got the better of things in most of the rounds. He's rewarded with a 26th straight victory as a pro, and 10th in a row by decision, by official scores of 116-112 across the board. CBSSports.com had it for the winner as well, by a 117-111 margin. DeMarco is 31-4-1. 
9:30 p.m. ET: Vargas and DeMarco are halfway through a scheduled 12 rounds, with Vargas clearly getting the better of things after a somewhat sleepy start. He looked for a moment to be on the verge of a stoppage chance after landing a series of thudding shots in the fifth round, but DeMarco survived that session and was slightly more competitive -- although not competitive enough to win -- in the sixth.
9:08 p.m. ET: The man whom many feel could be a future opponent for Pacquiao, unbeaten 140-pounder Jessie Vargas, is in the ring for his scheduled 12-rounder with former 135-pound divisional title claimant Antonio DeMarco. The promotion would have you believe it's a title fight, but that tag is emblematic of the sport's ills. Vargas holds the "regular" World Boxing Association championship in the weight class, but Danny Garcia is the sanctioning organization's "super" title belt and is the only one worthy of a "champion" tag.
8:50 p.m. ET: As soon as Ng and Attard exit the ring, the dancers have retaken the territory. The six-some immediately writhes its way through AC/DC's "Highway to Hell," which indicates that the pre-PPV portion of the card apparently will be limited to just three fights. The swing bout, a light heavyweight contest between Andrew Robinson and Qu Peng, didn't make the early cut after two of the other three fights went the distance. 
8:45 p.m. ET: Another Chinese fighter remains unbeaten as a pro after Ng emerged with a narrow unanimous decision over Attard. The Macao-born product was awarded scores of 57-56 on a pair of scorecards and a wider margin of 59-54 on the third. CBSSports.com saw it just a shade closer, calling it all even at 57-57. Ng, who bled profusely from a jagged vertical cut over his left eye, is now 6-0. Attard suffered his first loss and is now 5-1-2.
8:10 p.m. ET: Next up is a six-rounder between a pair of junior middleweights on five-fight win streaks. Australia's Steve Attard began his career with consecutive draws before winning five straight (two by KO), while Macao's own Kuok Kun Ng has gone 5-for-5 as a pro, also with two by stoppage. The local product's ring walk is being preceded by an in-ring musical interlude with three singers and three dancers.
8:05 p.m. ET: Tso and Sabu wrap up an entertaining eight-rounder with a mutual admiration society at the final bell. Tso raised his opponent's arm and implored the crowd to acknowledge their efforts, while Sabu grabbed Tso around the waist and lifted him as a salute. Tso ended up with the official victory and improved to 15-0 with a unanimous decision by scores of 79-73 and 78-74 twice. CBSSports.com agreed with the latter two scorecards, giving it to Tso by a 78-74 count. Sabu is 11-3-1.
7:45 p.m. ET: Given that the card is in Asia, it's no surprise that only two of the 16 fighters in the eight scheduled bouts -- Algieri and Jessie Vargas -- were born in the United States. Other countries represented include China (four fighters), the Philippines (two), Thailand (two), Ukraine (one), Mexico (one), Tanzania (one), Indonesia (one), Australia (one) and New Zealand (one). Vargas will fight Antonio DeMarco in the leadoff bout of the pay-per-view show.
7:35 p.m. ET: The dancers have given way to two more fighters, this time junior bantamweights Espinos Sabu of Indonesia and Rex Tso of China for a scheduled eight-round bout. Tso is making a fashion statement with both his black trunks and black tights that fully cover his legs from the trunk line down to the shoes. Looks a bit like an escapee from a Jazzercise class. 
7:25 p.m. ET: The ring has been overtaken by a six-person all-female dance team, which is entertaining the sparse crowd in the arena on what is a Sunday morning in China -- 13 hours ahead of Eastern time in the U.S. Top Rank said the card would be delayed slightly until more fans trickled in. 
7:20 p.m. ET: The first Filipino of the night is a success story after Ancajas, just 22 years old, dropped Majiha for the full 10-count with a straight left hand at 1:48 of Round 3. Ancajas is 22-1-1 and scored his 14th KO, while Majiha fell, literally, to 15-6-4.
7:15 p.m. ET: The punching has begun in Macao, where Fadhili Majiha from Tanzania and Jerwin Ancajas of the Philippines are in an eight-rounder in the bantamweight division (118 pounds). Majiha is only 21 years old, but he's already had 24 pro fights and has now fought in China after already appearing in Tanzania, Thailand, the Philippines, Indonesia, South Africa and Uganda.
12:55 p.m. ET: If you're going to come all this way, you might as well pack some suspense.

Welterweight challenger Chris Algieri did just that on the eve of his title try against World Boxing Organization (WBO) kingpin Manny Pacquiao, initially failing to make the contracted 144-pound limit and having to come back for another crack within two hours or risk losing his chance at a new crown.

He slid in under the catch-weight wire after just 40 minutes of extra time, shedding eight-tenths of a pound to get to 143.6 from 144.4 and ensure that the pay-per-view show from Macao, China will indeed go on as scheduled. Pacquiao weighed 143.8 pounds in his lone appearance at the scale.

"We have two scales upstairs and one of them said he was 143 on the dime and another said he was 143.8," said Tim Lane, Algieri's trainer. "We thought we were where we needed to be. But he had to go to the bathroom and he kind of held onto that. He's fine. He just had to go to the bathroom. No exercise. That was it."

Ironically, Algieri has college degrees in health care management and clinical nutrition.

"I don't have a degree but my guy made it with no problem," said Justin Fortune, Pacquiao's strength and conditioning coach.

Lane raised eyebrows in the final pre-fight media conference involving the two trainers, suggesting Pacquiao will be an easier fight for Algieri than the 12-round split decision over Ruslan Provodnikov that netted Algieri his WBO championship at 140 pounds.

Provodnikov was trained for that fight by Freddie Roach, who's also the lead man in Pacquiao's corner.

Algieri won that fight after suffering two knockdowns in the first round and competed the majority of the rounds while dealing with a severely swollen right eye. He won eight of 12 rounds on two official scorecards, while losing nine of 12 in the eyes of the dissenting judge.

"This is not as tough a fight as Ruslan," Lane said. "Styles make fights and Manny Pacquiao, being a lefty and what he brings to the table, I do not feel that to be as challenging as Ruslan. I feel that Chris will dominate Pacquiao more so than he did Ruslan – with two eyes."

Roach, as he's done in several previous Pacquiao fights, is predicting an early KO for his man.

"If I was in Freddie's shoes I would be talking a lot, too," Lane said, "because he knows what the outcome of the fight is going to be and he's got to blow a bunch of smoke. I love Manny Pacquiao, but he's not beating Chris and I think Freddie is aware of that and that's why he's barking."
* * * *
As they get older, most fighters gradually go up in weight.
But as he's made clear in a nearly 20-year pro career, Manny Pacquiao is not most fighters.
Now in his second reign as World Boxing Organization (WBO) welterweight champion, the 35-year-old Filipino will climb into the ring Saturday with challenger Chris Algieri at a 144-pound catch-weight, with an eye on perhaps moving back down the weight ladder he's been climbing for more than a decade.
Pacquiao began his career at 106 pounds, won his first world championship at 112 and has subsequently added relevant sanctioning body title belts at 122, 130, 135, 140, 147 and 154 pounds. He's weighed 143 or more for each of his last nine fights – topping out at 147 for a controversial loss to Timothy Bradley in 2012 – but has struggled to maintain the same level of ferocity against larger opponents.
He finished foes before the final bell in 38 of his initial 50 victories, but has scored his last six wins by 12-round decisions since stopping Miguel Cotto in round 12 of their 2009 welterweight encounter.
The Cotto win was the last in a remarkable 2008-09 stretch that also saw Pacquiao stop David Diaz in nine rounds to win the World Boxing Council's (WBC) title at 135 pounds, force a surrender from Oscar De La Hoya after eight rounds while weighing 142 pounds and drop back down to poleax Ricky Hatton in two rounds of an International Boxing Organization (IBO) championship match at 140 pounds.
His trainer, Freddie Roach, suggested the match with Algieri would accentuate Pacquiao's most violent positives for myriad reasons, not the least of which was his man's comfort zone on the scale.
"When you are fighting a 147-pounder and you only weigh 135 yourself, or 140, you are in there against much stronger guys," he said. "Manny only has two knockouts as a welterweight and he has a lot of knockouts at 135 and 140, and the thing is this is a catch-weight of 144, and if he feels good at 144 we may go to 140 again. At 140, he will be a better puncher than at 147 because the guys are smaller and not as strong."
Indeed, though he stands four inches taller than Pacquiao at 5-foot-10, Algieri hasn't weighed as much as 144 for a fight since his fifth career outing in 2008. He has just eight knockouts in 20 professional victories and has only stopped one opponent who'd not lost at least three of his previous six fights. That one exception, however – Clarence Smith – was only 0-1 as a pro when a 3-0 Algieri beat him in 2008.
Algieri's success has instead come from his intelligent use of a lanky frame – his knuckle-to-knuckle reach is 72 inches, compared to 67 inches for Pacquiao – including a left jab that Roach assessed as one of the best in the sport. Roach, incidentally, was the trainer for Ruslan Provodnikov when Algieri won a split decision in June to take away Provodnikov's WBO championship at 140 pounds.
"He is a pretty good mover. He moves pretty well and he is very defensive," Roach said.
"His jab is his best weapon and it is something that we have to really take care of. We have to take that jab away from him and we have a game plan on how to do that and we are working on that every day. That's why (sparring partner Viktor) Postol was brought in, because he has a very good jab like Algieri. He is a little bit taller than Algieri and has a longer reach, but it gives a good idea about what to expect in the fight."
The Pacquiao-Algieri fight will headline a four-bout pay-per-view card to be broadcast by HBO PPV live at 9 p.m. from The Venetian Macao's Cotai Arena in Macao, China.
The show will also include a 12-round bout between Jessie Vargas and Antonio DeMarco at 140 pounds, a WBO featherweight championship defense by Vasyl Lomachenko against Chonlatarn Piriyapinyo and a 12-round flyweight bout between Zou Shiming and Kwanpichit Onesongchaigym. The official weigh-ins for the Saturday bouts will begin Friday at 7 p.m. and will be streamed live at www.toprank.tv.
"I would love to see a knockout," Roach said. "I think at 147 he is a little smaller than most of the 147-pounders out there. We have to feed him five times a day for him to make that weight. This fight is at 144 and I think his power will come back. I see a knockout coming for sure."
TALE OF THE TAPE
 
MANNY PACQUIAO
CHRIS ALGIERI
Record
56-5-2, 38 KOs
20-0, 8 KOs
Height
5'6"
5'10"
Reach
67"
72"
Weight
144*
144*
Age
35
30
Stance
Southpaw
Orthodox
Hometown
Kibawe, Philippines
Huntington, N.Y.
Rounds
395
122
*NOTE: Official weigh-in is Friday at 7 p.m.
How does Pacquiao win?
It seems that Pacquiao has all the advantages you could want on the eve of a championship fight. He's the incumbent. He's the attraction. He's fighting in front of what's essentially a home crowd. And he's been down this PPV event road many times before. In addition to all that, he's a great talent, too. He's faster than Algieri, punches harder and has been in with better guys. Truth told, it should be a rout.
How does Algieri win?
The previously unknown Algieri bedeviled Provodnikov in June by using his length, his movement and a clear superiority in boxing technique—not to mention the sizable amount of fortitude that enabled him to climb off the floor twice in the first and fight the final 11 rounds with a badly injured eye. Pacquiao is better in all ways than Provodnikov, but he can be out-skilled. That's Algieri's meal ticket here.
Prediction: Pacquiao by sixth-round TKO
No matter how big promoter Bob Arum has made Algieri's face on posters or how much time he allowed the college-educated challenger to speak with the media, this main event is a Pacquiao showcase. If he's as hungry for a highlight-reel performance as he's indicated during the show's run-up, this thing will be over before the halfway mark. Call it for Pacquiao, with a combined referee wave-off/corner surrender.
CBSSports.com will have live coverage of Pacquiao vs. Algieri on Saturday, Nov. 22. Come back for full fight results and analysis.
SportsLine's Jody Demling called Gun Runner winning the Breeders' Cup Classic last year.

The Cowboys QB spent his summer helping kids, including on in particular who suffered from...

The video game takeover continues
What to know to catch a top-10 water polo matchup on Saturday

Everything you need to know to tune in for this week's critical Big East showdown

Everything you need to know to tune into this weekend's action