2014 team preview: New York Mets
It's time to hit on the New York Mets as we shuffle through all 30 team previews leading up to the Major League Baseball season.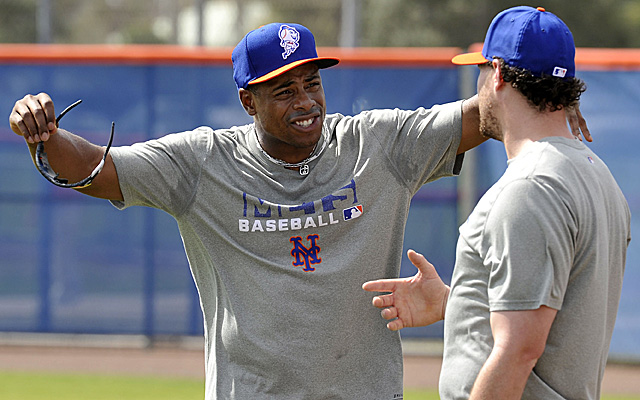 More: Likes, dislikes | Over/unders | All Team Previews | Spring Training
The New York Mets went through their fifth straight losing season in 2013, checking in at 74-88. It did mark their best finish (third) since their last winning season, so that was a plus. On the negative side, it matched their worst record since 2009. Matt Harvey emerged as a bona fide, top-of-rotation ace, but he's had to undergo Tommy John surgery.
For every positive, there seemed at least one negative.
This offseason, though, the Mets have spent some money in bringing in Curtis Granderson and Bartolo Colon . Can that, along with David Wright and a pipeline of quality young talent help turn things around while waiting on Harvey's comeback?
Probable lineup
1. Eric Young Jr., LF
2. Daniel Murphy , 2B
3. David Wright, 3B
4. Curtis Granderson, RF
5. Ike Davis , 1B
6. Chris Young , CF
7. Travis d'Arnaud , C
8. Ruben Tejada , SS
Bench - C Anthony Recker , 1B/OF Lucas Duda , IF Omar Quintanilla , IF Josh Satin , OF Kirk Nieuwenhuis
First of all, the Mets could still trade for a shorstop ( Nick Franklin ?) or sign one ( Stephen Drew ?). Secondly, Lucas Duda could also start at first instead of Davis and it's possible Juan Lagares gets some outfield time -- though (unfortunately, from where I sit) he seems ticketed to Triple-A to start the year. So we'll consider some of the lineup fluid, for now.
The Mets finished 11th in runs, 14th in average and 14th in the NL in OPS last season, but there should be improvement due to the addition of Granderson and with a full season of health from Wright -- not to mention some improvement from people like Davis or d'Arnaud (he should be an upgrade over John Buck ).
Probable rotation
1. Bartolo Colon
2. Jonathon Niese
3. Dillon Gee
4. Zack Wheeler
5. Jenrry Mejia / Daisuke Matsuzaka / Carlos Torres / John Lannan
It sure would look a lot nicer with Matt Harvey sitting atop that group. Instead, Colon comes in as a veteran ace and I still think he's capable of another very good season or two. He'll definitely eat (stop it with the puns, people) some innings and serve as a workhorse. Niese and Gee can pitch around league-average and maybe there's room for growth. Wheeler is the one to watch here. The former first-rounder was a top-10 prospect heading into last season and showed a few flashes of brilliance with the expected inconsistency of a 23-year-old rookie. This may be his breakout, but expecting a Harvey-like breakout is unrealistic.
Touted prospect Noah Syndergaard also may get a look this season at some point.
Probable bullpen
Closer - Bobby Parnell
Setup men - Kyle Farnsworth , Scott Rice
Middle men - Josh Edgin , Vic Black , Gonzalez Germen
Long man - Carlos Torres
Nothing sexy here, but kudos to the Mets for not spending big to bring in a "proven closer" and instead giving only cheap competition to Parnell in the form of Farnsworth and Jose Valverde. I expect Parnell to win the job and perform well.
Then again, the bullpen leading up to Parnell leaves a lot to be desired.
Under-the-radar offseason transaction
Bartolo Colon will turn 41 this season and signed a two-year, $20 million this past offseason -- which puts him behind such free agent signees as Phil Hughes , Scott Feldman , Scott Kazmir , Tim Hudson , Jason Vargas and more. I don't love the Colon signing as much as I just believe he's going to be a good fit here. The Mets needed a transitional ace this season as Harvey recovered and can't put too much pressure on Wheeler. Colon can rack up around 200 innings at better than league average and serve as the staff anchor. That's worth eight figures.
Fantasy breakout: Zack Wheeler

"If Wheeler hadn't arrived at about the same time as Gerrit Cole and Michael Wacha last year, he'd be a bigger deal in Fantasy today. He wasn't them, but he was as good as you could reasonably expect a 23-year-old rookie to be, showcasing brilliant stuff in between bouts of wildness. He seemed to have things figured out during a five-start stretch in August, compiling a 2.51 ERA and 1.08 WHIP with 8.6 strikeouts and 1.7 walks per nine innings, before entering unfamiliar territory in terms of innings in September. No one can say for sure how quickly he'll progress compared to Cole, Wacha or anyone else of similar ability, but if control is his biggest issue, he's in good company. Matt Harvey, who emerged as a Cy Young candidate as a sophomore, issued 3.9 walks per nine innings as a rookie compared to Wheeler's 4.1. He issued 3.9 walks per nine innings in his final minor-league season compared to Wheeler's 3.5. For the price of a middle-to-late-round pick, those are comparisons worth embracing." - Scott White [Full Mets fantasy preview]
Biggest strength
The veteran leadership as the youngsters come along. The Mets continue to introduce young talent to the majors and they have a good group of veterans to help bring them along. In Wright and Granderson, you're talking about two of the better human beings in baseball who have also been part of various winning teams. Colon has fit in well with many different types of winning teams, too. 
I normally wouldn't put any emphasis on such matters as leadership, but it matters here because I believe this a transitional year for the Mets. See the "outlook" section for more.
Biggest weakness
There are definitely some holes (I'm staring at shortstop), but some of those might still be filled. For now, I'm going to the bullpen -- excepting Parnell, who I'm at least quasi-bullish on. They'll allow far too many baserunners and don't have many power, "I need a strikeout" guys. Maybe Vic Black makes good on his promise, but his minor-league track record shows a lot of walks in addition to all those Ks.
Outlook
I actually think they are good enough to come in third place, but that's less thinking highly of the Mets and more thinking lowly of the Marlins and Phillies. There are two clear-cut teams at the top of the NL East and the Mets won't sniff contention.
What's most important here is identifying the direction the Mets want to take in several areas for the 2015 season, when Harvey will be back to anchor the rotation. First base and shortstop need to be figured out. There might be some answers on d'Arnaud and the situation in the outfield regarding the two Youngs and Lagares. Can Parnell stick as the full-time closer? How do Wheeler and -- to a much lesser extent -- Gee progress? Will Syndergaard be ready for a rotation spot in '15? All of this is why the veteran leadership of Wright, Granderson and Colon is important and the trio is a huge positive.
No team ever wants to enter a season essentially throwing in the towel and the Mets haven't done that, but the 2014 season is more about setting up a return to contention in 2015 than it is about the actual 2014 season. And I think a third-place finish in that setting is more than OK.
---
Coming Thursday: Previewing the Washington Nationals