A repeat Triple Crown? It's never happened, not even close
Gerald Laird watched Miguel Cabrera win the Triple Crown and said, 'I would not be shocked' if Cabrera did it again this year. No one has ever repeated a Triple Crown the following year. In fact, no one has ever gone on to lead in even two of the three categories the following year. Could Cabrera do it?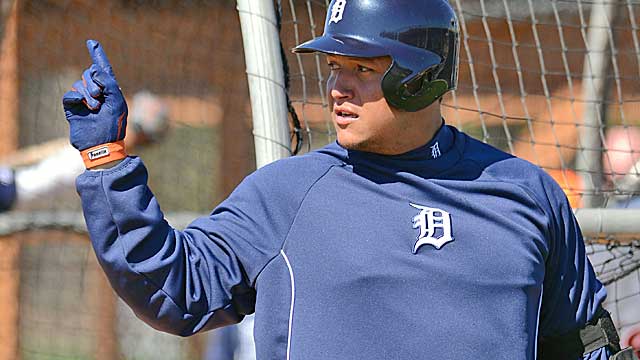 Cabrera is likely to be the AL favorite to lead in all three Triple Crown categories, but he's up against history. (Getty Images)
History tells you Miguel Cabrera won't repeat his Triple Crown.
No Triple Crown winner ever has. In fact, no Triple Crown winner went on to lead the league in even two of the three categories the next season.
In other words, no one has even come all that close to repeating.
"It probably won't be done again [by anyone] while I'm playing," said Alex Avila, Cabrera's 26-year-old Tiger teammate.
Probably a safe bet, since the last Triple Crown before Cabrera's came 20 years before Avila was born.
Then again.
"I would not be shocked if [Cabrera] did it again," said Braves catcher Gerald Laird, who spent last year with the Tigers and watched Cabrera up close.
As Laird and others point out, you could certainly argue that Cabrera will enter the season as the favorite in each of the three categories. But as Tigers hitting coach Lloyd McClendon said, it's a long way from favorite to actually leading in all three.
"Going in, you'd say he's not going to win the Triple Crown," McClendon said. "But I wouldn't say 100 percent no chance.
"It just depends on what other people do. Because his numbers are going to be right there."
Exactly. It depends just as much on other people.
Mickey Mantle had a higher batting average in 1957 than he did in 1956, the year that he won the Triple Crown. But while .353 was good enough to lead the league in '56, his .365 average left him second to Ted Williams the following year.
But Mantle didn't win the home run or RBI title in 1957, either. His numbers dropped off in both categories, and he finished eight homers and 20 RBI behind the leaders.
Carl Yastrzemski, who won the last Triple Crown before Cabrera's, repeated his batting title in 1968. But Yaz finished far off the pace in the home-run and RBI races.
Only one Triple Crown winner finished as high as second in each of the three categories the year after winning. Ty Cobb was actually second in all three in 1910, finishing just one point behind batting leader Nap Lajoie, two home runs behind Jake Stahl and 29 RBI behind Sam Crawford.
"[Cabrera] probably is not going to win the Triple Crown this year," Tigers manager Jim Leyland said. "But he is going to have one hell of a year, because he's a great player."
Francisco leads the Dominican Winter League with seven home runs

Thome deserves enshrinement and here's why the case against him does not hold up

The Twins have already fortified the bullpen with Addison Reed, and now they want to address...
The Orioles likely want pitching, and the Indians have plenty of it

Halladay died in a November plane crash off the coast of Florida

The power-hitting outfielder is headed to Toronto