Astros could draft Rodon or Aiken No. 1, or pull surprise with Gordon
The Astros are anything but predictable when it comes to the top pick in the MLB Draft, a position they find themselves in yet again. Let's take a look at the players they might select with the top overall pick.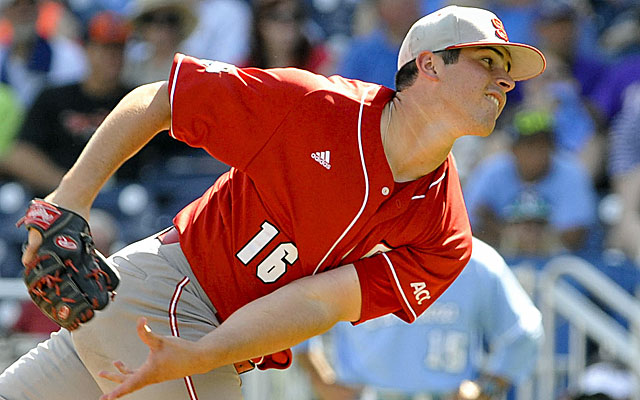 More MLB: Power Rankings | Expert Picks | Latest news & notes | Fantasy news
The Houston Astros, who have the No. 1 pick a third straight year, are hard to predict.
Houston was said as of last week to be in internal debates about which of two top left-handed pitching prospects -- Carlos Rodon of North Carolina State or San Diego high-schooler Brady Aiken -- to take with the No. 1 overall pick in the upcoming baseball draft.
Either of those players would not represent any sort of surprise, but a rumor was gaining steam in recent days that the Astros may consider going off the board and taking talented high school shortstop Nicholas Gordon instead.
That may well just be a rumor, but it's stirring additional intrigue in baseball circles. Folks view the Astros as nothing if not unpredictable, so perhaps it shouldn't be such a surprise.
Gordon's decision to skip the Florida high school all-star game triggered speculation he may already have a deal. Although, according to a source close to Gordon (think brother Dee of the Dodgers with more power and a better arm) he only passed on that game for a more mundane reason; he has nothing more to gain by playing, which is most certainly true. If he doesn't go No. 1, he most likely will be gone by No. 5 (Twins), or at the latest No. 7 (Phillies).
For weeks, the three top draft prospects have been viewed as Rodon, who features a superb slider, Aiken, a polished three-pitch high-schooler, and right-hander Tyler Kolek, a 100-mph prep thrower from Texas. But in recent days, power-hitting outfielder/catcher Alex Jackson, yet another San Diego high school product, LSU pitcher Aaron Nola and especially Gordon, like Dee the son of long-time major-league pitcher Tom Gordon, are threatening to break into that top triumvirate.
The Astros have the first choice for an unprecedented third straight season, and rivals say they can't even guess what they will do in the annual June 5 amateur draft, which is said to be well stocked with talent despite the usual naysayers.
The Astros surprised more than a few folks two years ago by taking Puerto Rico high school shortstop Carlos Correa in a pick that looks prescient now that Correa is playing like a future superstar. They went for a more conventional choice last year with hard-throwing Stanford right-hander Mark Appel, who was rated No. 1 or 2 on most boards (though Appel received the second-biggest bonus to No. 2 pick Kris Bryant, who went to the Cubs).
By signing Correa, who didn't insist on slot money for the first overall pick but instead agreed to a below-slot $4.8 million bonus, the Astros were able to sign multiple players above the slot number later in that draft, including highly regarded pitcher Lance McCullers Jr. and top infielder Rio Ruiz. One agent predicted the Astros could do the same again, perhaps picking the top player who's willing to do the right deal, which would allow them to spend more later.
"The Astros are all about the deal," another agent said.
If that's true, they may well pass on Rodon, who word is won't be looking to offer a discount as a Scott Boras client and easily the major-league readiest of the consensus top-five players. The others, all talented high-schoolers, have longer roads and presumably come with more question marks. Here is a rundown of the top five players, plus one more, which is thought to be the full list of a half-dozen Astros considerations.
(Astros GM Jeff Luhnow, who was scouting in Japan, didn't return a text.)
1. Carlos Rodon, LHP, NC State: The consensus No. 1 pick coming into the year probably still rates highest if money isn't an issue. But Rodon will be cutting no bargains, so he could fall a few spots. He didn't have a perfect college season, but he is a hard thrower (mid-90s) with an 89-mph slider that "disappears" when he's on plus an unintended cutter (one scouting director likens him to Al Leiter, which isn't bad). Word is, the Astros' front office was favoring Rodon while the team's scouts may prefer Aiken. Should he be passed over by the Astros, the Marlins might be tempted to form a dynamic one-two Cuban pitching combo with Jose Fernandez (and Rodon is a Miami product), though the power-hitting Jackson also has been linked to Miami, which needs position players more.
2. Brady Aiken, LHP, San Diego Cathedral Catholic HS: He has a superb three-pitch repertoire and is seen as a very advanced prep pitcher. He's certainly a candidate to go first, and would probably cost less than Rodon. There's no evident risk in him other than the long history of top-rated prep pitchers failing to love up to the early billing (no high school pitcher ever picked No. 1 overall has had a long and distinguished major-league career).
3. Nicholas Gordon, SS, Orlando (Fla.) Olympia HS: The five-tool Gordon has emerged recently as likely top-five pick after being seen only a couple months ago as only a top-15 choice. He has played baseball since he was very small, unlike his half brother Dee, who originally preferred basketball. Dee Gordon's emergence this year as an impact player with the Dodgers can't hurt, either. Almost every scout who talks about Gordon mentions "bloodlines" as one of the key factors in his ascendance. Besides the Astros, the Cubs, who pick fourth, the Twins (fifth) and Phillies (seventh) have shown particular interest in Gordon. Few see him getting past Minnesota, and if he does, Philadelphia, who is looking to work him out, would almost surely snap him up.
4. Alex Jackson, C/OF, Rancho Bernardo HS, Escondido, Calif: Jackson lives up to his great baseball name and is viewed as the best power prospect in the draft and a certain middle-of-the-order hitter. As a bonus, he also has a huge arm. Some could see him moving to the outfield or even third base, but he may also stick as a catcher. He draws comparisons to Bryce Harper, though he isn't quite the teen prodigy Harper was.
5. Tyler Kolek, RHP, Shepherd (Tex.) HS: He is the hardest-throwing of all the top prospects, as he has touched 102 mph and pitches in the high 90s. Texas has a history of producing terrific high school arms, from Nolan Ryan to Josh Beckett, though one scout offered a slightly less flattering comparison of Brad Penny, as he is a bit big-bodied. He also has a slider and curveball, rounding out an all-time repertoire for a high-schooler. He is also the most geographically desirable, as his hometown of Shepherd is exactly a one-hour drive to Houston.
6. Aaron Nola, RHP, LSU: He would be a surprise at No. 1, but like Rodon, he's seen as a "fast mover." He has a dynamic slider to go with a mid-90s fastball and is viewed as a terrific athlete. His brother Austin, a former LSU Tiger, is an infielder in the Marlins organization.
Hard-throwing East Carolina right-hander Jeff Hoffman would have been in the middle of that group (Cubs honchos Theo Epstein and Jed Hoyer were said to have been blow away by what they saw of him before he went down) but will be delayed a year after having Tommy John surgery, though scouts still see him going in the top half of the first round. 
So might UNLV fireballer Erick Fedde, who suffered the same fate after rapidly climbing boards. As it stands, Evansville left-hander Kyle Freeland, Oregon State outfielder Michael Conforto and North Carolina State shortstop Trea Turner probably are also top-10 picks. Other players with the possibility to be drafted within the first 10 picks as well include Kennesaw (Ga.) catcher Max Pentecost and University of Hartford (Conn.) lefthanded pitcher Sean Newcomb.
As for pick No. 1, while Rodon and Aiken may be the most logical, the multitalented Gordon could be intriguing. While he would represent something of a surprise, especially since the Astros took a shortstop No. 1 two years ago (and Correa looks to remain a shortstop based on the brilliant early returns), there are obvious risks that come with taking pitchers.
The near epidemic of Tommy John surgeries and other concerns among talented young pitchers might give more than a team or two pause. "A lot of people are on their heels with some of these arm injuries," one scouting director said.
If that weighs into Houston's thinking, they may indeed take a close look at Gordon. Or maybe even Jackson. With them, who knows?
J.D. Martinez is reportedly headed to Boston on a free-agent contract

Keep tabs on the top 50 free agents on the market right here

Arizona didn't waste much time turning to its fallback option following Martinez's deal with...
The former AL MVP has been one of baseball's best players in recent years

The free-agent slugger will join the Red Sox after all

Harper would prefer if reporters respect his wishes