For your consideration: Saturday night's Fox/MLB broadcast map
Let us observe two interesting things about who will be watching which prime time game on Fox on Saturday night.
More MLB: Power Rankings | Expert Picks | Latest news & notes | Fantasy news
As is their right, privilege and wont, Fox will be broadcasting prime-time MLB action on Saturday night. Here, courtesy of 506Sports.com, is a map of who will be watching which game ...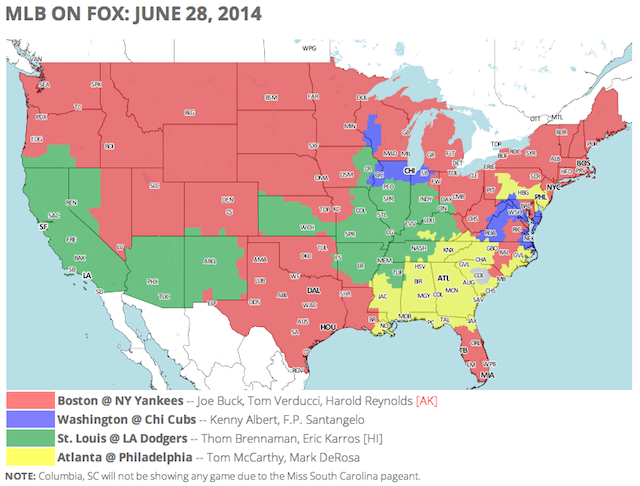 Much of what you see above is fitting and obvious -- California will watch the Dodgers, most of the Southeast will get the Braves, etc. Note, though, the wide swaths of this, our Republic that will be viewing the Red Sox-Yankees game (whether they like it or not, says the blackout policy).
That's a reasonable choice for a lot of places, given the the many diasporas of Sox and Yanks followers. However, maybe all of Virginia would be more interested in Nationals-Cubs? I'd also guess that Eastern Indiana would generally prefer to watch the Cardinals or Cubs. Further, I can't imagine why any households in Missouri aren't getting the Cards broadcast. 
Anyhow, the ubiquity of the Sox-Yanks and the broadcasting decisions informed by Sox-Yanks-related assumptions aren't news. What's befalling Columbia, South Carolina on this fine summer evening, however, just might be news. For those who can't make out the fine print at the bottom of the map, it reads:
NOTE: Columbia, SC will not be showing any game due to the Miss South Carolina pageant.
Our sympathies go out to the baseball enthusiasts and other right-thinking people of Columbia, South Carolina. 
(Wink of CBS eye: @grateful_e)